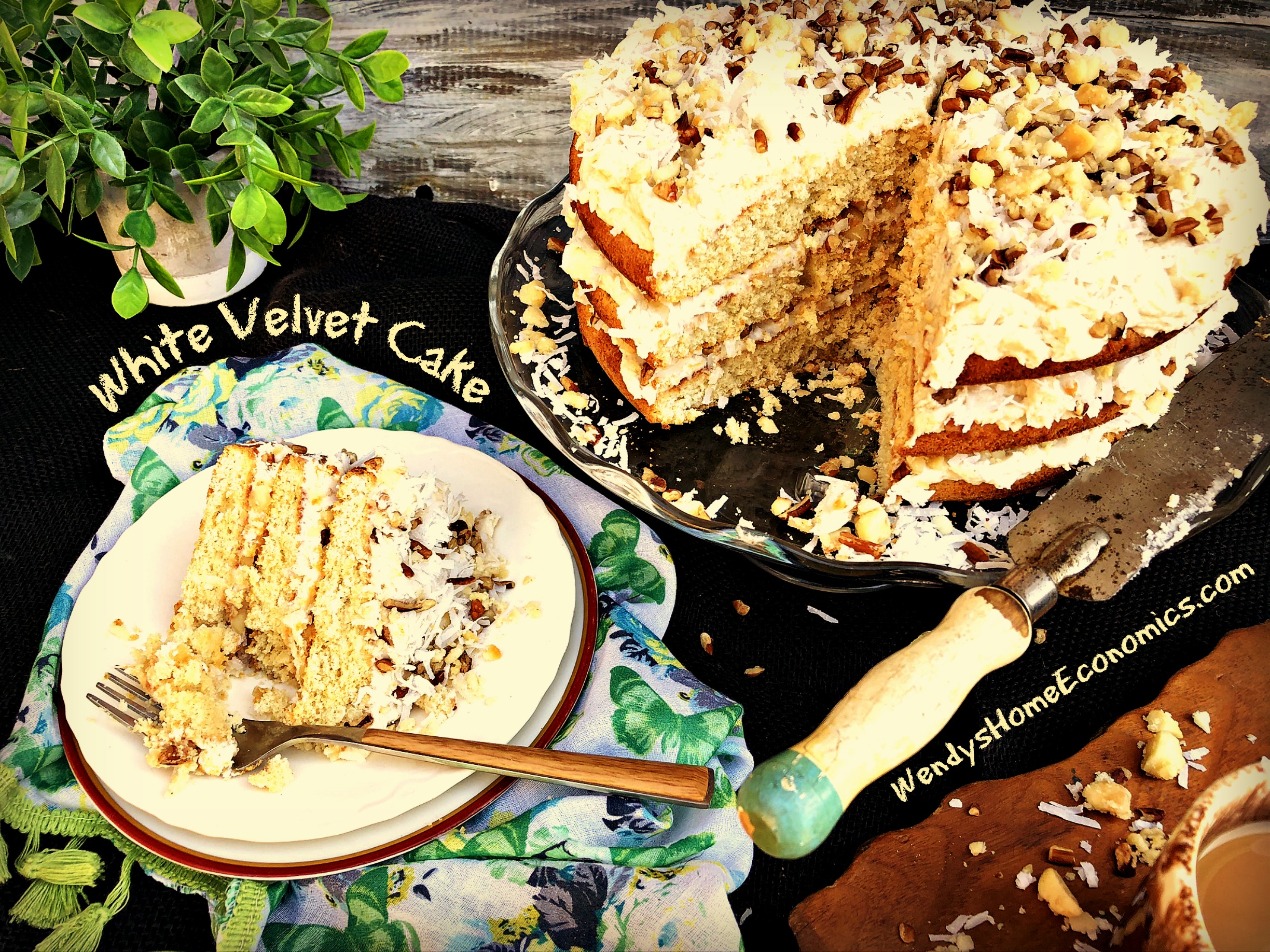 Published in Carolina Country Magazine January 2020
A few months ago when creating recipes for the January issue of Carolina Country Magazine, my mind was thinking…  "Winter Whites."  I strive to create 3 recipes that are a variety… not all sides, or sweets or main dishes.  And of course in January, we're snuggled in from the chills of winter outside… in recovery mode from the holidaZe…  longing for stick-to-your-ribs comforting foods.  Hearty foods.  With something sweet and decadent to enjoy in our pajamas after supper and a long day getting back into the groove at work.
This month, I created an Eastern North Carolina BBQ Sauce Gravy… well, because what is more comforting that g.r.a.v.y.?  And for my friends who don't eat much or any meat, a soothing creamy Roasted Turnip, Leek and Pear Buttermilk Bisque. Don't let the turnips scare you off… they take on a new life when roasted and pair perfectly with the pears.  Stay tuned… I will be sharing those soon!
So what about that "something sweet?" I decided to see what would happen if I took my grandma's Red Velvet Cake recipe, and made it "white."  Well low and behold, I did just that with a couple of simple tweaks, and turned out one of the best damn cakes I've ever had…. let alone baked, since y'all know I'm the "non-baker" gal.  One of these days I'll get around to putting Ma Perry's original Red Velvet Cake recipe here. So for now, you'll just have to settle on this white version! 
I recommend making it 1-2 days before you want to eat it… to give the butter brushing and creamy frosting some time to marry into the layers and make them more better.  That's not to say you HAVE to do that… just that it takes the cake to another layer of moister deliciousness.  (Yes, I do make up my own words!) So here you go… maybe the best white cake ever, at least for this gal who isn't a big sweets eater and would rather have pie than cake!  I think you will find this treat to not be overly sweet… "just enough."  With moist layers surrounded by fluffy nutty coconutty goodness.
I can hardly wait for you to make it and give your reviews.  Please join us over in my facebook community for that!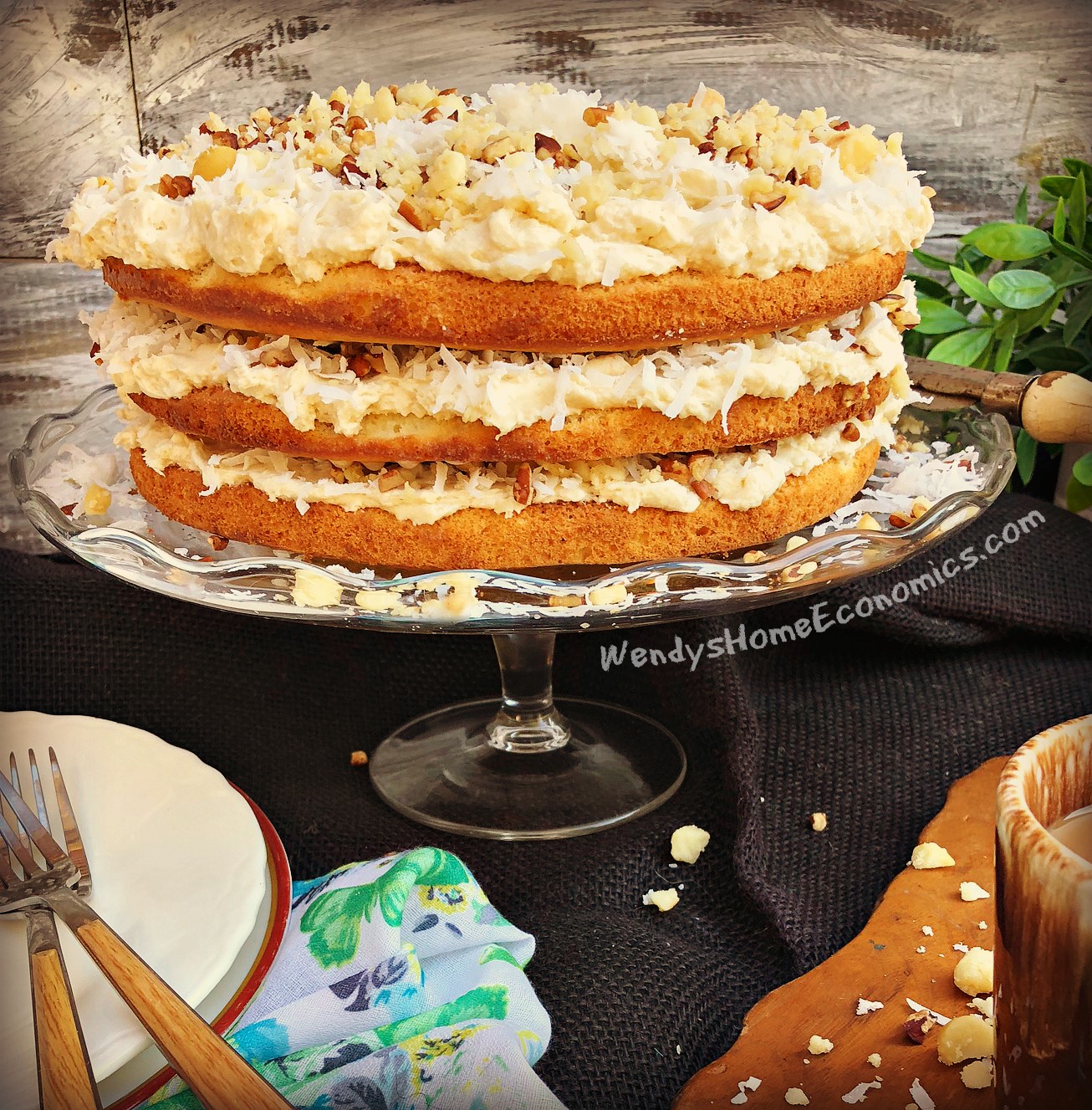 And if you like this recipe, please take 30 seconds to click over to it on the Carolina Country web page and give it some stars!  Thanks bunches…
Winter White Velvet Cake
Ice, snow, whipped cream — January has me thinking "winter whites." So I tweaked my Grandma Perry's red velvet cake into this white velvet version and served it on my mama's cake stand. Make it a day ahead and chill to let the flavors "ripen."
Ingredients
CAKE:
½

cup

solid coconut oil

1 ½

cups

sugar

2

large

eggs

1

teaspoon

salt

2 ½

cups

cake flour

1

teaspoon

vanilla

1

cup

buttermilk

1

teaspoon

baking soda

1

tablespoon

vinegar

4

tablespoons

butter, melted
FROSTING:
5

tablespoons

all purpose flour

1

cup

milk

2

teaspoons

vanilla

1

cup

sugar

1

cup

butter, softened

1

cup

flaked coconut

½

cup

chopped pecans

1

cup

macadamia nuts, chopped (toss with ½ teaspoon salt)
Instructions
Preheat oven to 350 degrees.

Line three 8" or 9" round cake pans with parchment paper.*

With mixer, cream oil with sugar. Add eggs one at a time, beating well after each addition. Gradually beat in salt and flour.

Add vanilla and buttermilk to batter. In a small bowl, pour vinegar over soda. After it fizzes, stir and add to batter.

Divide batter into 3 prepared pans. Bake 10–15 minutes until done and the cake separates from sides of pan (time will depend on pan size.) Brush one side of each layer with melted butter.

For frosting, cook flour, milk and vanilla in a double boiler, stirring constantly until thick. Cool. In another bowl, whip sugar and butter at high speed until fluffy. Add cooled, cooked mixture and blend into fluffy frosting.

Frost cake and scatter each layer and top with coconut and nuts.
Notes
*Either size pan will work. I prefer a 9-inch pan for thinner layers.