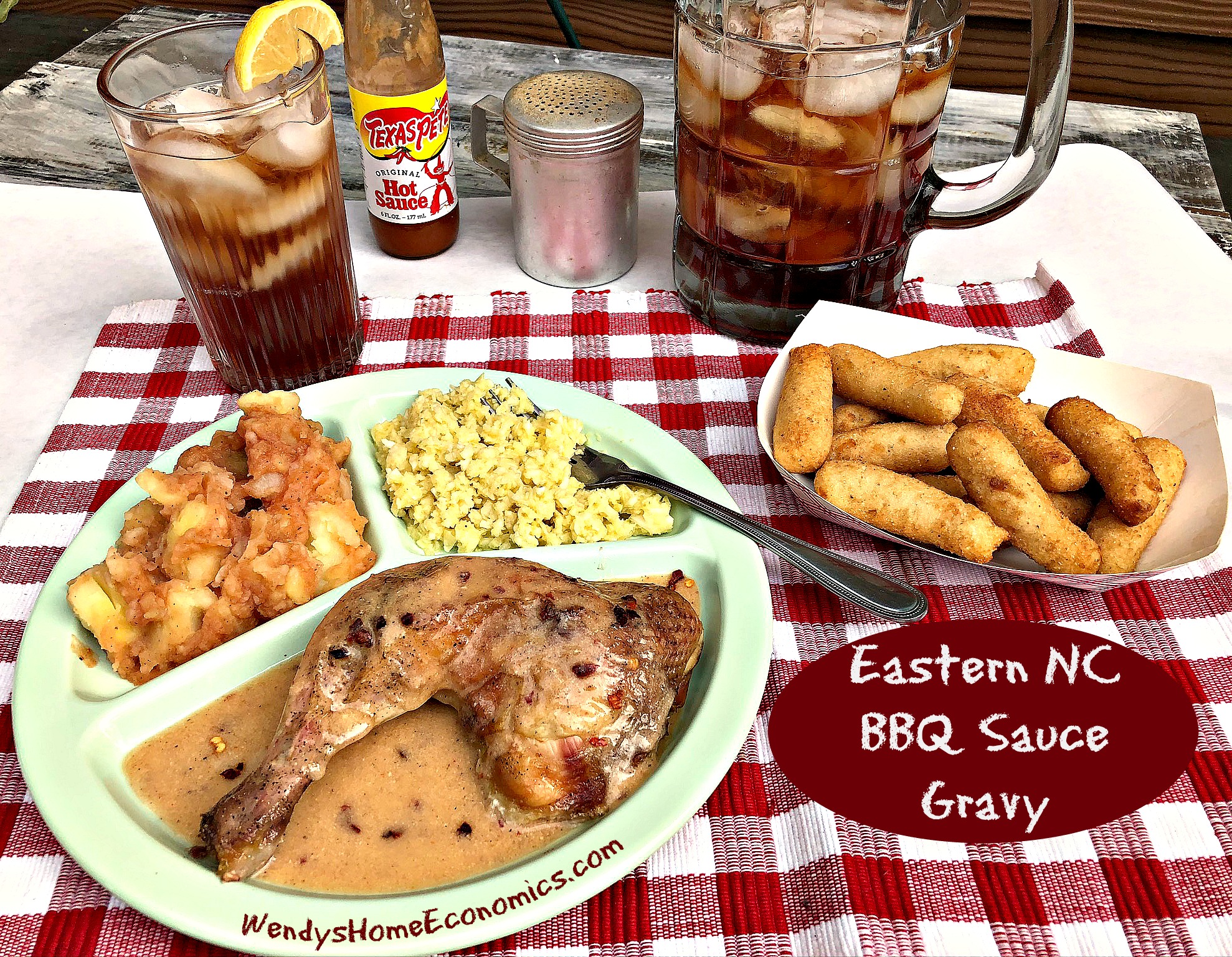 Published in Carolina Country Magazine January 2020
Those of us from the eastern part of North Carolina know there's only ONE "Best BBQ Sauce" here… that being our Eastern North Carolina vinegar-based BBQ Sauce!  Daddy would throw a pot of his together just about every Saturday… when he would cook the best BBQed chicken we would go get from a chicken house down the road, then just before eating, he'd throw it in that old banged up pot with an ill-fit'n lid, and give it a shake.  Daddy didn't let it sit long like some folks do… because if you do that, the crispy charred chicken skin will lose it's "crispy" and we didn't like ours to do that.  As a matter of fact, I would usually tell him to put my chicken leg quarters in a bowl to the side and I'd fix a little cup to dip my chicken in so it did stay nice and crispy! 
As a little girl, I would often "ride to town," that being Smithfield, NC, with my grandma to "tend to some farm business" at the then named ASCS office… usually something to do with the tobacco.  There were many BBQ restaurants along the way and around town… and we ate at them all at one time or another.  One of them, Batt Johnson's, had what I remember to be some sort of white-ish creamy BBQ chicken sauce. I don't recall it being like a White Alabama Sauce… But my "being a little girl" was a very.longggg.time.ago!  I remember it being different.  I don't know if it was milk… or thickened with flour, or both… but this tweak'n to my sauce tastes and looks like I remember from way back then.  Whether it's close or not, it's my version… and I love this… so it works for me! So here is my vinegary creamy red peppery BBQ chicken sauce… and it's damn good!  And has me wondering why more BBQ places don't serve such a "gravy?"
I tried and tried for over a year to get up with some of Mr. Batt's family members to buy some of their sauce I learned they still make on occasion, to refresh my memory and enjoy it again, and to get info about him and the sauce to include here in my tale, but that just never worked out.  
So… I hope you will make yourself some and see what you think.  If you have memories of Batt's restaurant, do add them in comments here or hop over to my facebook community and find the post about this recipe and share there… 
Eastern North Carolina BBQ Sauce Gravy
As a little girl, I would often run errands in Smithfield with my grandma. I always looked forward to stopping at the local BBQ hot spots for some dark meat barbecue chicken. One place had a whitish, thick sauce that I've replicated below. How to make eastern NC BBQ sauce better? Turn it into gravy…
Ingredients
2

cups

apple cider vinegar, I use White House Apple Cider Vinegar (and so did daddy!)

½

cup

water

8

tablespoons

white sugar

2

tablespoons

ketchup

1-2

tablespoons

hot sauce, I use Texas Pete (and so did daddy!)

1

teaspoon

crushed red pepper

¼

teaspoon

cayenne pepper

1

teaspoon

black pepper

1

teaspoon

salt
To Make Gravy:
2

tablespoons

flour

1

12-ounce can

evaporated milk
Instructions
Combine all ingredients, except flour and milk, in a saucepan. Heat on medium until sugar melts.

In a bowl, whisk flour into milk to make a slurry. Add to vinegar mixture and whisk until thickened into gravy.

Serve over grilled or store-bought rotisserie chicken. Lip smacking good on sliced pork and mashed potatoes, too!