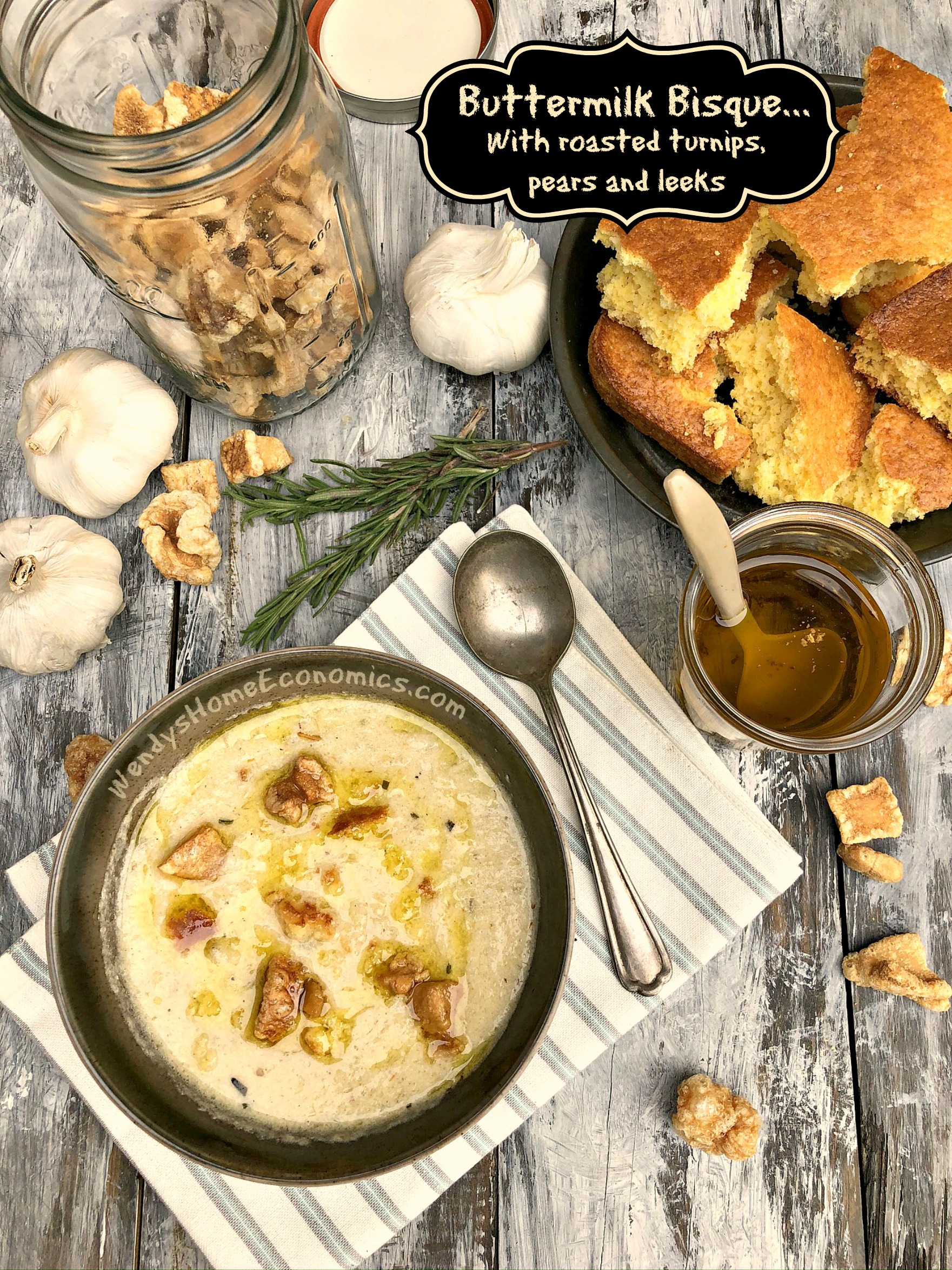 Published in Carolina Country Magazine   January 2020
Bisque.  A fancy name for soup… 
Another in my threesome of "winter white" recipes for the January issue of Carolina Country, this creamy soup will warm you right down to your bones, and soothe the soul.  
But… if you prefer room temperature, you can enjoy it that way too.
If you are not a fan of turnips, I urge you to give this a try.  When roasted, the natural sugars caramelize, giving them a different flavor than what you may be familiar with.  I don't know about you, but I grew up being served "stewed" turnips… boiled, usually with some sort of meat, until like mashed potatoes.  And although I love them that way too, I understand many do not, and that may be your experience with turnips!  Over the years, I have served them roasted, usually with sweet potatoes, red onions and Brussels Sprouts.  My non-turnip-eating friends would say… as they picked them out of the dish… "what are these whitish things?  they's so GOOD!"
And I'd say… "turnips!"  And their response would be…
"Can't be, I hate turnips!"  As they stuffed them in their face.
So do yourself a favor on a January day. Throw together some of this bisque… so full of layers of flavors that marry deliciously!  Finished off with a drizzle of roasted garlic oil, just serve with some cornbread or pork cracklins… a "winter white" to brush off the winter blues!
And mosey on over to my facebook community where we talk about all sorts of stuff…  
Buttermilk Bisque with roasted turnips, pears and leeks
Warm up from the inside out with this creamy, "winter white" soup. Or serve it chilled! Roasting the produce adds another layer of flavor, and even turnip-haters will find those root veggies tasty. Serve with cornbread and cracklins.
Ingredients
¼

cup

olive oil

3

large

turnips,

(about 4 cups), peeled and cubed

5-6

ripe, firm pears,



peeled, quartered and cored

3-4

leeks, white parts only,

washed and roughly chopped

4

heads

garlic

8

ounces

olive oil

3

stalks

celery,

chopped

¼

cup

fresh rosemary leaves

3

cup

whole buttermilk

3

cups

vegetable or chicken broth

1

teaspoon

salt

1

teaspoon

white pepper

4

tablespoons

butter
Instructions
Preheat oven to 400 degrees.

Toss turnips, pears and leeks with ¼ cup olive oil. Scatter on parchment-lined baking pan.

Cut top off of whole heads of garlic to expose cloves. Place into a small baking dish and pour 8 ounces of olive oil over heads of garlic. Roast alongside vegetables. Remove garlic from oven after 25–30 minutes and separate garlic from oil to cool, reserving oil. Roast vegetables for a total of 35–40 minutes, tossing after first 20 minutes.

Squeeze cooled garlic cloves into a food processor, along with roasted vegetables, celery and rosemary. Add 1–2 cups each of buttermilk and broth (depending on size of processor). Purée until smooth. Pour into pot with remaining buttermilk and broth and heat gently. Add seasonings and butter.

Garnish with a drizzle of the roasted garlic oil, plus a sprinkle of cracklins and cornbread crumbs (optional).