Published in Carolina Country Magazine January 2019
Folks who have enjoyed my spaghetti for decades have all said… "I want the recipe for THAT!  That's the best spaghetti!"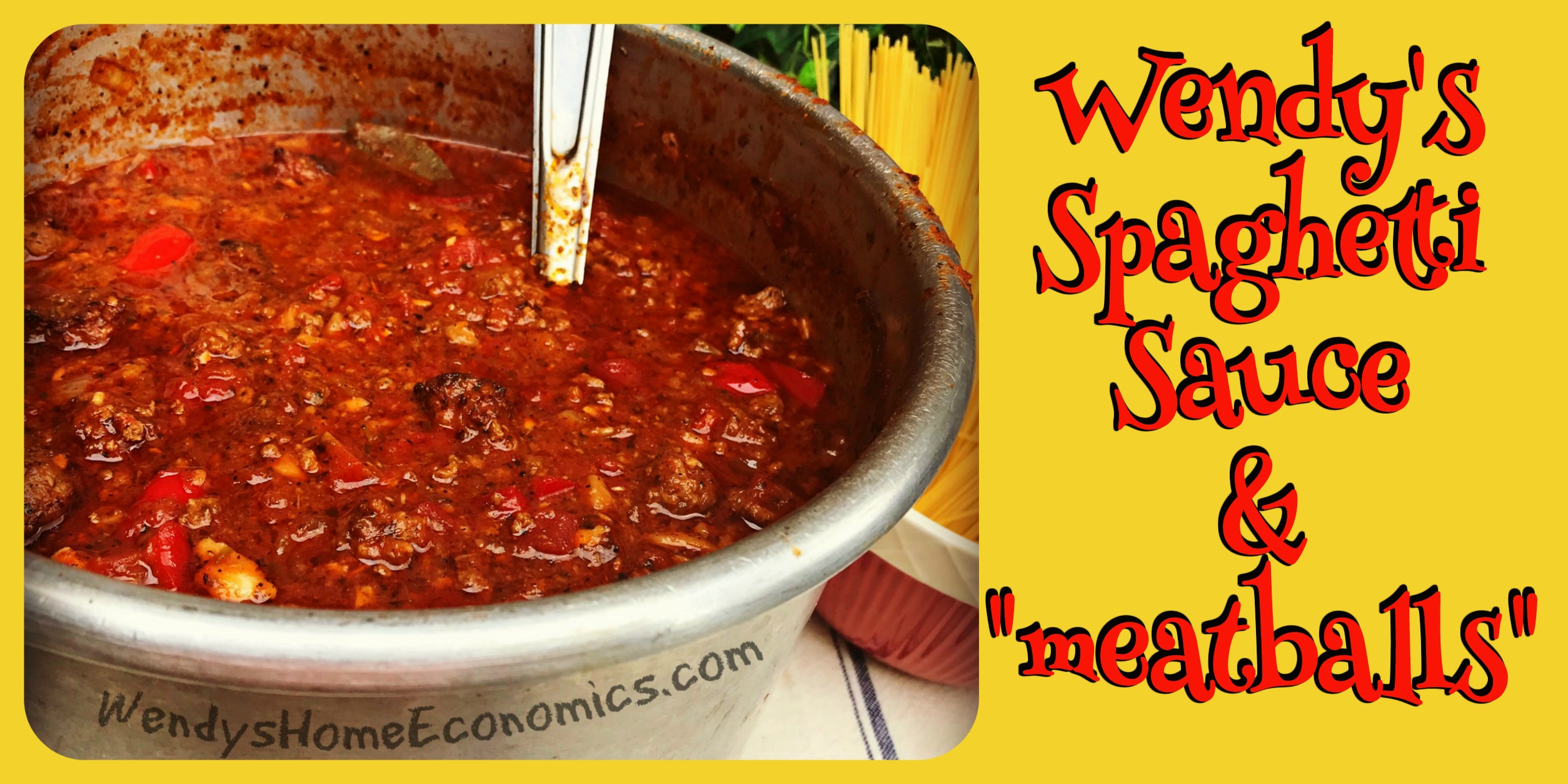 Being the "throw cooker" that I am, I've always just thrown stuff in the pot until it tastes right.  While telling these folks "I'll write it down one day."
So months ago, when I took my Peach on the Atlantic Beach Pie up to the Carolina Country Magazine office after creating and shooting it, my spaghetti sauce came up in conversation yet again.  And my friend there, Jenny, who I coordinate my recipes with each month says… "well when are you going to stop telling us about your spaghetti and share it in the magazine!"
So that put the pressure on.  I can't send them a recipe to publish that says… "well, you throw in some of "this" and a little "that" and add some more if you need to 'til it tastes right!"  That doesn't work in a publication that goes out to over a million or so homes… plus all their internet readers!
So I promised Jenny that day I would "work on it" and put my recipe on paper, AND scaled down. Because when I make spaghetti sauce…
I MAKE SPAGHETTI SAUCE!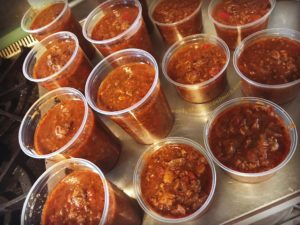 Spaghetti is one of my mostest favorite foods. I'll eat it morning, noon and night.
Cold. Warm. Hot.
Spaghetti on toast is a favorite breakfast of mine.  I often eat it just by itself… but when I do eat it with pasta, it's only angel hair for this gal. (And who thought the word "hair" was a good idea to name a FOOD?)
So… I make gallons at the time and freeze in pints and quarts.  For myself and for sharing.
Here around my parts in the south, when somebody dies, it is still tradition that we take food. Funeral Food. And I usually take spaghetti… folks near'bout bow at my feet for walking in with something besides a box of store bought chicken!  They are "chickened out!" And I usually take it frozen with either a box of pasta they can cook in 15 minutes… or cook the pasta and put in a freezer bag to enjoy on one of those nights after the funeralizing and are wore slam out. The family is still gathered but surely not cookin, feet up… exhausted.  And my sauce can be quickly thawed and heated in the microwave in the time it takes to boil a pot of pasta.  
Knowing that readers would freak out at making so much sauce at the time, I cut my recipe almost in half… and still ended up with it being about 2 1/2 gallons!  But should you wish to make a smaller batch, you will find ingredients can be easily halved again. With pen and paper, and my lineup of ingredients, I went at it.  Actually measuring each and every ingredient… no "throwing some in" and tasting.  (I love creating and writing recipes, but sometimes with my oldie goldies like this, it's a bit tedious to do all this measuring!)
Lots of scribbles as I added and adjusted this or that.  This is my 2nd "final" recipe write on paper. I tossed the first one because I couldn't decipher it anymore.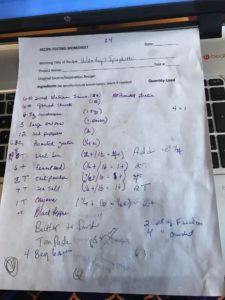 The first thing you need to do (this can happen while you're doing everything else) is roast garlic.  I use a lot, so I get my family that shops at Costco to get big bags of it for me from there.  But you can peel your own really fast. Take a look at this video by Saveur Magazine! It's like magic.
Roasting the garlic is a MUST.  There is nothing like the deep rich creamy sweet and subtle flavor of garlic once roasted… and if you want to replicate my sauce, this luscious layer of flavor just cannot be skipped over.
Don't be intimidated. It's super simple to do… I roast a dish full almost every week.  Use it like butter on toast and veggies and grilled or sauteed meats. Then, you will have the garlic oil to saute vegetables and meats too.  It also offers the BEST bread dip'n oil with a bit of herbs thrown in… more on that another day.
I eat and post about it so often my friends swear it's why I rarely get sick, especially in the wintertime. Garlic has some powerful medicinal properties, and I'd much rather eat that than Mucinex!
Moving along… as you read my recipe, you will see mentioned in to "pinch" little "balls" of the Italian sausage.  This is what I'm talking about… giving you what mimics little meatballs in the meaty sauce without the time consuming making of meatballs.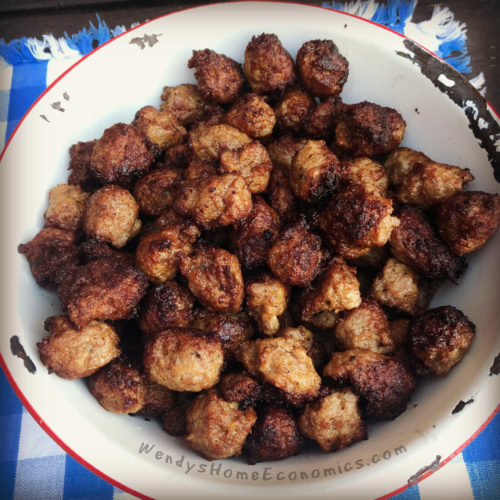 Once you have done this and cooked your balls (LOL), you simply use the same flavorful oil these produced to cook the ground beef.  After that… your work is downhill from here on out!  After building the sauce with the other ingredients, you'll just keep an eye on it as it simmers and reduces into lusciousness.  (Take a look at the sauce in the pot up top to see how much it reduced down!)
I do hope you will make some of my spaghetti sauce.  And serve on the side… something a little different!  What's a southern supper without some sort of cornbread? 
Make your own rules. Break the old rules and serve these crispy crunchy Parmesan CHEESY  & Green Onion Cornbread Crisps… a perfect pairing with my spaghetti.
I can confirm this by the pile of them devoured by the Carolina Country staff the day I took all these goodies up for them to taste test!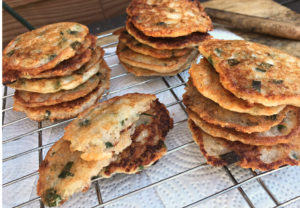 Do come over to my facebook community and chat it up with us… till then, gotta run!  My heated mug of spaghetti sauce just "dinged" and supper is ready!  And if you make my sauce, I'd love for you to share pictures over there and comments too.
It's a great rainy or cold-winter's-day-tucked-inside kinda thing to do. Just plan ahead and have your ingredients ready.  What could be more comforting that the rich aroma of roasting garlic and sauce simmering a couple of hours?
So… get saucy, and ENJOY!  
And before you go… if you haven't yet, click right here to subscribe to Table Scraps, my e-zine newsletter!
Wendy's Spaghetti Sauce
It took years to get this sauce just the way I wanted it, but I eventually found the sweet spot! I make large batches to freeze so I can have on hand any time. Great for gifting, and taking to grieving folks for "funeral food" too, instead of another box of chicken.
Ingredients
Roasted Garlic
2

cups

grapeseed or olive oil

3

cups

garlic cloves
Sauce
1

cup

grapeseed or olive oil

3

pounds

ground sweet Italian sausage

3

pounds

ground chuck

3

8-ounce cartons

sliced mushrooms,

chopped

3

large

yellow onions,

chopped

6

large

red bell pepper,

cut in 1" pieces

1 ½

cups

Italian seasoning

2

tablespoons

ground fennel seed

¼

cup

chili powder

4

teaspoons

cayenne pepper

4

bay leaves

¼

cup

salt

¼

cup

black pepper

2

28-ounce cans

finely diced tomatoes

4

28-ounce cans

crushed tomatoes

6

tablespoons

sugar

6

tablespoons

butter
Instructions
Preheat oven (or toaster oven) to 325 degrees. Put garlic cloves in a baking dish and cover with oil. Roast 25–30 minutes just until cloves are lightly browning, soft and can be mashed with a fork. When done, remove cloves from oil with slotted spoon and mash. Save oil for later use.

Use the roasted garlic oil in dressings, to sauté meats and vegetables or for dipping bread.


Heat 1 cup of oil in a 12-quart pot over medium-high heat. Pinch sausage into 1" pieces and drop into the hot oil (no need to form the meat into balls). Cook in batches, stirring to brown. Remove with slotted spoon.

Brown beef in the sausage drippings, stirring to crumble as it cooks. Drain and return to pot. Stir in mashed garlic and remaining ingredients except sugar and butter. Loosely cover and bring to a slow boil, stirring often. Simmer for about 2 hours. Remove from heat and stir in sugar and butter. Package, cool and freeze.
Notes
* Helpful Hint: Buy sausage and red peppers when you find on sale. Slice and freeze the peppers ahead of time for spaghetti cooking day.