Pie.  This pie. My "ugly" pie.
My delicious ugly pie.
Atlantic Beach Pie.
PEACH on the Atlantic Beach Pie!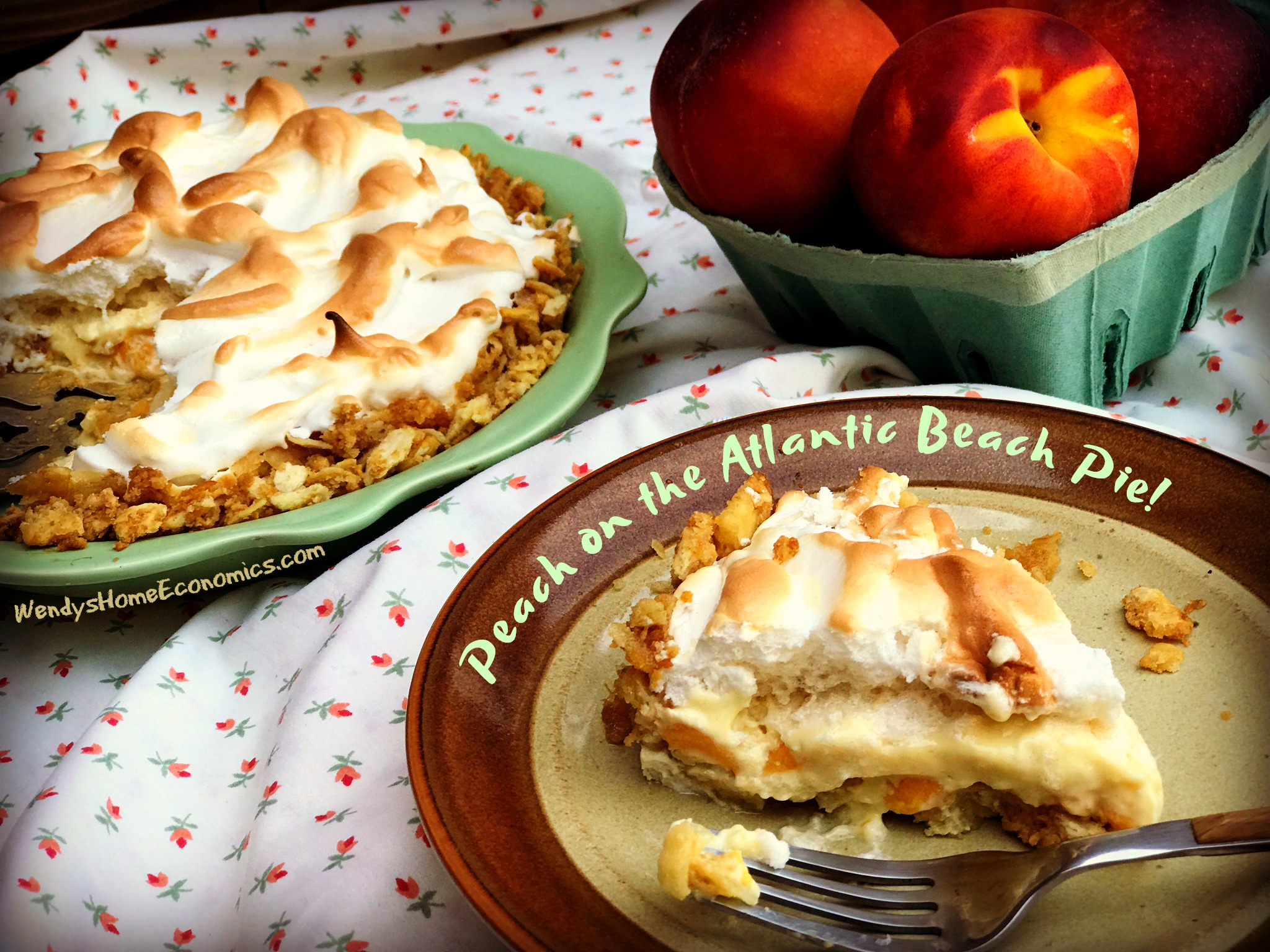 No matter what you call it, this pie has deep roots in the "SOBX" area of North Carolina. Referred to by some as the South Outer Banks, the geographic area stretches for about 85ish miles… from the Cape Lookout/"Down East" areas on the upper end down to the Shackleford Banks/Bogue Banks area on the other… with the most familiar areas including beaches of Carteret County ("Crystal Coast area") down south along with a few ports on the intercoastal waterway. The most well known towns and townships in this region are Harkers Island, Beaufort, Morehead City, Atlantic Beach, Emerald Isle and Swansboro.
Those of us fortunate enough to have part time happy places in these "South Outer Banks" or live on the "Crystal Coast" as permanent residents are blessed, and are surrounded with a whole lot of land and sea culinary offerings, steeped in a history of its own.
Like this pie.
Ever since Chef Bill Smith at Crooks Corner in Chapel Hill introduced hundreds to his version of the vintage Atlantic Beach Pie a few years back at a Southern Foodways Alliance event, nearly every culinary magazine and blogger has made and written about it, or created their own version.  Find more history here at Our State Magazine.  It's a yummy pie, and except for the crust, is pretty much one of the few things my mama "cooked"… Eagle Brand Lemon Pie.
The pie is a "descendant" of the Harkers Island Lemon Milk Pie. The recipe can be found numerous places online, but I highly recommend you get yourself the Island Born and Bred Cookbook where you will find it and so many other local recipes handed down through generations.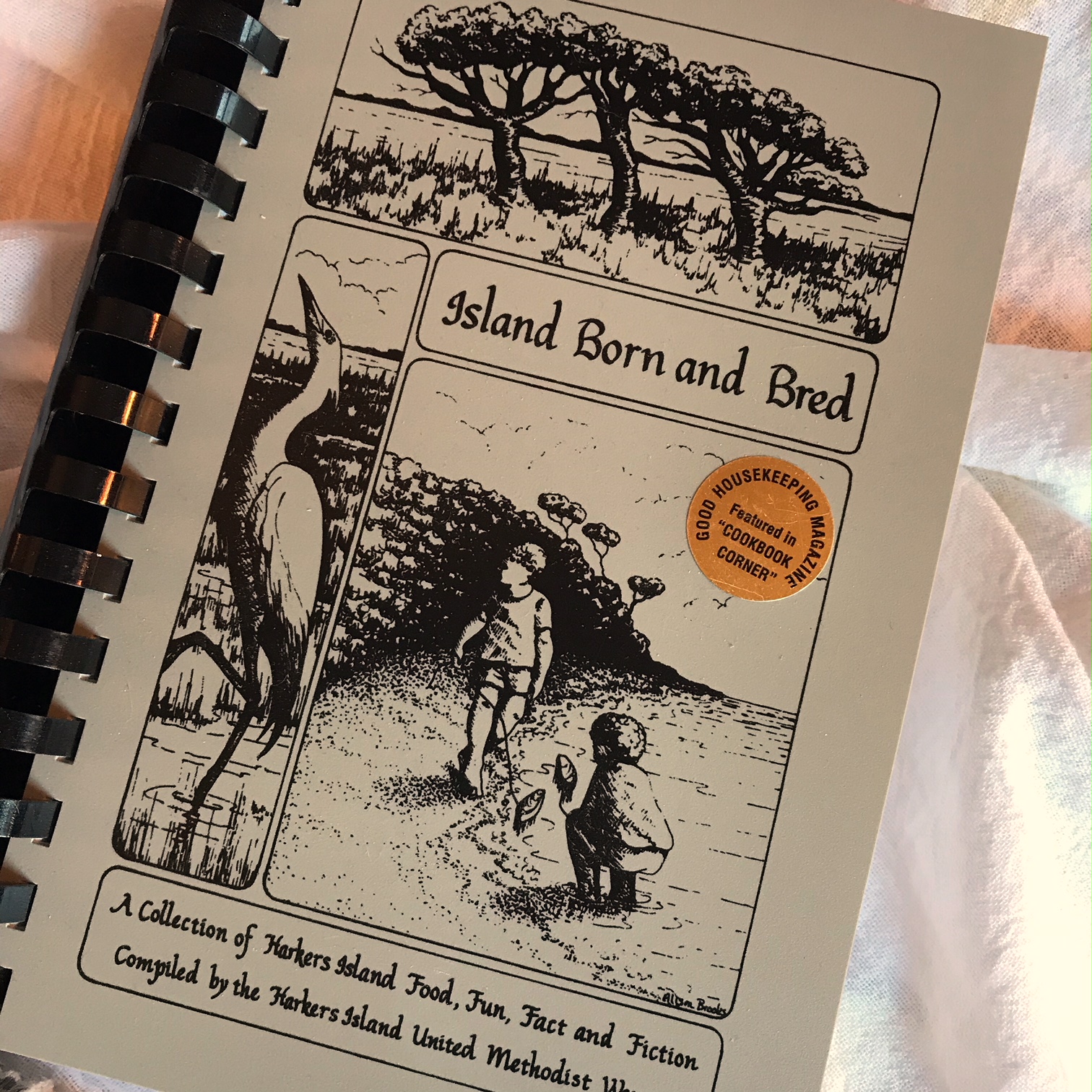 This book is a collection of Harkers Island food, fun, fact and fiction compiled by the Harkers Island Methodist Women! You will love the recipes and history scattered about this book that was featured in Good Housekeeping's "Cookbook Corner." And if opportunity presents itself, be sure to grab tickets to one of Core Sound Museum's dinners with some of these recipes… oh my gosh!  The local food is lovingly prepared by ladies of and supporters of the museum, and you'll not find any better meal along the crystal coast!  As I finish writing this today, they are busy preparing for tonight's sold out supper and disappointed I couldn't go this time as I've done in the past. 
So, back to the pie!
Now I'm a citrus love'n gal, but not especially fond of lemon. Give me lime, and especially orange! I always order my sweet tea with orange… and now most of my friends do the same. Even if I just get ice water when out, "no lemon, orange please!" is my order.  Most places have some, definitely those that have a bar, and are usually happy to oblige.
Since the original version was made with just lemon and most of the remakes use that or lemon-lime combination, I'm thinking to myself… "Self, why not add some ORANGE in there too?"
So that's exactly what I did.  And unlike most newer versions, I stayed true to the original with a meringue, although you can use fresh whipped cream, which will work equally as well on this pie.
But I added to my twist on the pie!  Fresh.Juicy.North.Carolina.PEACHES!  ohhhh la LA!  Such a great pairing with this tangy citrusy filling.
So… here's Wendy's version of Atlantic Beach Pie… with the bonus of North Carolina peaches tucked in as an added surprise!  Without further adieu… Peach on the (Atlantic) Beach Pie!
Do make one to enjoy, and run on back over here and tell me what you think?
P.S.  When I was making my test and final versions of the pie for Carolina Country Magazine, it was a terribly hot and humid week here in North Carolina. I was nearly weeping myself at the weeping pie meringues. And my ugly pies! I can't shoot THAT thing to put in the magazine!
So I threw it out for conversation on my facebook community and personal page too… to get everybody's consensus on weeping meringue. It was 100% votes FOR weeping… with folks calling them "little droplets of gold," and "I thought all good pies weep" to "it reminds me of my grandma's pies." Even the staff at the magazine where I took one of my "ugly" test versions agreed and asked, "don't ALL good pies weep?"
I agree with all those sentiments, so if your pie meringue weeps, don't let it make you weep! It's supposed to be that way… right?
Here's my weepiest pie!  It doesn't make me sad, how about you?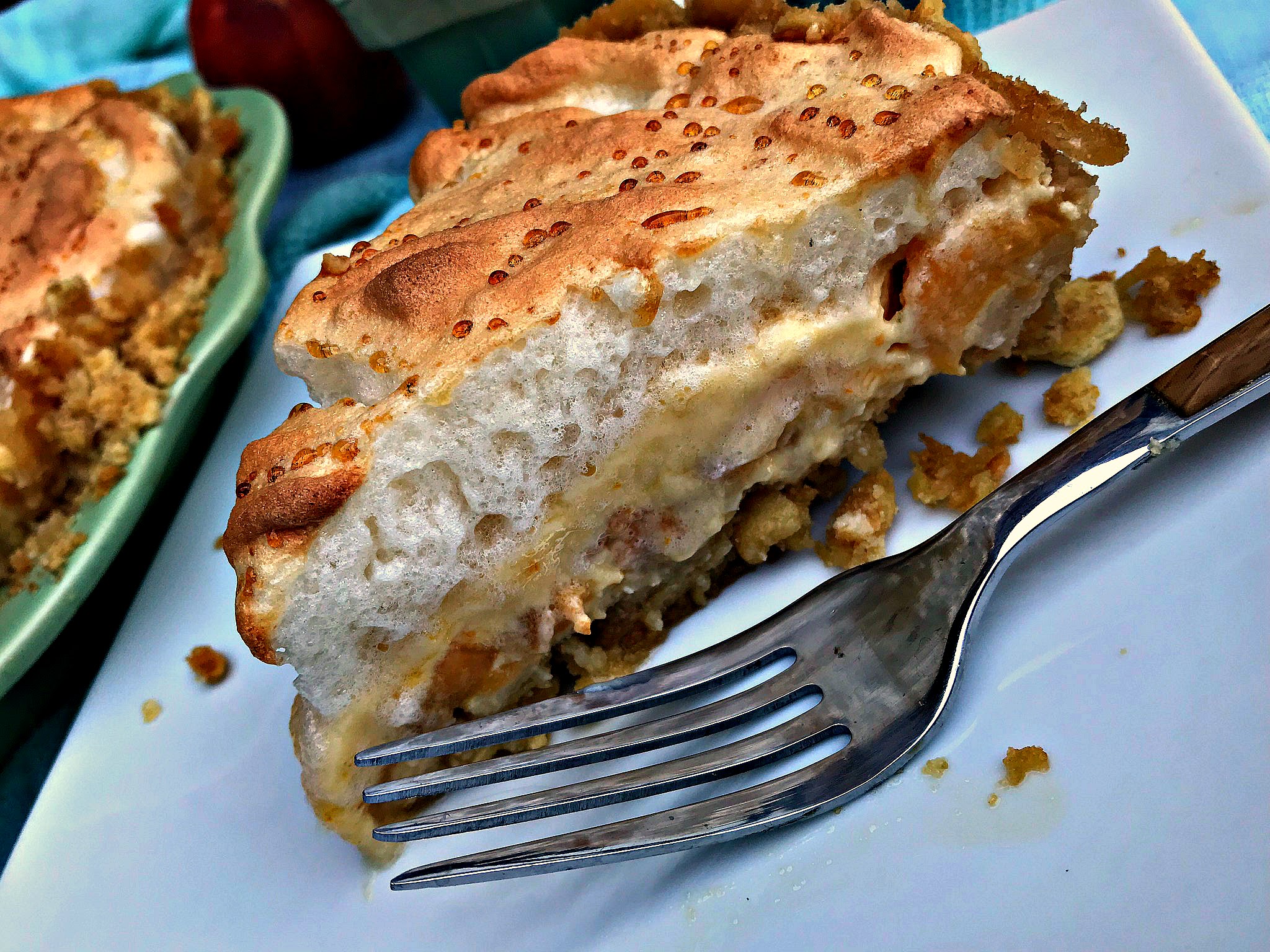 This recipe created for and published in Carolina Country Magazine Summer 2018
Food propping/styling and photography © (copyrighted) by Wendy Perry.
Carolina Country Magazine Contributing Recipes Editor
Disclosure:  I only use and recommend products here I use myself. I may receive a small commission from affiliate links on this or other posts on this web site at no additional costs to you.
CLICK HERE TO SUBSCRIBE TO MY TABLE SCRAPS E-ZINE NEWSLETTER!
Find me on social media:
Wendy's HOME Economics! Page on FB    @culinaryadventuristwendy on IG
Aunt Dee Dee's Kitchen Page on FB              @auntdeedeeskitchen on IG
Credentials @ LinkedIn
Be sure to visit my online stores:
Aunt Dee Dee's Kitchen for my seasonings, dried goods, pickles, jams, preserves, kitchen linens and more! More new goodies in 2022 on the way.
And for the best budget-friendly MADE IN THE USA by folks like you and me, my Rada Knives and Kitchen Tools online store.
Great for peeling your peaches.
THESE LINKS CAN ALSO BE FOUND ON SIDE MENU OF MY BLOG HOME PAGE.
Peach on the Atlantic Beach Pie
In recent years, a revival of the vintage Atlantic Beach Pie has occurred. I created my version of the recipe by using a combination of citrus juices (not just one), a little zest, and snuck in a surprise layer of NC peaches. Enjoy!
Ingredients
1 ½

sleeves

saltine or Ritz crackers,

or my fave, half of each

4

tablespoons

butter

softened

4

tablespoons

brown sugar

4

eggs,

separated

½

cup

fresh squeezed juice,

(lemon, lime and orange mix)*

1

14 ounce can

sweetened condensed milk

Eagle Brand preferred

1

cup

chopped North Carolina peaches
Meringue
4

egg whites,

room temperature

½

teaspoon

cream of tartar

1

teaspoon

vanilla extract

¼

teaspoon

salt

5

tablespoons

sugar
Instructions
Preheat oven to 350 degrees.

Roughly crumble crackers into bowl. Knead in butter and sugar until crumbs stick together, breaking up any large pieces of cracker (but not into dust). Press into 8-inch pie dish and chill for 15 minutes. Bake about 16 minutes until the crust starts browning.

Beat yolks, juice and zest into condensed milk.

Scatter peaches over crust; cover with the filling.

Whip egg whites and tartar until soft peaks form. Add vanilla, salt and sugar, one tablespoon at a time until stiff peaks form. Spread over filling and bake about 18 minutes.

Chill at least 6 hours before serving.
Notes
*One large lemon, lime and orange should give you at least a half cup of juice,