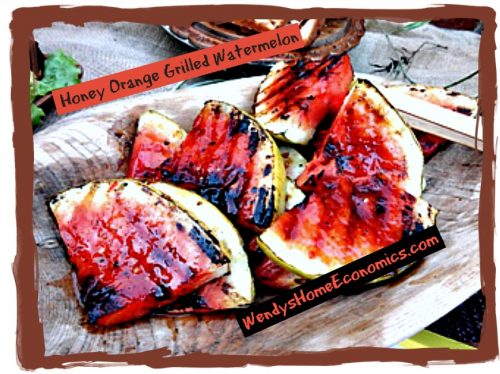 Originally posted August 2018.  Post edited June 2022.
As summer wanes, there's still an abundance of fresh watermelons!  So grab yourself one and do some Honey Orange Grilled Watermelon "steaks."  These really do not need a printed recipe… 
First, find yourself the best watermelon!  I'm a big fan of Bogue Sound Watermelons… but love others too.  Just whisk a little OJ into some local honey.  Cut the "steaks" in 1/2″ pieces. Place on hot grill and baste, briefly cooking on each side to get a light char.  That's it… unless you want to take it up to a "more better" level by scattering with some crunchy locally sourced.  If you don't have any in your area, flakey Maldon Sea Salt and some freshly ground black pepper will do!  This salt isn't required but is great to have on hand, and readily available now in many places, so put on your shopping list and add to your pantry.
Tasty right off the grill… or also chilled after grilling too!  
Look for my recipes in Carolina Country Magazine!
Carolina Country Magazine Contributing Recipes Editor
CLICK HERE TO SUBSCRIBE TO MY TABLE SCRAPS E-ZINE NEWSLETTER!
Find me on social media:
Wendy's HOME Economics! Page on FB    @culinaryadventuristwendy on IG
Aunt Dee Dee's Kitchen Page on FB            @auntdeedeeskitchen on IG
Credentials @ LinkedIn
Be sure to visit my online stores:
Aunt Dee Dee's Kitchen for my seasonings, dried goods, pickles, jams, preserves, kitchen linens and more! Lots of new goodies in 2022.
And for the best budget-friendly MADE IN THE USA by folks like you and me, my Rada Knives and Kitchen Tools online store.
THESE LINKS CAN ALSO BE FOUND ON SIDE MENU OF MY BLOG HOME PAGE.