Recipe published in Carolina Country Magazine ~ October 2017
Sometimes when I create a recipe, it just must have that little "something" to go alongside to make it complete… and that's how these Sweet Potato Hushpuppies came to be. Back in fall of 2017, my Creamy Fall Clam Chowder was created for Carolina Country Magazine. And we all know a good chowder calls for a good hushpup. This recipe is a bit different than your traditional one… a really crispy outside but with more of a creamy "inside." So if you're expecting the usual grainy cornmeal texture, this may not be the recipe for you… but I do invite you to give it a go.
If you make a batch, come on over to my facebook community and find this post and add your comments!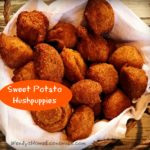 Sweet Potato Hushpuppies
These crispy-on-the-outside and moist-in-the-middle hushpuppies featuring NC sweet potatoes are the perfect side dish for our clam chowder (or any bowl of your favorite soup). Great on a brunch table, too!
Course:
Breads & Cornbreads
Cuisine:
American, North Carolina Goodies, Southern
Ingredients
1 1/4

cup

hushpuppy mix

1/2

cup

club soda

1/2

cup

cooked mashed sweet potato

1/2

teaspoon

cinnamon

2

teaspoons

sugar

pinch of

salt

peanut oil for frying
Instructions
Combine all the ingredients except oil and mix well. Let sit 15 minutes.

Heat oil to 350 degrees.

Using a teaspoon, drop hushpuppy batter into the oil. Fry about 3–4 minutes until golden brown. Remove with slotted spoon and drain on paper towels.
---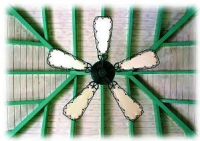 It hasn't been that long ago when I set my bedroom ceiling fan for the winter, I think! But a week or so ago, I went to flash'n… so while snow was fall'n outside, I was on my step ladder pull'n chains on my bedroom ceiling fan till I found that sweet spot…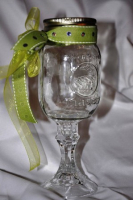 I much prefer a nice glass of wine in a mason jar… as a matter of fact, i think everything tastes better in a mason jar! So as i enjoy a glass of red wine this evening,

Welcome one and all to my *NeW* blog!  This has been on the back burner for a year now, so I can check at least one thing off my 2011 (overfloweth)Bucket List 'cause it's finally up front and cook'n!  I hope […]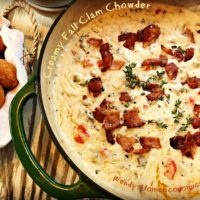 Don't wait until fall to cook up a pot of this flavorful creamy clam chowder. And be sure to fry up a batch of Sweet Potato Hushpuppies to enjoy alongside it too.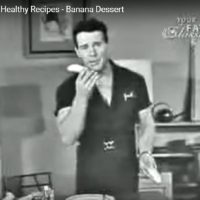 gotta love this video…who watched Jack grow'n up like i did? check out his recipe for a healthy dessert… Rest in Peace Jack! Originally posted 2011-01-24 21:56:55.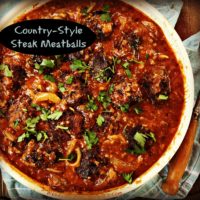 No matter how you serve them, you will get raves on this moist and tender Country-Style Steak Meatballs! Spoon over creamy grits or serve alongside mashed potatoes. Tuck inside slider buns or toasted sub rolls for the best sandwiches!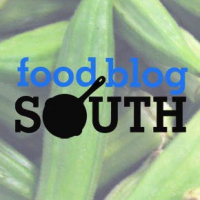 To all my new friends from FoodBlogSouth, it was so great to meet you!  I had an incredible experience and look forward to next time.  Thanks for dropping by… do come back.  My blog is just a baby but she's about […]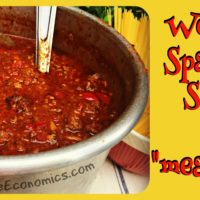 "The BEST spaghetti sauce!" That's what my family and friends call this… make several gallons at the time to eat anytime! Great to "gift" and especially appreciated "funeral food" when grieving folks have been giving away all the boxes of fried chicken dropped off! Maybe I should rename it to Funeral Spaghetti! Just make some…

Hi all… well here it is, my first blog post… Wendy is entering blogland! Stay tuned, I have SO much fun stuff to share, from helpful hints to recipes… and just silly musings. Till we meet again, MERRY CHRISTMAS! Originally […]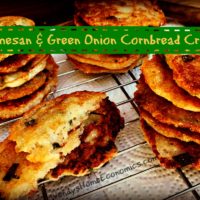 Want to wow your company next time you serve spaghetti? Then make up a batch of these crispy crunchy Parmesan & Green Onion Cornbread Crisps! Who says you must only serve traditional bread when you can have these instead?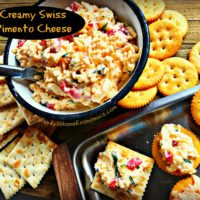 We all have our personal favorite pimento cheese. I invite you to try mine… with nutty Swiss cheese and the creaminess of whipped cream cheese. I also use North Carolina's Mt. Olive Pickles Roasted Red Peppers, to keep it local y'all. But if you're not lucky to have where you live, just substitute!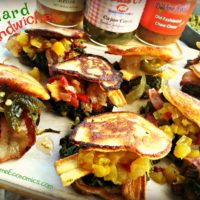 Collard Sandwiches have a long history here in North Carolina. They are so tasty, feature some of our finest foods… and you will be the belle of the ball when you take to potlucks or serve at your own gatherings. Just MAKE SOME. It doesn't get much easier. Sit some out and watch 'em disappear
Next Page »