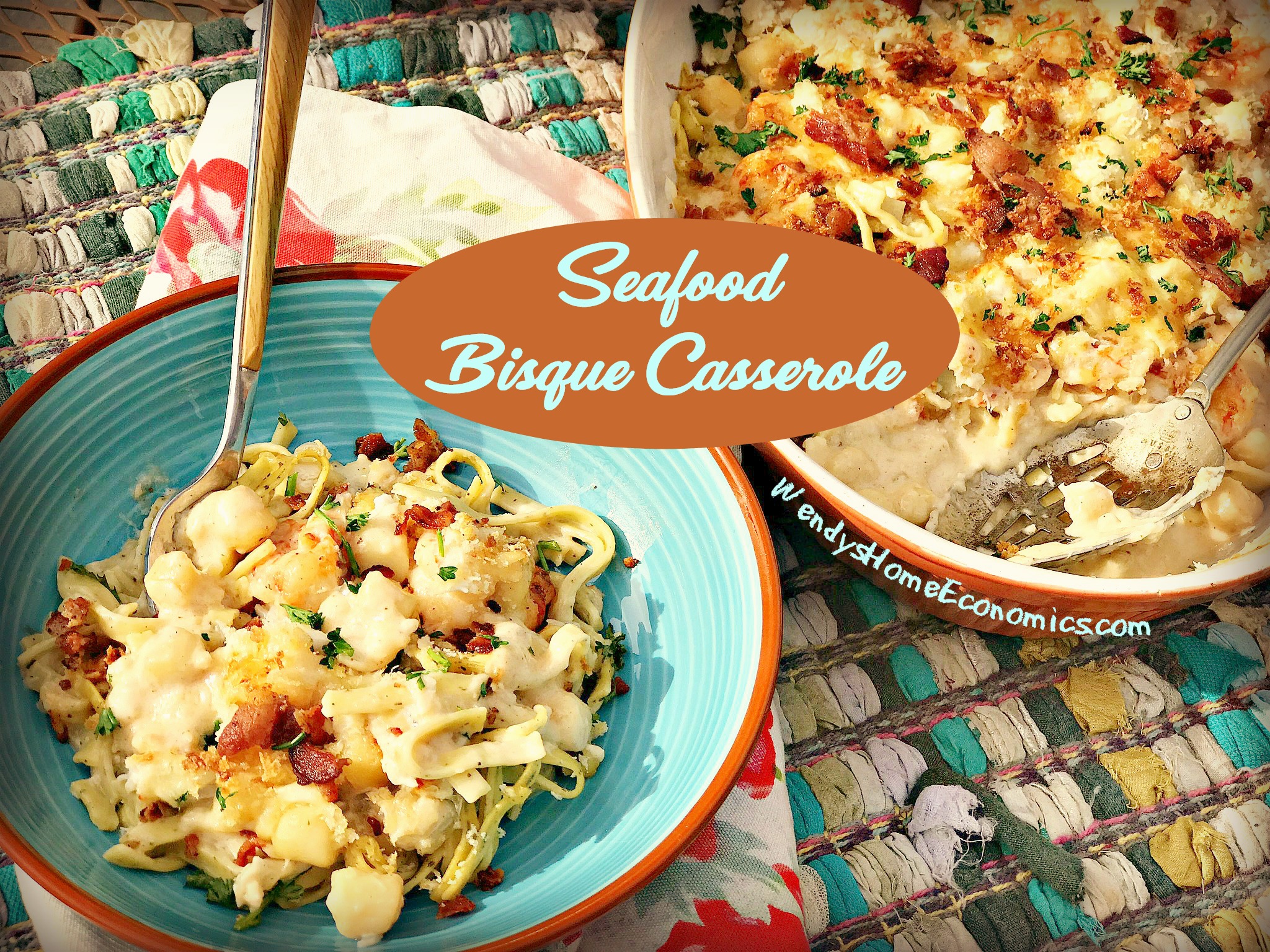 Published in Carolina Country Magazine February 2019
For many years, I was a very busy personal chef… and was the first girl personal chef in the Triangle area.  During some of those years, I founded a professional association to teach others how to be a personal chef and manage their own businesses.  One of my personal chef client favorite dishes was my Seafood Bisque Casserole.  I had a couple of households that had me make doubles of this at each visit.  It can be served over any number of things… pasta, rice, creamy grits, in puff pastry cups… or my personal favorite, over creamy buttery mashed potatoes.
This is a nice comfort food dish for enjoying on a chilly night by the fire.  As we find ourselves here in fall and winter on the way, add these ingredients to your shopping list to have on hand to make when the notion strikes you.  
So find yourself the freshest local North Carolina seafood you can… and just make some!  Support your local seafood fishermen and woman… #shoplocal #eatlocal
#GotToBeNC Seafood #NCCatch
Be sure to come over and share if you do in my facebook community!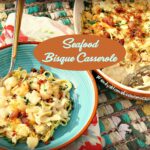 Seafood Bisque Casserole
For those that enjoy a warm bowl of seafood bisque, you'll be sure to love this Seafood Bisque Casserole. Fully of shrimp, scallops and crab, this buttery creamy dish can be enjoyed over pasta, rice, grits, creamed potatoes or spooned into puff pastry cups.
Course:
Main Course, Supper
Cuisine:
American, Seafood, Southern
Keyword:
bisque, casserole, crab, scallops,, seafood, shrimp
Ingredients
6

sliced

bacon,

cooked and crumbled

6

tablespoons

butter

2-3

large

shallots,

peeled and sliced

1

pound

large shrimp,

peeled

1

pound

bay scallops

1/2

teaspoon

salt

1

teaspoon

white pepper

1/2

cup

sherry,

divided

4

tablespoons

all-purpose flour

1 3/4

cups

milk, half-and-half or combination,

room temperature

1/2

pound

cooked crabmeat

(more if desired)

2

cups

grated Swiss cheese

1

cup

Panko bread crumbs

1/2

cup

minced parsley

6

cups

cooked pasta*
Instructions
Cook bacon in soup pot over medium high heat until crispy.

Remove all but 2 tablespoons of drippings and add butter. Once butter is melted and sizzling, sauté shallots about 2 minutes. Add shrimp and scallops. Cook 3–4 minutes just until done, being careful not to overcook. Using slotted spoon, remove seafood from juices. Stir in salt, pepper and ¼ cup of sherry; reduce heat and simmer 3 minutes.

Whisk flour into remaining sherry to make a slurry.

Stir milk into simmering liquid. Once warm, whisk in slurry and continue heating several minutes, whisking until thickened. Return seafood to bisque and heat 1 minute.

Spoon over pasta in a large baking dish. Scatter with crabmeat, cheese and crumbs. Place in oven on middle rack and broil 4–5 minutes to melt cheese and brown crumbs. Garnish with bacon and parsley. Serve immediately.
Recipe Notes
* If preferred, the bisque can be prepared as noted without the pasta to be spooned over grits, rice, mashed potatoes or into phyllo pastry cups.
---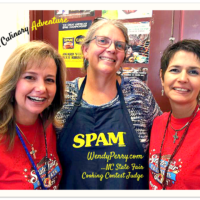 Read… Culinary Adventures of a State Fair Judge Carolina Country Mag October 2017 I do declare! I had no idea until today I'd never shared this here on my blog.  So here you go. This week, the NC State […]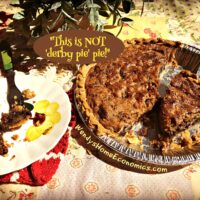 Are you pie? or Cake? I love both, but really fond of good PIE! Good, simple pie. This chocolate pecan gooey-on-the-bottom pie checks a lot of boxes for me. And the recipe makes 2 pies… one to keep, and one to share!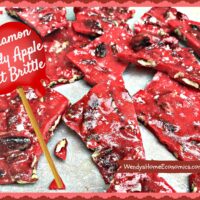 Published in Carolina Country Magazine October 2019 YaY!  It's finally NC State Fair week.  Most everyone loves the fair, for so many different reasons.  I have fond memories of fairs with friends during high school… fun dates… and taking my […]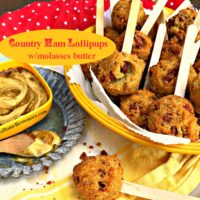 Ham biscuits and corn dogs … now there are a couple of fair favorites … along with those hot and crispy hushpuppies in the education building. I've combined this threesome into one fun food you'll be sure to enjoy.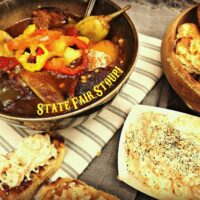 Published in Carolina Country Magazine  October 2019 Thank you Jesus… I can feel fall in the air!  My favorite time of year… when we can stop sweating and turn to cook'n.  Tailgate pot lucks… comfort foods… and goodies like chowders, […]
…this rustic hash features your favorite breakfast sausage and good old North Carolina Sweet Potatoes!
Use firm and meaty ripe red tomatoes for these crispy cheesy fried red tomatoes! Spicy hot potato chips are perfect, but use your favorites (dill pickle are yummy)…
Grilled eggplant drizzled with blueberry mustard vinaigrette and fresh herbs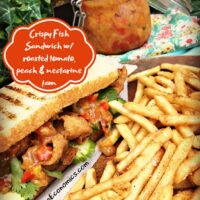 Enjoy those last summer tomatoes in this sweet n'spicy jam… roasted tomatoes, peaches and nectarines! Spoon over cream cheese or on crispy fish sandwiches.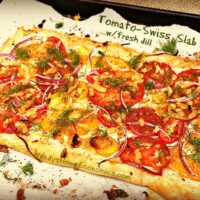 What makes a juicy ripe tomato even better? How about a cheesy, buttery flaky crust underneath with the bright, fresh flavor of dill! Serve this Tomato Swiss Slab Pie in small wedges as an appetizer, or in bigger wedges as a side dish. Perfect alongside a salad for a light, meatless meal.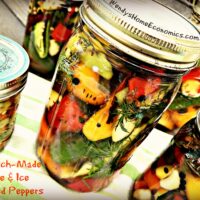 Many of us have made traditional "fire and ice" pickles using store-bought dill pickles. Our twist is a fast way to use those summer peppers that seem to come from every which way all at once … no processing, just refrigerate, eat and share. This recipe doesn't require exact amounts, so you can make brine and use any amount of peppers (or other vegetables) you have.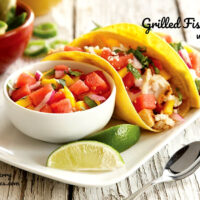 This sweet and hot watermelon pico de gallo is the perfect topping for fresh North Carolina fish, shrimp or crab tacos. For the best texture, stir together just before serving.
Next Page »