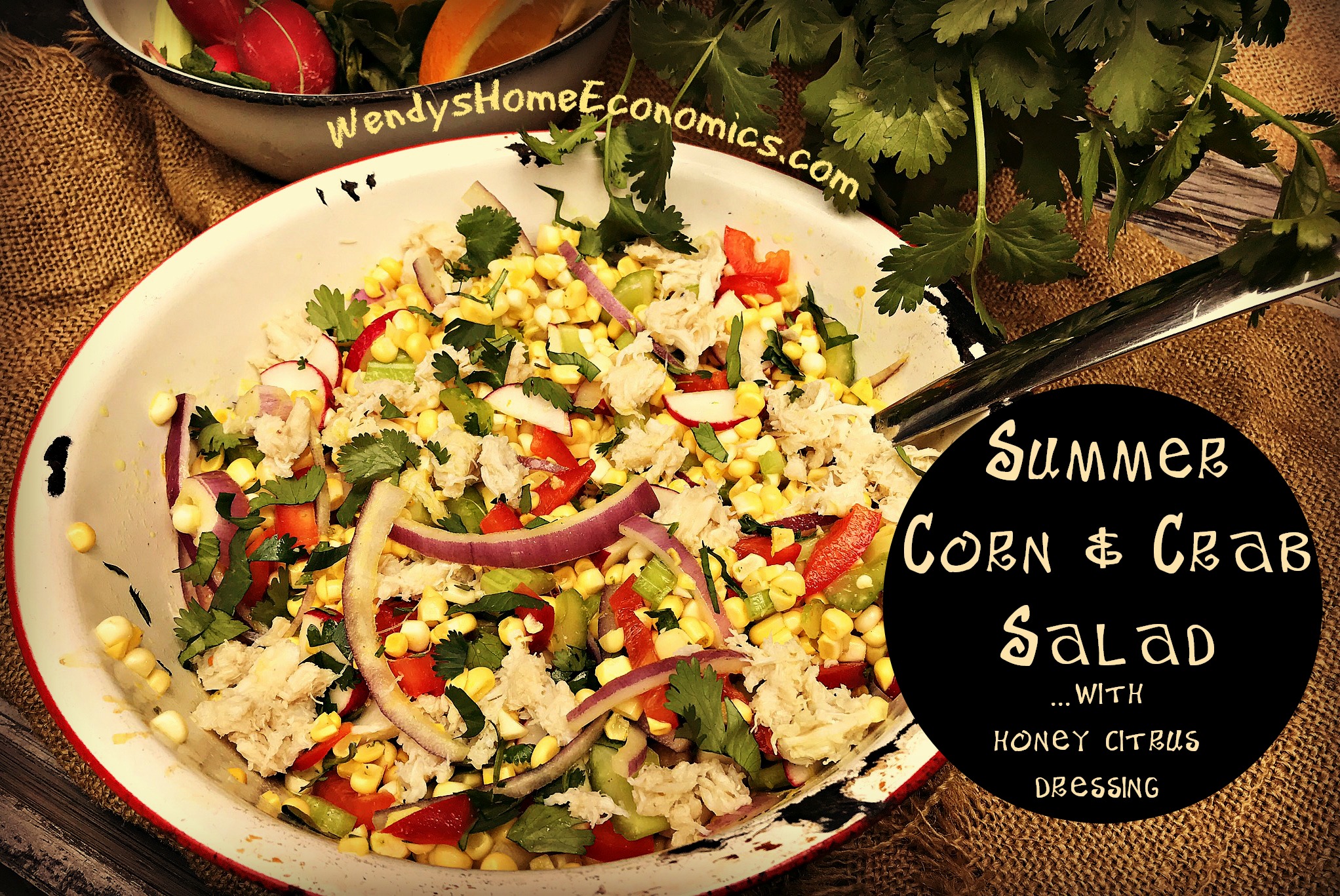 Published in Carolina Country Magazine June 2019
This heat wave has just gotten outta control! Got no time nor inclination to cook anything… and for those who want to join me in that boycott, here's a light and fresh salad for you to enjoy… nice and cold, on a sweltering hot day! Pick up some fresh sweet summer corn from your local farmers market and the best crab you can get your hands on… and fix yourself this salad. I'm pretty sure you'll be glad you did.
Tasty Tip… If you shop at Savory Spice Shop, I recommend adding some of my favorite Cali Citrus Rub to this salad (you can order online too).

TIP: Does your corn fly here, there and everywhere when cutting off the cob? Just sit the cob like this on your bundt pan, slice, and it will fall right into the pan for easy gathering.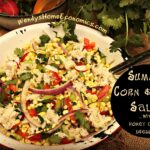 Summer Corn & Crab Salad with Honey-Citrus Dressing
Cut fresh off the cob, locally grown corn can be used in so many delicious ways. Enjoy this no-cook salad with some sweet NC crab. Exact measurements not necessary! Feel free to toss in any other fresh veggies you have on hand.
Course:
Brunch, Dressings, Main Course, Salad
Cuisine:
American, Farmers Market, Garden Goodies, No Cook, North Carolina Goodies, Summer Food
Ingredients
Honey Citrus Dressing
1/3

cup

honey

1/3

cup

oil

4

tablespoons

fresh orange juice

2

tablespoons

fresh lemon juice

2

tablespoons

fresh lime juice

zest of

1 lemon, lime and orange

1/2

teaspoon

white pepper
Corn and Crab Salad
4

cups

fresh corn (about 6 ears)

cut from cob

1

small

red onion,

cut in slivers

1

cup

diced celery

1

red bell pepper,

chopped

several

radishes,

chopped

1

cup

chopped cilantro

8

ounces more more!

fresh crabmeat
Instructions
Whisk all dressing ingredients and set aside.

Stir all ingredients together with dressing. Gently fold in crab. Chill for at least an hour or two for flavors to meld.
Recipe Notes
Tasty Tip... If you shop at Savory Spice Shop, I recommend adding in some of my favorite Cali Citrus Rub to this salad (you can order online too).
---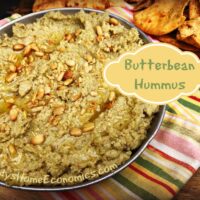 Published in Carolina Country Magazine July 2019 Hummus is one of those things we southerners didn't grow up eating… at least in my neck of the woods! As for international cuisines, Italian was about the limit of our […]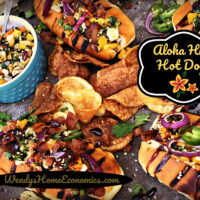 Hot dogs are such a fun food for entertaining, and we do love our traditional fixin's here in the South. But how about a fun twist? Light the Tiki torches and head outside and fix some Aloha Hula Hot Dogs with Mango Slawsa!!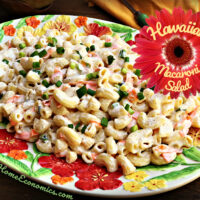 Published in Carolina Country Magazine May 2018 OK… for starters, let me just say that if you are no fan of mayonnaise, you'll want to skip this one! Because THE big "thing" about Hawaiian Macaroni Salad is mayonnaise, and […]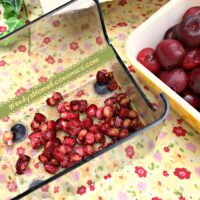 Who doesn't love a cherry? Stock your freezer during the short season to enjoy year round!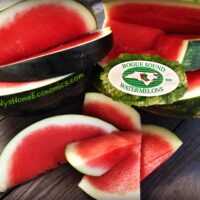 Learn why Bogue Sound Watermelons are in a league of their own… brightest of reds, super sweet and juicy! It ain't about the melon.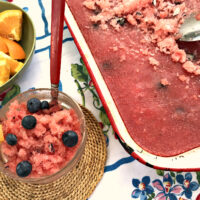 Take the heat off your hot summer days with this cold Bogue Sound Watermelon Granita… with some North Carolina blueberries thrown in too!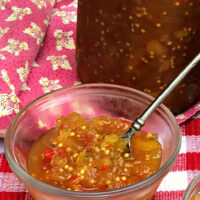 Don't throw out that watermelon rind! It won't take long for you to cook up a batch of this delicious Sweet n'Hot Watermelon Rind Pepper Relish!.. soooo good on just about everything!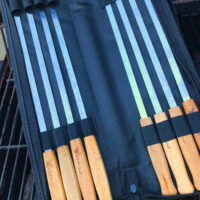 Avoid those annoying toothpick wooden skewers that burn, even after soaking, with these great 1/2″ wide stainless steel 17″ long skewers! Great for grilling meats, seafood and veggies too. No more flip-floppin and food rolling around on your kabobs! Get some.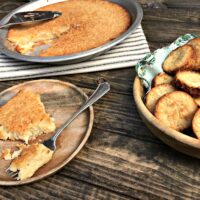 No need to make crust because this simple vintage coconut pie makes its own. Mama Perry's Coconut Pie makes great little pie bites too, for serving at gatherings so everybody can get a "bite of pie!"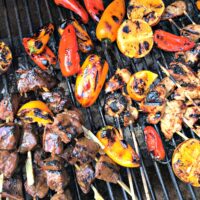 Fire up the grill and kabob it with these juicy citrus basted steak and chicken kabobs!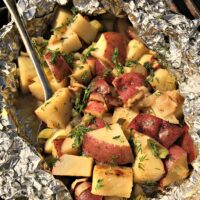 This Dilled Grilled German Potato Salad will be a "go to" side for your cookouts and gatherings. Make ahead and stack in fridge to throw on a hot grill… sensational side in only 15-20 minutes!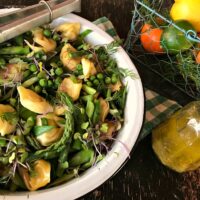 It's Asparagus time… and here is a simple way to put this bright-in-color-and-flavor salad on your spring table!
Next Page »