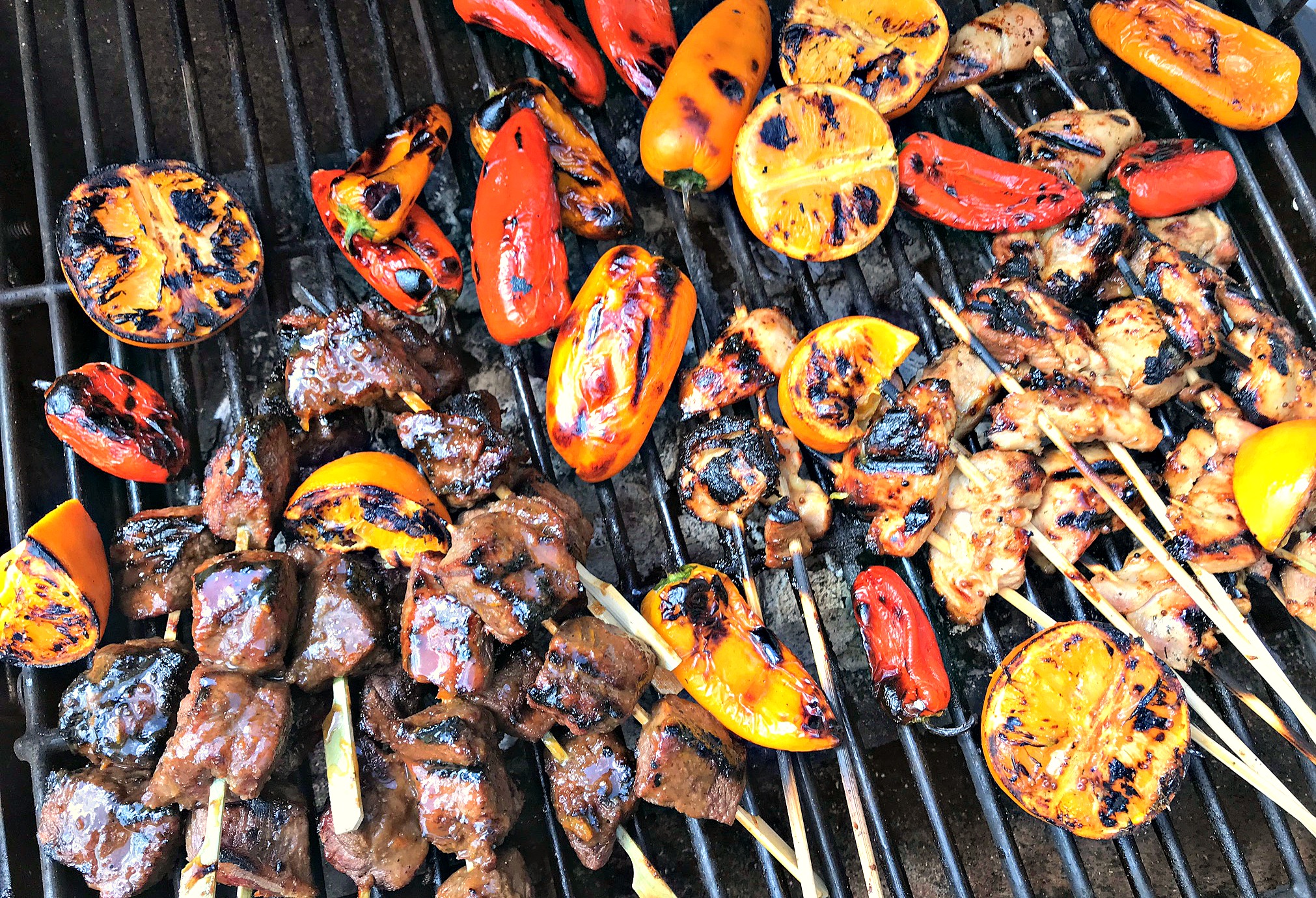 Published in Carolina Country Magazine May 2019
We don't let a little thing like winter stop us from firing up our grills here in North Carolina, but now that spring has sprung, some of us cook on our grills (NOT on a "BBQ!") nearly every day. Few things come close to the satisfying flavors of juicy meat, with a light coat of "char" (aka "almost burnt")… enjoyed on the patio or porch, swatting gnats and skeeters… cold beverage close by!
In case you haven't noticed, I'm a big citrus fan, most especially orange, and request slices of orange in my tea when out… no lemon please! Most of my friends do this now too! So you will find many of my recipes to be orange (or lime) inspired. Like these kabobs. Citrus just brightens up anything it touches, and for me, pairs well with a bit of char.
Sometimes, it's hard to decide whether to do chicken, pork or beef. So for this one, I decided to fix one sauce that could go both ways for poultry and meats. I used beef this time, but this will also pair beautifully with pork. And this way, you can please everybody in the crowd by serving some of both.
Be sure to throw together some of my Dilly Grilled Potato Salad too… a simple side that will go well with most everything.
Comment below or jump over to my facebook community and tell us what you think!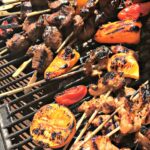 Orange Marmalade Steak & Chicken Kabobs
It's springtime, and we're ready to savor warm sunny days and good food with good friends. This simple marinade with a twist for both steak and chicken is sure to please. Remember to soak wooden skewers in water for at least one hour to prevent burning.
Course:
Appetizer, Fun Food!, Main Course
Cuisine:
Grilling, Summer Food, Tailgating
Ingredients
2

lbs.

sirloin

2

lbs.

boneless chicken thighs

1/4

cup

thick steak sauce

2

tablespoons

Texas Pete hot sauce

1/4

cup

spicy mustard

4

oranges

1

bag

sweet peppers,

optional
MARINADE:
1/2

cup

orange juice

zest of

one orange

1

16 ounce jar

orange marmalade

2/3

cup

rice vinegar

2

teaspoons

granulated onion

2

teaspoons

granulated garlic

2

teaspoons

chili powder

1

teaspoon

cumin

1

tablespoon

Worcestershire sauce

1

tablespoon

soy sauce

1

teaspoon

salt

1

teaspoon

black pepper
Instructions
Cut sirloin and chicken into 1½-inch cubes, trimming fat from chicken. Combine all marinade ingredients. Separate half of marinade for beef and half for chicken.

Add steak sauce to beef marinade. Pour over beef. Add Texas Pete and spicy mustard to chicken marinade. Pour over chicken.

Refrigerate and marinate at least 4 hours.

Preheat grill or coals to medium high heat.

Drain and skewer meats. Grill over direct heat, turning as needed to lightly char, until beef reaches desired doneness and chicken reaches an internal temperature of 165 degrees.

Halve oranges. Add whole sweet peppers and orange halves (cut-side down) to grill and cook until lightly charred. Squeeze grilled orange juice over kabobs and serve.
#GotToBeNc produce #EatLocal
---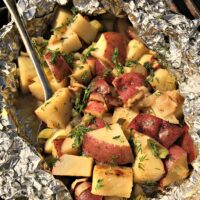 This Dilled Grilled German Potato Salad will be a "go to" side for your cookouts and gatherings. Make ahead and stack in fridge to throw on a hot grill… sensational side in only 15-20 minutes!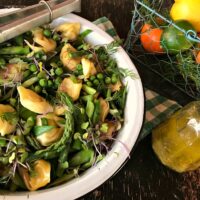 It's Asparagus time… and here is a simple way to put this bright-in-color-and-flavor salad on your spring table!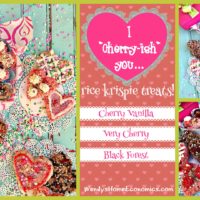 Published in Carolina Country Magazine ~ February 2018 I do love cherries! Any kind of cherries, but most especially, maraschino cherries. There's just something about those bright red sweet little nuggets that take me back to my childhood in an […]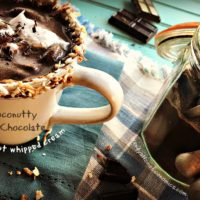 Make a batch of this decadent Coconutty Hot Chocolate mix to enjoy often — and share, too! Topped with a dollop of fluffy coconut whipped cream, this dairy-free delight is just what we all need at the end of a chilly winter day … pajamas not included.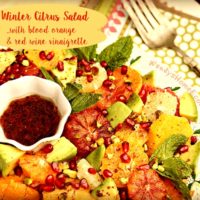 Published in Carolina Country Magazine… January 2018. As I sit here on this really cold day, watching stories from temps in the midwest United States colder than Antarctica with records being broken, this salad came to mind. I created […]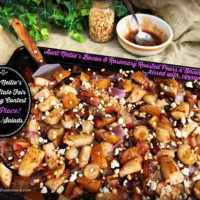 I love entering cooking contests. There's rarely a win with so much great competition out there, but it's fun coming up with ideas and getting in my kitchen to make what's in my head come to life. But… every now […]

The time has just about come for the annual "cooking of the cabbards" to fill the freezer! Like a squirrel stowing away acorns for the winter, I too, "get my cook'n on" once our local collards have had a good […]

Twisted Southern Thanksgiving Table Being the "throw cooker" that I am, those of you that know me know I'm gonna throw a twist into a meal or recipe, any chance I get. Well there's no reason Thanksgiving should be exempt […]
I'm a "throw cooker."  What does that mean?  Well, that means I throw stuff together to create good food and teach others how to do that too.  It's pretty simple and just not that hard to do.  Folks often ask […]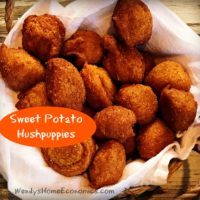 Crispy-on-the-outside and moist-in-the-middle, these hushpuppies featuring NC sweet potatoes are the perfect side dish for this clam chowder (or any bowl of your favorite soup). Great on a brunch table, too!

Oinkers!! …"South In Your Mouth" skillet Barbecue Drop Biscuits with BBQ Gravy Dip ©Wendy L. Perry, Inc. (feel free to publish and share with credit please) Recipe By: Wendy Perry Yield: About 4 dozen snack-size biscuits. For the whole […]

The world's slowest blogger and quintessential non-baker took home 1st Place last week in the 1st Annual "Best Southern Biscuit®" Contest at the 2nd Annual Midstate Mills Biscuit Day over in Newton, NC! Come along and experience the day, the […]
Next Page »