September 15, 2019
Posted by Wendy Perry

under

apples, casseroles, gluten free, here piggy piggy!, Mindless Mutterings from the Teacher's Lounge, published, roasted goodness, skillet cookery, sweet potatoes, turnips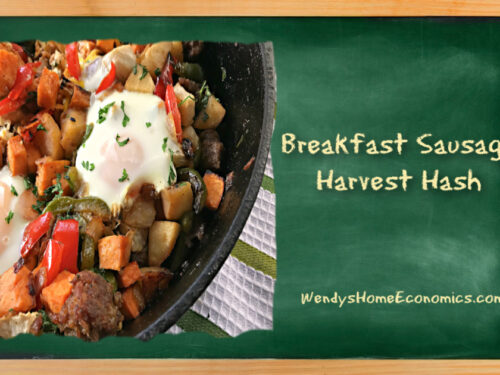 Published in Carolina Country Magazine November 2017
As the days slowly grow shorter, and eventually cooler, our cravings turn to comfort foods. There's just something about supper cooked in our favorite cast iron skillet.  And breakfast. For supper.  
A good hearty hash makes for a real good fall meal and checks all the boxes.  Add a mug of spiced apple cider… chilled or warm… and you're all set.  The eggs are optional, and easy to add for those who want, and those who don't.

This recipe can be tweaked to suit your fancy.  Throw together some hash soon.  And come tell me about it in my facebook community.
…and, Happy Fall Y'all!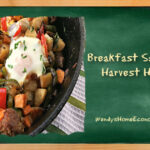 Breakfast Sausage Harvest Hash
In about 30 minutes, you can be sitting down for this cool night supper by the fire! Or enjoy as a late morning brunch. Either way, this is a crowd pleaser and great way to enjoy your favorite North Carolina breakfast sausage with NC sweet potatoes.
Course:
Breakfast, Brunch, Main Course, Supper
Cuisine:
American, Farmers Market, North Carolina Goodies, Southern
Ingredients
3

large

sweet potatoes,

peeled and cubed

6

small

turnips,

peeled and cubed

1/4

cup

oil

1

teaspoon

salt

1

pound

breakfast sausage

1

large

onion,

chopped

2

red bell peppers,

seeded and sliced in strips

1

green bell pepper,

seeded and sliced in strips

2

apples,

peeled, cored and cubed

1/3

cup

maple syrup

1

teaspoon

cumin

2

teaspoons

salt

fresh parsley

roughly chopped

6

eggs,

optional
Instructions
Preheat oven to 425 degrees.

Toss potatoes and turnips with oil and salt. Spread onto baking pan and roast for 20 minutes, tossing during cooking to brown all sides. If adding eggs, leave oven on when done.

While vegetables are roasting, pinch tablespoon-size pieces of sausage and place into a large skillet over medium heat. Scatter with onion and cook until sausage is browned. Remove with slotted spoon.

Add peppers and apple to drippings. Cook over medium-high heat until tender and caramelized. Stir in vegetables and sausage mix. Remove from heat and dab out any excess grease with a paper towel. Stir in syrup, cumin and salt. Toss to coat and garnish with parsley.

To add eggs:  Make indentions with spoon for each egg. Crack egg into indention and place (oven-safe) skillet into hot oven. Bake 10–20 minutes until egg whites are set. Test whites with a fork as they may appear on top to be done but not quite set.

---
Use firm and meaty ripe red tomatoes for these crispy cheesy fried red tomatoes! Spicy hot potato chips are perfect, but use your favorites (dill pickle are yummy)…
Grilled eggplant drizzled with blueberry mustard vinaigrette and fresh herbs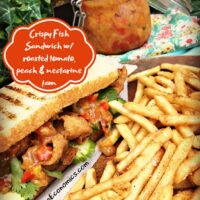 Enjoy those last summer tomatoes in this sweet n'spicy jam… roasted tomatoes, peaches and nectarines! Spoon over cream cheese or on crispy fish sandwiches.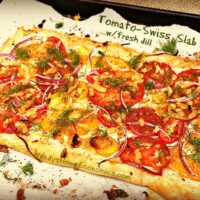 What makes a juicy ripe tomato even better? How about a cheesy, buttery flaky crust underneath with the bright, fresh flavor of dill! Serve this Tomato Swiss Slab Pie in small wedges as an appetizer, or in bigger wedges as a side dish. Perfect alongside a salad for a light, meatless meal.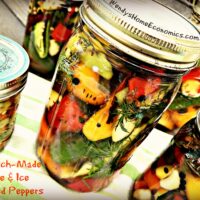 Many of us have made traditional "fire and ice" pickles using store-bought dill pickles. Our twist is a fast way to use those summer peppers that seem to come from every which way all at once … no processing, just refrigerate, eat and share. This recipe doesn't require exact amounts, so you can make brine and use any amount of peppers (or other vegetables) you have.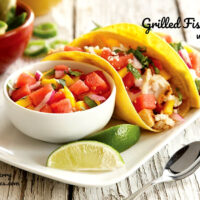 This sweet and hot watermelon pico de gallo is the perfect topping for fresh North Carolina fish, shrimp or crab tacos. For the best texture, stir together just before serving.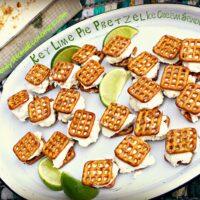 Sometimes, "just a little something" to finish off a summertime meal is all that's needed. Make these no-cook no-churn key lime ice cream treats days ahead and just take out what's needed.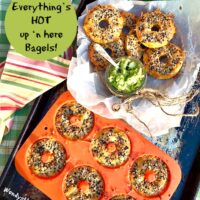 Cheesy gluten and carb free bagels… with a kick of cayenne and a dusting of crispy everything bagel dust!
Pull out a muffin tin and bake some hoop cheese biscuits… fluffy biscuits with a hunka cheese hidden inside for the BEST first bite surprise!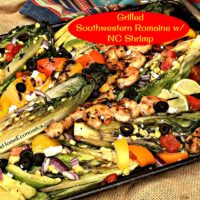 Let your grill do the work on this one… dressed up or down as you'd like, grilled southwestern romaine with NC Shrimp is as quick a side as you can fix … but watch it closely, it is ready in a flash!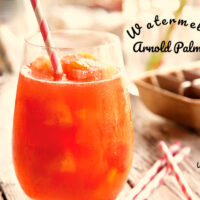 Icy cold… perfect refreshment for a hot summer's day with fresh watermelon and lemon-green tea ice cubes!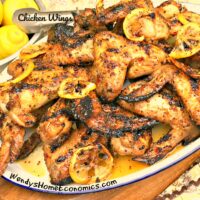 Arnold Palmers are a refreshing treat on a hot summer's day. The lemon and tea pairs so well, I created a version for these deelish wings. Tailgate friendly, too!
Next Page »