Many MANY years ago, I came across a collection of honey recipes. Now honey, I do love some honey. In that collection… one I don't have specific recollection of (we are talking about a few decades ago), was this yummy chicken recipe that had honey… butter… soy sauce and one of my other favorite things, sesame seeds. I like to reference sources for any recipes I found somewhere and tweak, but just have no idea where this was… or even the specifics. I just remember it was good. And today, I remembered it… and how it had been forever since making it.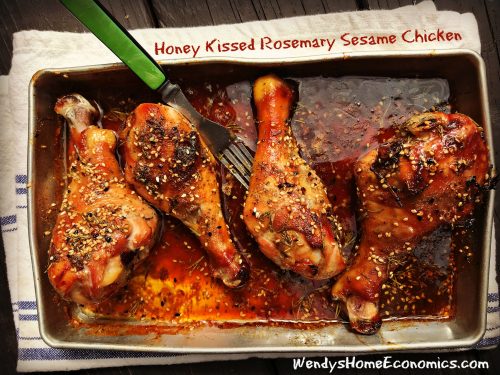 I have been craving something roasted with rosemary lately and grabbed a handful from my friend Hayes at his local Fat Radish Farm over the weekend. It's been staring at me on my cutting board, so this morn, I decided to revive this old recipe, best I could remember…. and add some rosemary!
The sauce, just as I remembered, is so delish I could sip out of a cup. So without further delay, because my hot chicken awaits… here's the recipe.. I love simple recipes that I have stuff in my pantry to throw together and this is one of them. And if you don't keep sesame seeds in yours, DO! I keep a shaker by my stove and shake them on lots of things instead of salt. I find the best bulk prices (already roasted) at Asian grocers. But I'm also a HUGE fan of Savory Spice Shop salt free Asian Sprinkle.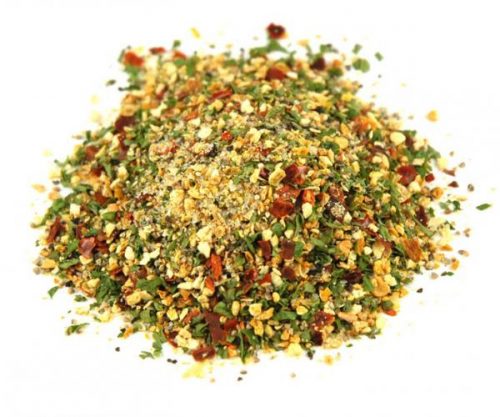 That's what I used… but just sesame seeds will be fine. If you have a Savory near you, become a frequent visitor. If not, you can order their goodies online.
Honey Kissed Rosemary Sesame Chicken
I love simple recipes that have few ingredients and are usually on most pantry shelves… that don't necessitate a trip to the grocery store. This is one of those. It is adapted from a recipe I made often years ago… from a cookbook that I don't even remember. I tweaked it and added rosemary and sesame seeds. This sauce is so delish you'll want to have some toasted garlic bread for dip'n. Enjoy!
Ingredients
4

skin on breasts or leg quarters or favorite pieces

8

tablespoons

honey

4

tablespoons

butter,

melted

2

tablespoons

tamari or soy sauce

1

tablespoon

fresh minced rosemary

or 1 teaspoon dried

3

tablespoons

sesame seeds*
Instructions
Preheat oven to 325.

Put chicken in shallow baking pan.

Combine honey, butter, soy sauce and rosemary. Pour over chicken.

Sprinkle half the seeds (or Asian Sprinkle) over top of chicken. Bake for about 45 minutes. Baste every 15 minutes. It's not necessary, but I turn after top side is browned and sprinkle the remaining seeds on the other side to brown that side too!
Notes
* I am a big fan of Savory Spice Shop and use their salt free Asian Sprinkle, but just sesame seeds work great! Just don't skip them. They are really what makes this chicken so toasty and tasty. I shop at Savory Raleigh, but they have locations across America! Find one. And if you go to the Raleigh shop, tell them I sent you.