Published in Carolina Country Magazine January 2019
Y'all know I do love crispy food. The more crunch the better… and this "need" seems to grow as I get older. Anytime I can tweak a recipe to add crispy-crunchy, that's where I'm headed. And I do love to play with cornbread recipes too. So when I was thinking of a bread twist to serve alongside my spaghetti for Carolina Country magazine, I pondered a combination of those favorite things and how to make something that would not be too crazy. AND, work as a sidekick instead of garlic bread.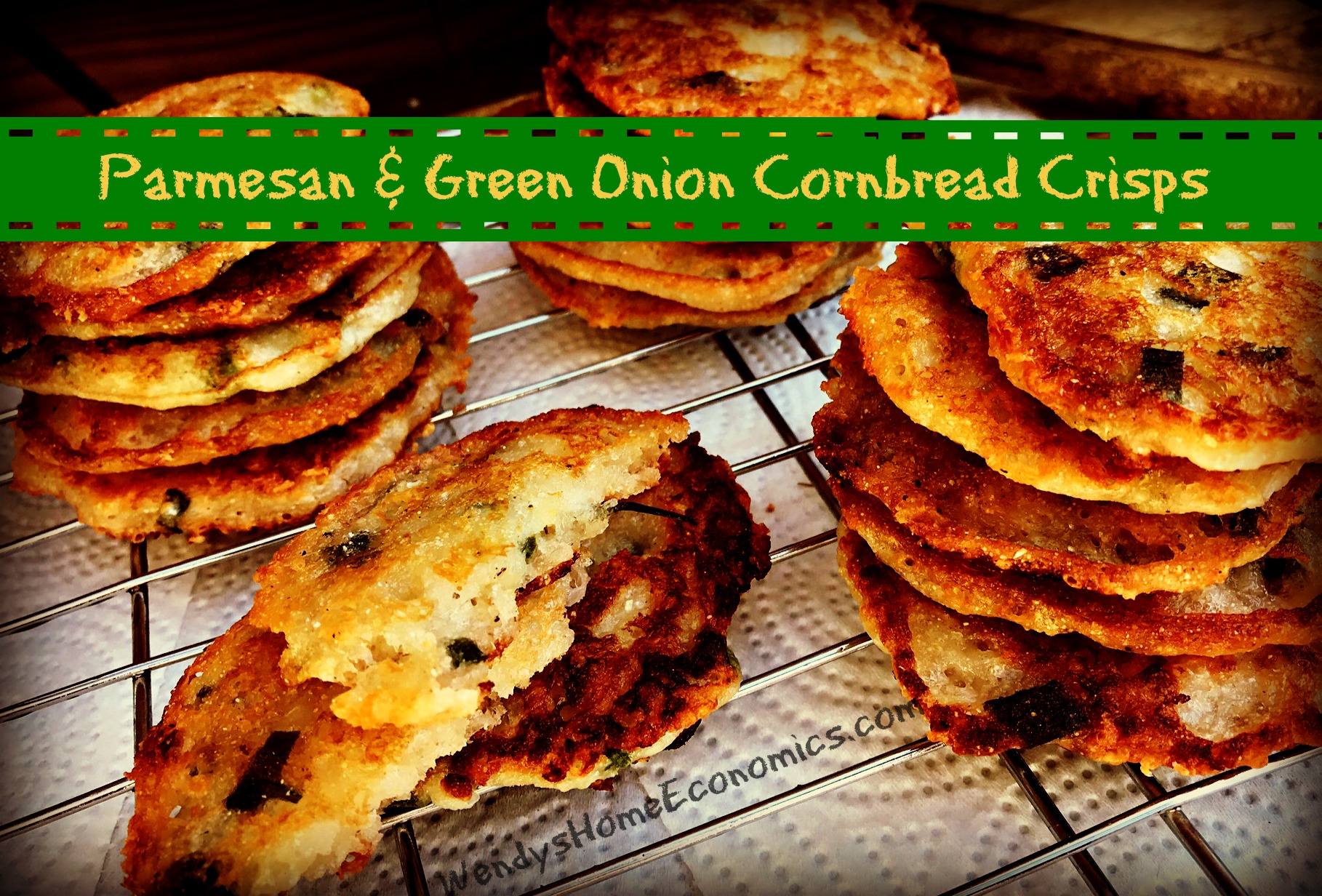 So here you go… Parmesan and Green Onion Cornbread Crisps! I have never seen cornbread of any sort served with spaghetti, and also loving to throw my friends a curve ball, I managed to come up with something so completely "out there" it works! Just ask the staff at the magazine. When I took 'em up for lunch with my spaghetti… I think these were their favorite thing and ate more of crisps than dessert… Woolworth's Vintage Cheesecake. (Recipe will be posted soon.)
To tell you the truth, they're good by themselves, and tasty with a dollop of my Creamy Swiss pimento cheese on them too.
So fry yourself up a batch. And do be sure to use seltzer water in them… the fizzy gives the batter air bubbles that help with the crunchiness factor. You can make ahead of time and keep warm in the oven or give a quick heat-up (watch closely) in your toaster oven.
Do come over and add your comments or just follow along on my Home Economics Facebook community. There, you will find lots of great tips and helpful hints that don't make it to here on my blog.
P.S. I have since made these crisps with a dusting of Italian seasoning… another great addition.
And hey, before you go, if you didn't already, be sure to jump here and subscribe to my Table Scraps e-zine newsletter!
Parmesan & Green Onion Cornbread Crisps
Who doesn't love cornbread? And who says you have to serve traditional bread with your spaghetti? Surprise your crowd with this toasty cheesy cornbread … something different that works!
Ingredients
1

cup

hushpuppy mix with onions

(I use Atkinson Mills Sweet Betsy)

2

cups

grated parmesan cheese

1

cup

seltzer water

¾

cup

diced green onions,

white and green parts

cracked black pepper

sugar to taste*

about 6

tablespoons

peanut oil
Instructions
Stir all ingredients (except oil) together and let stand 5 minutes.

Add enough oil to lightly coat your skillet. Drop mix by tablespoons into medium-high oil and spread out with the back of a spoon.

Fry on each side until golden brown, about 2 minutes per side. Drain on paper towels.
Notes
*Add sugar, if preferred, if your mix doesn't have any.