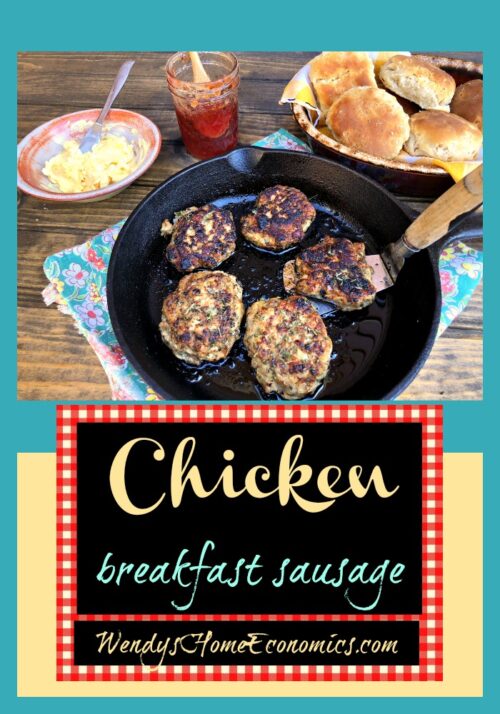 Published Carolina Country Magazine February 2020
Long ago… in what seems like another lifetime, I was a crazy busy personal chef.  Over a couple of decades, I cooked for so many folks that became like family to me…. singles young and old, couples young and old, families… senior parents whose children would hire me to look after them from afar!  I did dinner parties and cooking classes. I even founded a professional association in 2000 that taught many personal chefs across America (and a few other countries) how to set up, manage and operate their own personal chef businesses!  A "mishap" in a convenience store parking lot "hole" changed all that in 2014 and I had to suddenly re-career off my feet.  Another story for another day.
During the nearly 2 decades I cooked for so many, one of my most requested recipes was this chicken breakfast sausage.  Folks loved and requested it for all sorts of reasons.  No Pork. Seasoned this way or that. Etc. This is kid-friendly too.

I tweaked it until it was just like I wanted it.  And sometimes tweaked per client to suit their personal tastes.  I have also made it with apple tucked in too.  Grating in some fresh apple makes it super moist, but that's another recipe for another day!  (Or just add some into this recipe.)  
If you find you like this recipe, it's easy to double batch and freeze patties to have on hand.  Notice my suggestion for making some as is, and some as maple sausage too.  Either way, I think you will enjoy this recipe.  I like to cook in a cast iron skillet to get a little bit of a "crunch" on the outside.  (See note in recipe about cooking with maple syrup in it.)
This sausage is perfect alongside my Whole Wheat Nutty Lemon Ricotta Pancakes that I will be sharing in the next week once published at CC!  
I hope you will give these a try, and comment below or come over and find the post about this on my facebook community and add there!
Chicken Breakfast Sausage
Enjoy this moist and tasty chicken breakfast sausage... as is, or with a hint of maple too!
Ingredients
1 ½

pounds

ground chicken,

dark/white mix is best

1

small

onion,

minced (about 3/4 cup)

3

tablespoons

dried parsley

1

tablespoon

dried sage

1

teaspoon

ground ginger

1

teaspoon (or more!)

crushed red pepper,

omit or reduce to suit taste

1

teaspoon

ground black pepper

¾

teaspoon

salt

maple syrup,

optional
Instructions
Combine all ingredients except syrup and mix well, forming 12 patties.

Heat skillet to medium heat and add just enough oil to coat.
Fry about 12-15 minutes, turning once until cooked through center (165).
Notes
Option:   Make the recipe and divide in half, and add 2 tablespoons maple syrup to half to have some with and without maple. Note that the patties with maple will brown more due to the sugar.  Watch carefully to prevent burning from the sugar.  (I cook these a bit lower and cover to make sure they get done inside.