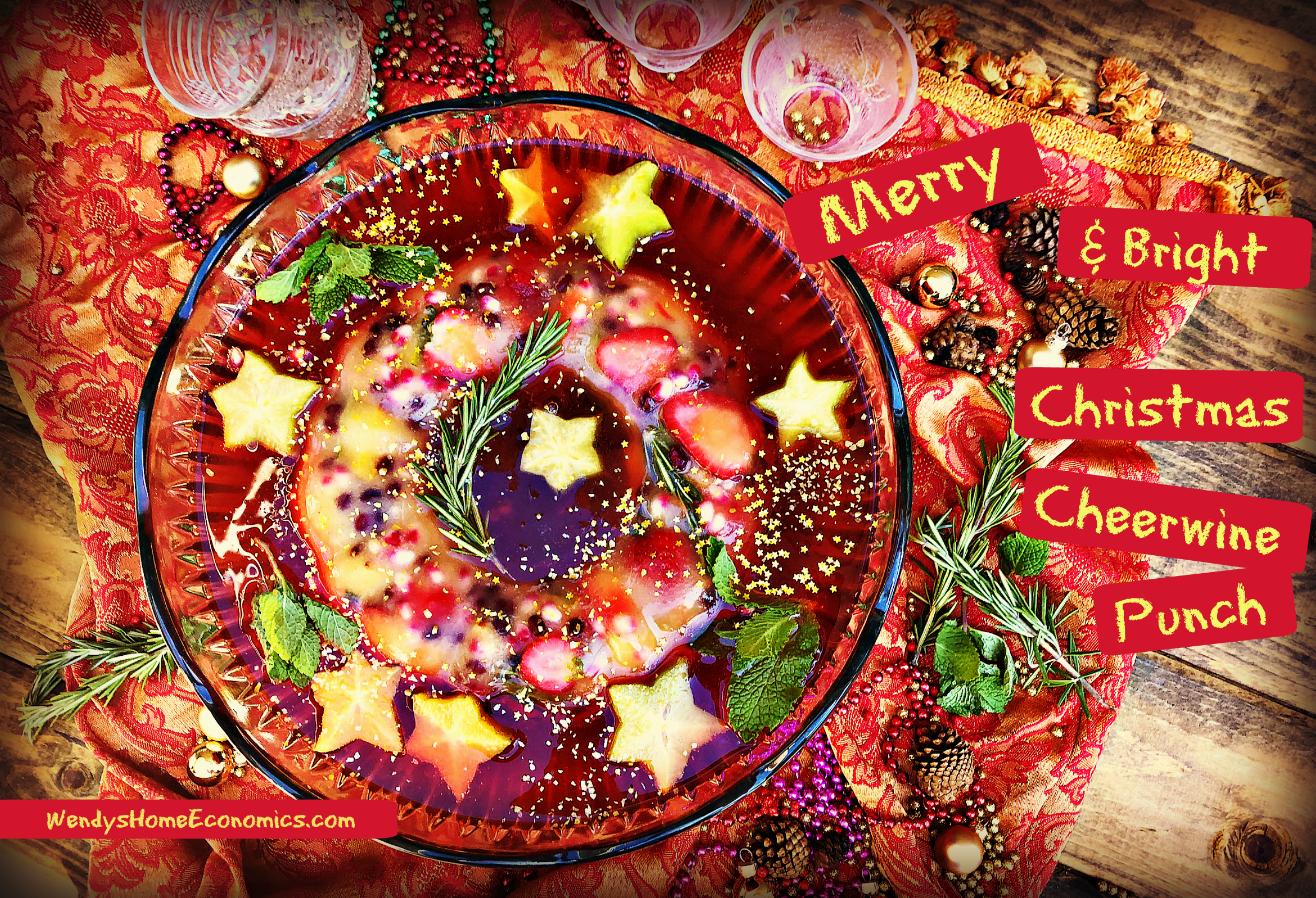 I love North Carolina's Cheerwine.  I play with it in all sorts of ways, like my Cheery Grilled Corn with Hoop Cheese Crumbles and Bacon Dust!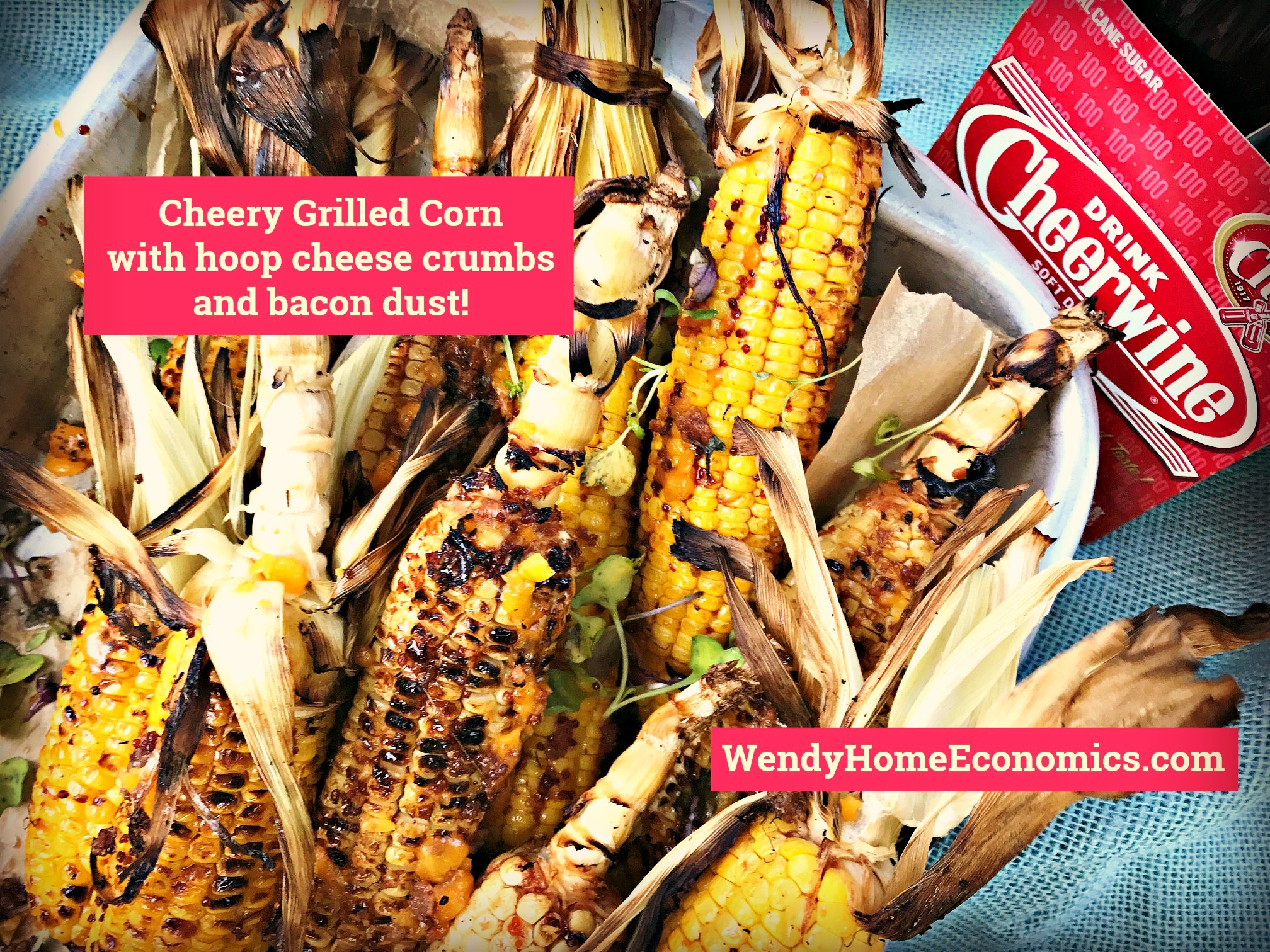 And… I love punch! I especially love Cheerwine's seasonal holiday punch. (Stock up before it's gone.)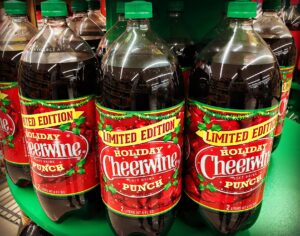 Punch is so fun… and in this case, most festive. As a caterer for many years, I liked serving punch because it was one of those things that could be done for bunches at the time with little labor.
(Except the time one of my brides brought quarts of frozen green stuff just before the wedding and my poor mama 'bout killed herself and broke 2 choppers trying to break up that "hard as a rock stuff" up minutes before all those guests were headed for the punch bowl.)
There are so many kinds of punch, and although I enjoy those frothy vintage ones with sherbet floating in the bowl, they just don't quench one's thirst, defeating the purpose of something for that.  Many times, I would be given "Aunt So and So's" fluffy (usually green) punch recipe to make for wedding receptions. I would always have to make sure there were pitchers of water (and extra cups) since, albeit delightful and family tradition, did nothing but makes folks MORE thirsty with all that sugar… buckets of SUGAR!
My goal when creating this delicious sparkly punch was to cover all bases. Something festive but also, not necessitating water because it makes guests "more thirsty!"  And too, I wanted something for all to enjoy… something the host/hostess could fix and let folks serve themselves and not have to fret over so they can enjoy the party too… (see the rest of this menu with my Gingerbread Banana Pudding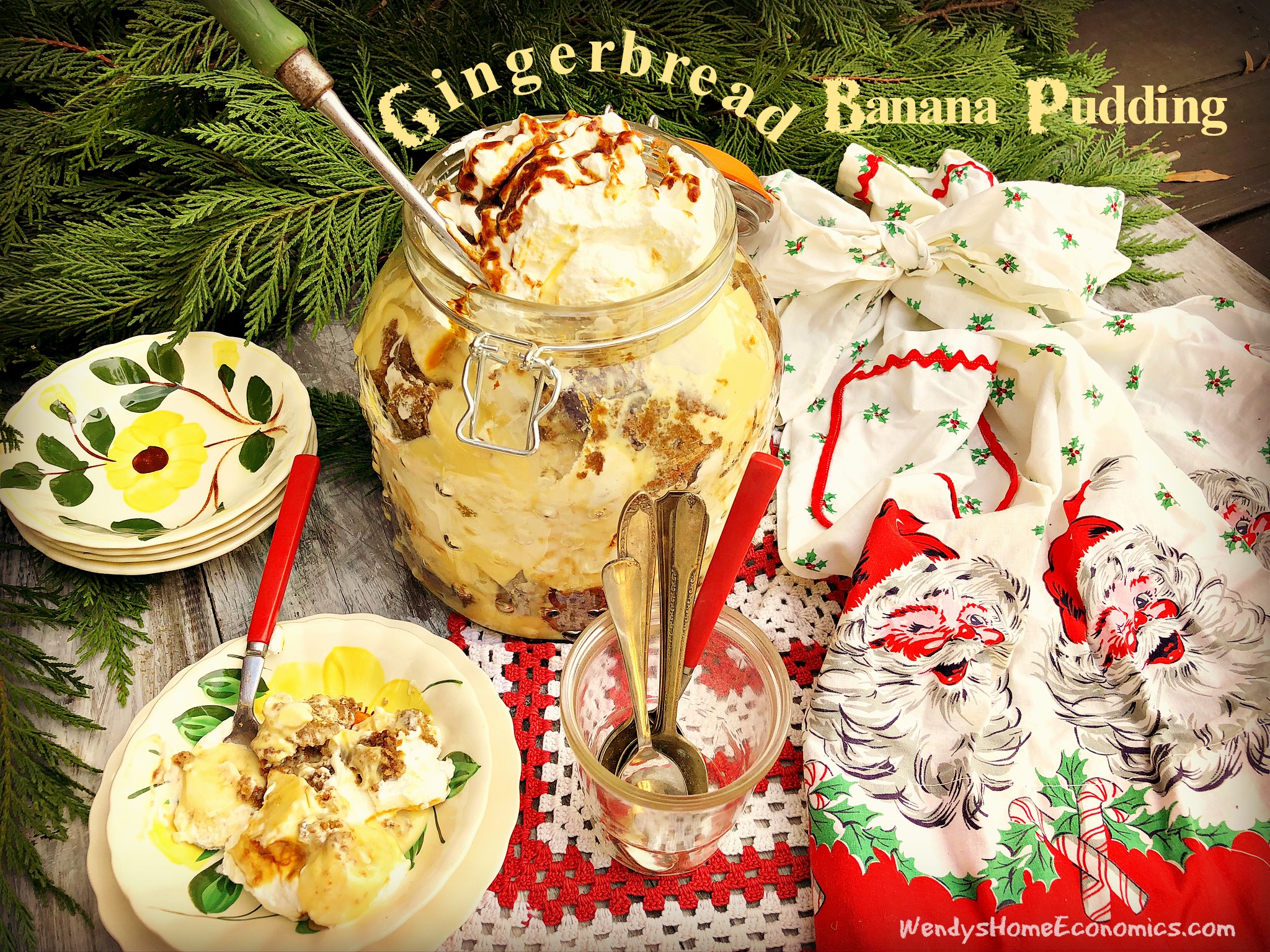 and Pork Tenderloin Sheet Pan Supper).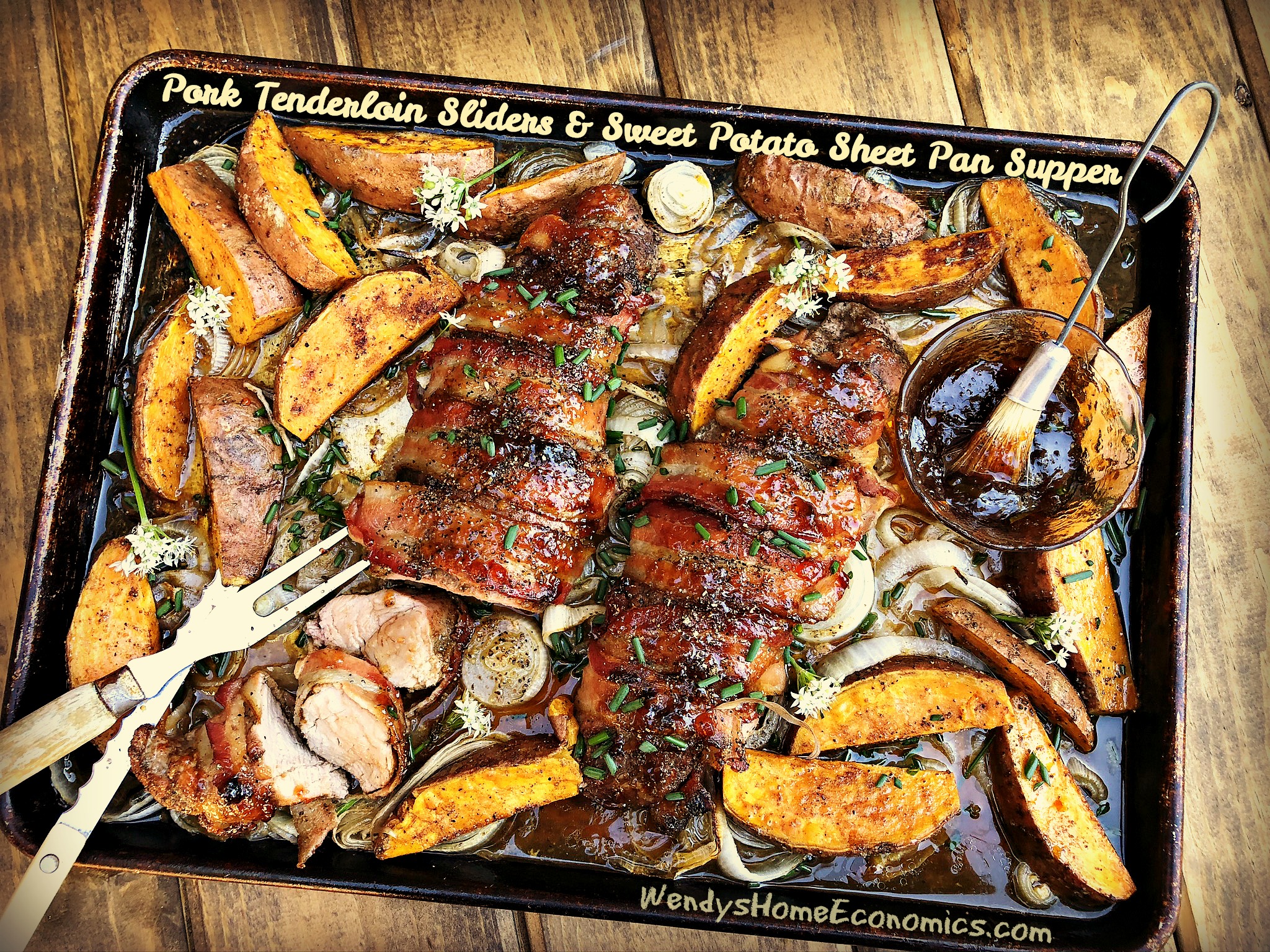 The beauty of this punch is that it is "all-age friendly."  But… you can simply sit out some vodka or rum (spiced rum is great!) and let the grown-ups make themselves an adult beverage should they so desire.  If rum is your thing, you won't go wrong with a splash of Johnston County's Broadslab Distillery's oaky Carolina Coast Spiced Rum (my personal FAVE spiced rum)!
Cheerwine's Holiday Punch is just perfect for this thirst-quenching big bowl of "Cheery, Merry & Bright!"  You can skip the edible gold stars and flecks, but I highly recommend getting some. That can be found at craft stores or ordered online and at your doorstep in a day or two.  I used both gold flecks and stars… and having donated my punch bowls years ago, borrowed one of many available punch bowls and cups from my little rural country church. It's fun to see all the punch bowls and tubs of punch cups they have tucked away in the equipment closet there in the church annex.  And when I was making this and needed a punch bowl, knew exactly where I would find several to pick from!  
Sooo…. throw yourself a gathering!  And make some of my Merry & Bright Holiday Cheerwine Punch… it will make your table so festive, and let you enjoy your party right along with your guests.  The ice ring can be done days or week ahead of time too… ready to plop into a punch bowl and add the other stuff. 
And from my table to yours…
Merry Christmas.  Happy New Year.
Cheerwine… and Cheers to fun gatherings for you and yours!
 This recipe created for and published in Carolina Country Magazine December 2019 © (copyrighted)
Propping/styling and photography  by
Wendy Perry Carolina Country Magazine Contributing Recipes Editor
Be sure to visit (and share) my online stores:
Aunt Dee Dee's Kitchen …my unique seasonings (including salt-free), kitchen doodads & more!
Rada Knives and Kitchen Tools  USA made budget-friendly cutlery (great for gifting)
Watkins 1868 Store. Did your mama and grandma buy from "the Watkins Man?" The best vanilla…
Credentials @ LinkedIn
Disclosure:  I only recommend products here I use myself. I may receive a small commission from affiliate links on this or other posts on this web site at no additional costs to you.
CLICK HERE TO SUBSCRIBE TO MY TABLE SCRAPS NEWSLETTER!
Find me on social media:
Wendy's HOME EConomics! Page on FB    @culinaryadventuristwendy on IG
Aunt Dee Dee's Kitchen Page on FB      
@auntdeedeeskitchen on IG
Merry & Bright Christmas Cheerwine Punch
Having friends over for a holiday supper? No need to fret over multiple beverages … punch to the rescue! Let your imagination loose as exact measurements are not necessary.


Ingredients
ICE RING (can be made days ahead):
bundt pan

1

46 ounce can

pineapple juice

1

10 ounce jar

cherries with stems, drained and juice reserved

Strawberries, pomegranate arils, star fruit, pineapple wedges, cherries, rosemary

Edible gold stars and flecks, optional
PUNCH:
1 part Holiday Cheerwine Punch*

1 part gingerale

1 part lemon-lime club soda

fresh mint
Instructions
ICE RING:
Layer fruits (including cherries) and rosemary stems in the bottom of Bundt pan. Gently pour in pineapple juice just to cover and then freeze. Mix cherry juice with pineapple juice, pour over frozen fruit layer and refreeze. Be sure to freeze as instructed. Most of the fruits will float, so if you pour too much for the first layer, they will be deep in your ring and not show up on top.

Remove ring from freezer about 20 minutes before serving time. Run warm water over Bundt pan to loosen ring. Gently place ring into punch bowl.
PUNCH:
Pour Cheerwine, ginger ale and club soda over ring. Garnish with additional star fruit, mint leaves, rosemary, gold stars and flecks.
Notes
Variation: Offer spiced rum on the side for an adult version.
*Regular Cheerwine can be used if Holiday Punch is not available.