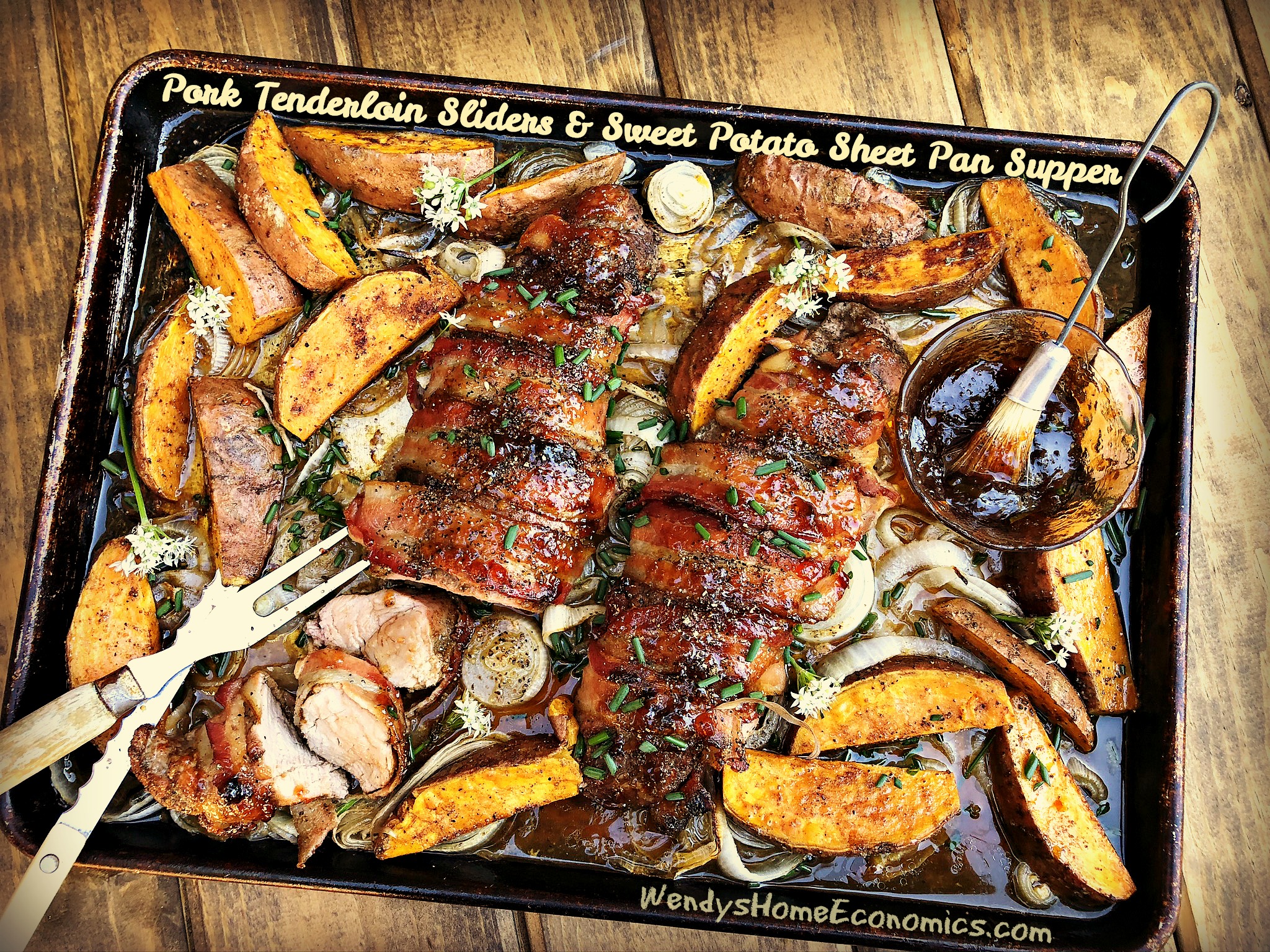 Published in Carolina Country Magazine December 2019
When planning my recipes for the December issue of Carolina Country Magazine, my vision was to create three recipes that would provide a host/hostess with a complete meal for a small Christmas gathering he/she could enjoy and not spend the entire party in and out of the kitchen fixing and replenishing food.
I also wanted the recipes not to be labor intensive and could mostly be done ahead of time.  I'm pretty sure I accomplished all those goals… with a tasty well-rounded meal, each complimenting the other… while featuring a few of my favorite North Carolina products. 
Greet your guests with a beautiful bowl of Merry & Bright Christmas Cheerwine Punch! As noted on the recipe, you can offer some nice rum or vodka for those guests who prefer a "punch" to their punch!  See ideas for some NC rum and vodka over on the Cheerwine post!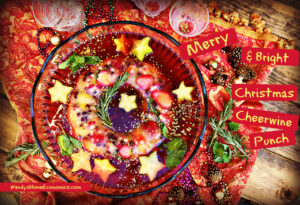 Now for the main dish… I used NC pork x 2… with the best bacon on earth, Cheshire pork… from Heritage Farm General Store… and pork tenderloin from my favorite little local grocery store in Louisburg… Moss Foods… slathered both before and during cooking with some pepper jelly!  The loins are placed atop a tray full of thinly sliced onions that caramelize in the pork drippings (YUM!) and are surrounded by seasoned NC Sweet Potato wedges… that also get kissed from below by those onion-y porky drippins.  Y'all, I can't even begin to describe this lusciousness!  This can all be prepared a day or two before your guests are due, ready to pop into the oven and then served right off the tray with a basket of slider rolls for your company to self-serve.
Rounding out this perfect little meal… Gingerbread Banana Pudding!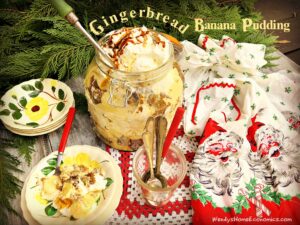 Just drop by a local thrift store and grab a cute hinged jar to make this in… details over on that post.
So there you have it! A complete meal that will surely impress your friends… and one that will let you have just as much fun as they will at your party.  
I wish you and yours the merriest Christmas and hoping you have a most blessed season.  Just don't forget #TheReasonForTheSeason! 
Don't forget to come over and like my facebook community for recipes and so much more! 
Pork Tenderloin Sheet Pan Supper with Sweet Potatoes & Caramelized Onions
You won't go wrong serving your holiday company this Peggy Rose's pepper jelly glazed-Heritage Farm bacon wrapped NC pork tenderloin.... nestled among seasoned NC Sweet Potatoes!
Ingredients
3-4

small

sweet potatoes, washed and dried

2-3

tablespoons

oil

1

tablespoon

cumin

1

teaspoon

ground cinnamon

2

teaspoons

salt

3-4

onions, peeled and thinly sliced

2-3

tablespoons

oil

about 3

pounds

pork tenderloin, silver skin removed

dried sage

cayenne pepper

freshly ground black pepper

salt

½

cup

hot pepper jelly, divided

12

ounces

bacon

1

tablespoon

balsamic vinegar

chopped chives
Instructions
Slice potatoes lengthwise into wedges. Toss with oil, then add cumin, cinnamon and salt. Set aside.

Preheat oven to 425 degrees. Toss onion rings with oil and scatter on large sheet pan.

Dust tenderloin generously on all sides with sage, peppers and salt. Lay on top of onions.

Warm 2 heaping tablespoons of jelly in microwave for about 15 seconds and spread over tenderloin. Wrap with bacon and dust the bacon with black pepper.

Place potato wedges on onions around pork. Roast for about 35 minutes until pork reaches 140 degrees by thermometer.

Warm remaining jelly with balsamic vinegar and drizzle over pork. Let rest a few minutes before slicing.

Garnish with chopped chives. Slice pork, top with the roasted onions alongside the savory roasted sweet potatoes.