I know, I got you with BACON dust, right? Well then let's add Cheerwine to the party too!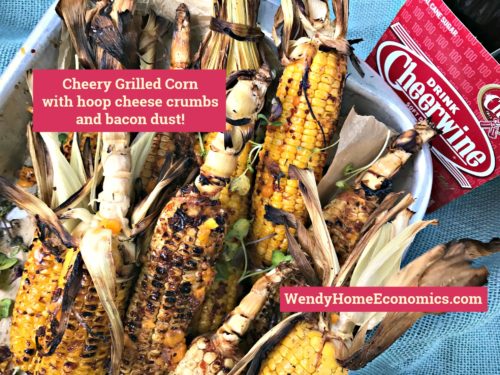 Bacon doth make everything more better, and on my "Cheer"y grilled corn is no exception. We've all seen the "same old same old" grilled corn recipes…. usually Mexican in nature. Well y'all know this southern gal is an evangelical when it comes to preaching that we should all cook and eat local. And around here, it's North Carolina goodies, but the same applies wherever your "local" might be. Local and nekkid…. the way God gave it to us!
So when it was decided I'd do something featuring sweet North Carolina corn for the July issue of Carolina Country magazine, my little brain went to spinning…. because I do love some grilled roasted toasty corn. But I wanted to give it some good old North Carolina pizzazz, and when I opened my fridge and pantry to find my inspiration…. there it was, glistening in my face…. CHEERWINE!
We are the proud birthplace of Cheerwine here in North Carolina and all celebrating their 100th birthday this year with them. So a basting glaze with that was "it!"
So then, I needed cheese. I grew up loving hoop cheese. My mama, rest her soul, was no cook and made no bones about it. I can count on both hands (actually more like one) the cooking memories I have of her. But one of those that I vividly remember was the nights she would take out her well seasoned 10″ cast iron skillet (I'm sure my grandma gave her to be a 60's housewife!) and melt hoop cheese daddy had brought home from the little family-owned downtown Zebulon grocery store up the street from First Federal Savings and Loan where he worked.
That hunk of bright orange cheese, with its cherry red rind, would be wrapped in "freezer locker" paper. While mama's canned biscuits were burning in the oven (she cooked everything on HIGH or 500…. no other settings were needed on our appliances!), she was melting that greasy gooey hoop cheese in that skillet.
I really don't even recall having anything "on the side" with those cheese biscuits… and adding a side dish might have sent mama into culinary panic and running for the hills! So cheese biscuits it was. A "Menia supper" in all its glory.
OK…. let's hop off memory lane and get back to this corn thing!
I know hoop cheese crumbles nicely, so keeping with my local and southern recipe and ingredients, Ashe County Hoop Cheese would be the perfect cheese to crumble and throw on the hot corn off the grill. I can pick that up at the Raleigh State Farmers' Market, but if that's not convenient for you, many grocery stores carry hoop cheese, and you'll likely find it sold down the road in your local country store with saltine crackers…. if you are fortunate enough to live out in the country!
But my corn needed one little something else. And naturally, I concluded that should and must be…. B.A.C.O.N.! Bacon Dust!
So once I had all of this new concoction in my head, I could hardly wait to make it. With plans at the beach with the family that coming weekend for a mess of steamed crab legs, I knew testing my new recipe with that crowd that would be perfect, one of my gaggles of guinea pigs… and what's better alongside crab legs than corn?
Well turns out my first trial run was perfect and didn't need any tweaking. (A recipe developer loves it when that happens!) Lips were smack'n and fingers were being licked…. and nothing was left but a big old pile of gnawed off corn cobs and demolished crab shells….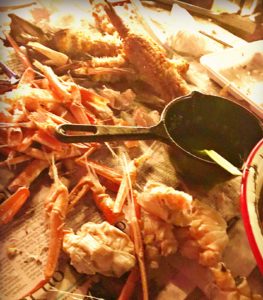 So I'll leave you at that… and wish you and yours a fun and safe and most blessed July 4th! I do hope this week or sometime soon while corn is plentiful you will give this recipe a try. And if you do, come back and tell me what your crowd thunk about it! I'm pretty darn sure you will be the hostess with the mostess and be crowned "best corn" winner.
And while here, don't forget to subscribe so you don't miss more local goodie recipes to come!
And God Bless America! Land that I love…
Cheery Grilled Corn with Hoop Cheese & Bacon Dust
To celebrate Cheerwine's 100th Birthday in 2017, fire up the grill and cook your crowd this Southern version of roasted summer corn on the cob! It's so good you'll want to plan at least two ears per guest.
Ingredients
2

cups

Cheerwine® soft drink

½

cup

molasses

½

cup

stone ground mustard

½

cup

butter

½

teaspoon

sage

freshly ground black pepper

1

dozen

ears of fresh corn

shucked and cleaned

½

pound

hoop cheese

crumbled

12

ounce package

bacon

cooked and crumbled into "dust"
Instructions
Heat gas or charcoal grill to high heat. While grill is getting hot, combine Cheerwine, molasses, mustard and butter in heavy bottomed saucepan. Bring to a boil then reduce to low boil and cook until sauce has reduced to about half, making a thickened glaze. Remove from heat and whisk in sage.

Put corn onto hot grill, baste with glaze and cover. Turn every 1–2 minutes, basting as you turn, until charred in spots (about 8–10 minutes). Remove to platter and while hot, scatter with cheese crumbles and bacon dust. Drizzle with any remaining glaze. Serve immediately.