'tis pie season.

Tomato Pie Season!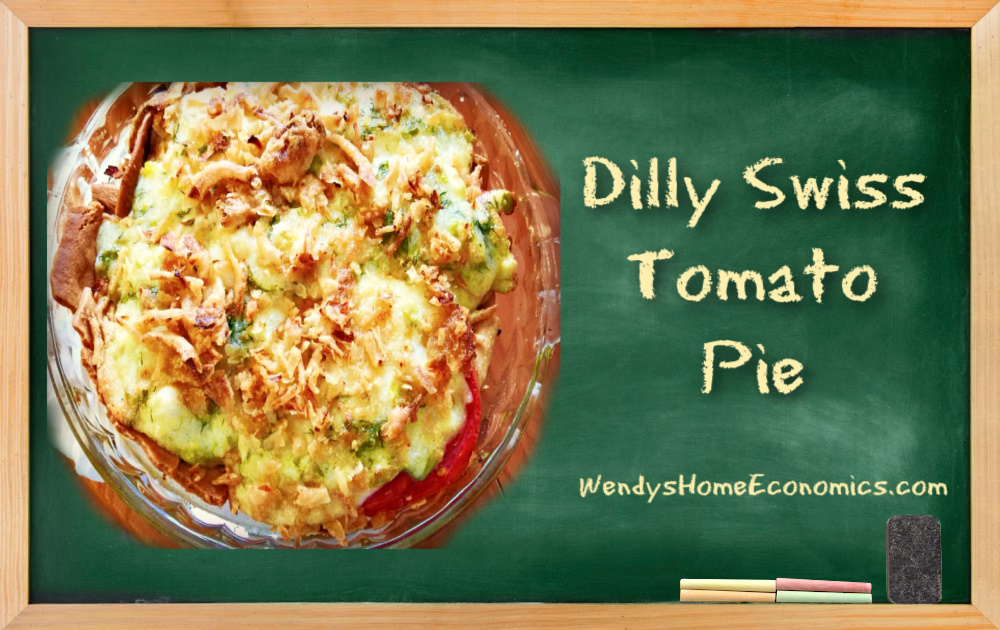 As House Chef, food stylist and recipe developer at Our State Magazine for 5 years, I often prepared and styled recipes from church and community cookbooks they featured each month, while sometimes I created recipes for the magazine. Now those who know me well know getting in one of my kitchens and doing some "throw cooking" creating recipes of my own…. usually with North Carolina goodies, is my mostest favorite thing to do!  And this tomato pie is one of those creations.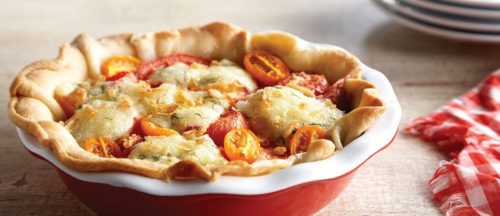 Sometimes, ingredients just harmonize and the recipe turns out just right the first time!  This tomato pie is one of those times. I get visions in my head… and can hardly wait to pull together the ingredients and start playing! Although rare, there certainly are disasters and some "what was I thinking" concoctions, but for the most part, I believe this to be a talent given to me by God… there's just no other explanation.  That, along with just having taste buds that seem to know what tastes good together is my "formula."  This comes to me naturally, and it is so hard for me to grasp that this simple thing, for others, is terrifying and beyond anything they can or will do.  We had this very conversation this past weekend where I was throwing together my okra salad, a variation of it, and folks there were just mesmerized at what I did, and said in a million years would have never thought to do such a thing… while gobbling it all down!
This simple summer pie can be made in a flash… and that's just what kind of cook'n we all prefer in prime tomato season when adding heat to our lives in any fashion is not on our agenda… at least not here in North Carolina, where the heat and humidity becomes absurd.  July, August and September are prime field tomato months for us, although I'm fortunate to have some farmers near me who grow some pretty darn good hot house tomatoes we start eating about March or April! So "Tomato Everything" graces my menus and recipes, and that's fine by me… as I'd just as soon eat juicy fresh local summer 'maters as I had a hunk'o steak!  
You can Google and scour Pinterest for "tomato pie" recipes, and find thousands of them… most claiming to be "the best tomato pie you've ever had."  But I'm here to tell you, I'm laying claim to that title with MY tomato pie. Period.
There are a couple of reasons for this.  First, it has Duke's mayonnaise, which speaks for itself! And if you live in a place where there is no Duke's, I have full pity on you… (but you CAN order online from them or have friends and relatives visiting you from The Land of Duke's bring you some). Many of y'all know by now that my "little" (back then) nephew Wyatt and I had the opportunity to be featured in several Duke's commercials a few years back. We became something akin to "celebrities" for a few years as they would run starting in spring and tomato sandwich time, right on through the end of tomato season in fall.  And he was BMOC2G (big man on campus in 2nd grade). So anytime I can throw some Duke's in a recipe, I do.
Nextly… most tomato pies you see use mozzarella, or cheddar cheese.  Nope, not around here! I'm a Swiss cheese fanatic, and when others are using the same old kinds of cheeses in recipes, you'll likely find Swiss in mine…. like my Swiss Pimiento Cheese!
And lastly…. you will typically see herbs from what I call the "Italian Family" in tomato pies, but you haven't lived until you've enjoyed a meaty juicy tomato pie…with fresh DILL!
So those couple of things married together make my taste buds do a culinary happy dance. And I'm sure they will do the same for yours.  So without further babble…. I bring you, my Dilly Swiss Tomato Pie! I do hope you will make one soon, and come back here and share your review with me… and that you and yours love it as much as me and mine do. And since I have all the ingredients on hand, I think I shall throw myself one together now too. One can never have too much tomato pie, right?
Don't miss my Tomato Slab Pie and Tomato Pimento Cheese Shortcakes with Black Peppered Whipped Cream… both published in Carolina Country Magazine.
Note:  Why do the pies in these pictures look so different?
Your pie will have more onion crust topping than the magazine picture…. sometimes "things" have to be done in the name of food styling for better photos, and this is an example.  Too much of the onion and you wouldn't see the beautiful meaty tomatoes underneath! The photo up top is more what your pie should look like!
This recipe created when House Chef/Food Stylist/Recipe Developer for Our State Magazine published in July 2015.

Disclosure:  I only use and recommend products here I use myself. I may receive a small commission from affiliate links on this or other posts on this web site at no additional costs to you.
CLICK HERE TO SUBSCRIBE TO MY TABLE SCRAPS E-ZINE NEWSLETTER!
Find me on social media:
HomeEconomicsInAuntDeeDeesKitchen on FB
Wendy's HOME Economics! Page on FB    @culinaryadventuristwendy on IG
Aunt Dee Dee's Kitchen Page on FB            @auntdeedeeskitchen on IG
Credentials @ LinkedIn
Be sure to visit my online stores:
Aunt Dee Dee's Kitchen for my seasonings, dried goods, pickles, jams, preserves, kitchen linens and more! Lots of new goodies in 2022.
And for the best budget-friendly MADE IN THE USA by folks like you and me, my Rada Knives and Kitchen Tools online store.
THESE LINKS CAN ALSO BE FOUND ON SIDE MENU OF MY BLOG HOME PAGE.
Dilly Swiss Tomato Pie
Most tomato pies will feature cheddar or mozzarella cheeses, and typically, herbs and seasonings in the Italian family. This one takes the "usual" to "unusual" and brings the fresh flavor of dill to the table, with the rich creaminess of Swiss cheese... finished off with the crispy crunchy onion topping. You can even make this crustless.... for more of a tomato pudding than pie!
Servings:
6
(or sometimes, just 1!)
Ingredients
1

store bought deep dish pie crust

(or your own)

3-4

large

tomatoes,

cut into 1/2" slices

1

teaspoon

salt

several

turns

freshly ground black pepper

2-3

whole green onions,

roughly chopped

1

cup

Duke's mayonnaise

1

cup

grated Swiss cheese

½

cup

chopped fresh dill

½

cup

canned French-fried onion topping
Instructions
Place the tomato slices in a colander and sprinkle with salt. Let tomatoes drain for at least 20 to 30 minutes. Dry any surface moisture with a paper towel.
NOTE: The longer you let the tomatoes sit the better as the more moisture you can pull, the meatier they will be. I sometimes slice and salt in the morning for cooking my pie later in the day.

Preheat the oven to 350º. Prick the

bottom and sides of the piecrust with a fork. Bake for 10 minutes.

In a bowl, combine the mayonnaise and cheese. Fold in the chopped dill.

Layer the tomato slices in the piecrust. Season them with black pepper. Scatter with chopped green onions. Dollop the mayonnaise and cheese mixture over the tomatoes and onions.

Bake for about 20 minutes, until the cheese is melting and starts to brown. Scatter with fried onion topping, then bake for an additional

5 minutes. Let stand about 10 minutes. Slice and serve warm.
Notes
Variation: You can use a variety of tomatoes for added color and flavors!
Your pie will have more onion crust topping than this picture.... sometimes "things" have to be done in the name of food styling for better photos, and this is an example. Too much of the onion and you wouldn't see the beautiful meaty tomatoes underneath!