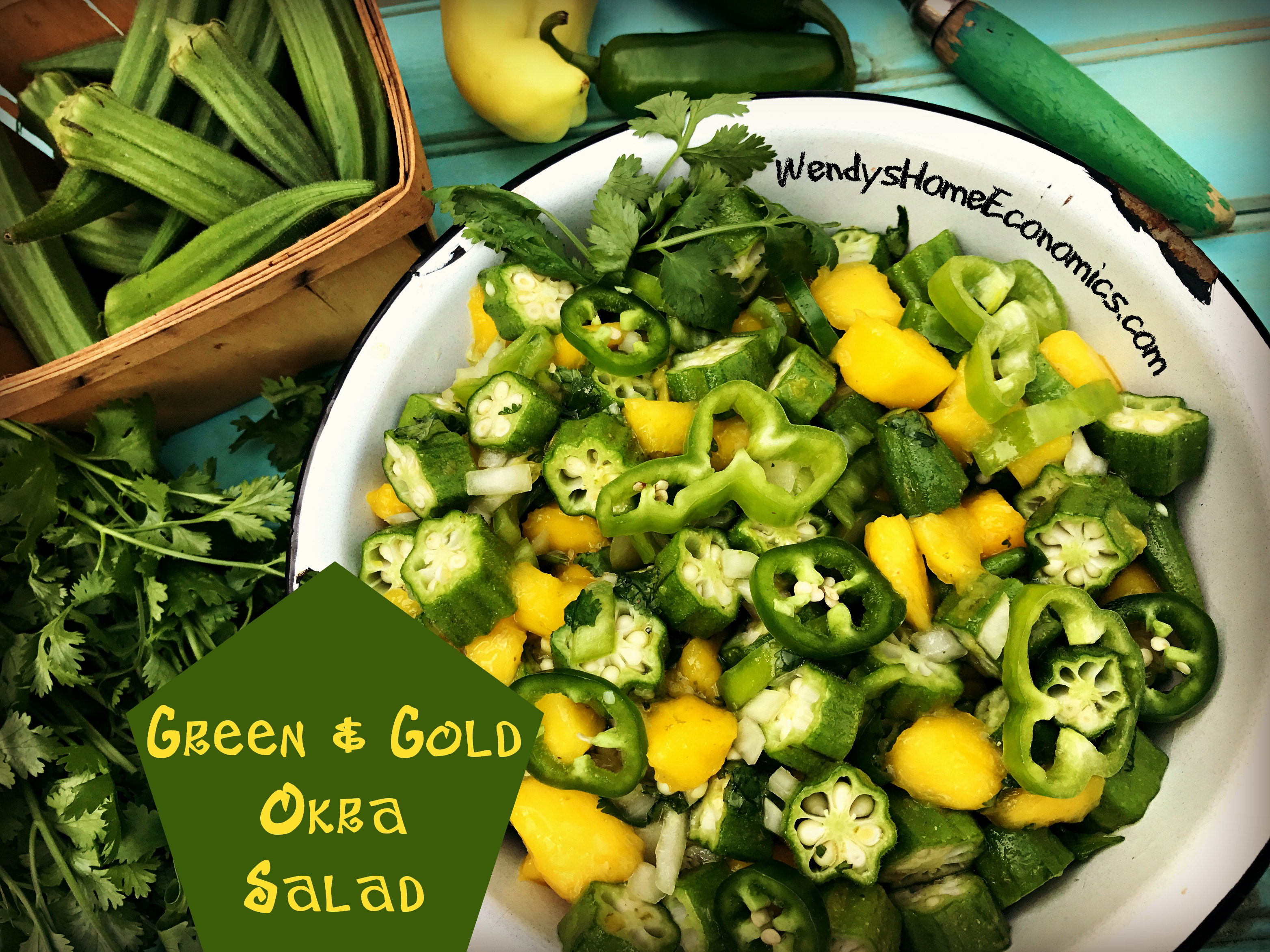 Published in Carolina Country Magazine Summer 2018
Well I don't know about where you are, but here in Eastern North Carolina, we're in the middle of a ridiculous heat wave…. too bad it can't melt fat off our bodies like heat melts fat in my cast iron fry'n pan! I saw this cute little what-cha-majig recently and just had to have it! I'm not one for dust collectors, but this one makes me giggle! And who doesn't need more giggles in their life? My body has been doing a lot of "crying" this past week. Not because of being OUT in the heat, but mostly from hearing the cha-ching of the AC running nearly non-$top INside!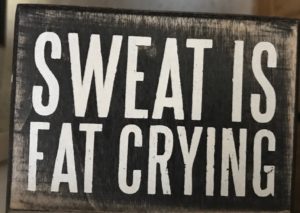 Okra is every which way these days, so today, because there's not much cooking going on, I wanted to share with y'all this okra salad I first made several years ago in a cooking class at Savory Spice Shop in Raleigh…. my toy store! If'n you have a Savory near you and haven't been there, and do any sort of cooking at any point in time…. I order you to GO THERE! (Check out their nationwide store locator.) Even if your bought food just needs some spiff'n up, go there. When Bob and Cindy Jones opened their store years back, I high tailed it right on over there, and we've been buddies since day one. I used to buy those "other" spices (that start with a P)…. but the assortment at Savory is IT. And you can purchase in tiny amounts, or by the boatload! Lots of area chefs and competition (barbecue) cooks create their secrets from Savory. They are always bringing in new herbs and spices from around the globe… and new blends…. and I especially love all their salt free ones.… like I use in this salad. They have lists of all sorts of their blends with no garlic, no onion, no this or that, etc. (See all that on the left margin of link.) Something for all!
At my class, there were about 15 or so "Yankees." When I said the word "okra" I saw these blank stares across the board…. and might have heard a few signs of disgust. Bless their hearts, they didn't grow up eating this mostly-southern green garden candy like we did….. and probably only saw it boiled and slimy… although we true Southerners do love it that way too… and fried, and roasted, and grilled…. and pickled! As a matter of fact, my first okra memories were eating it that way…. slimy! My Mama Hocutt would boil the hell out of it, drain it, and put in some butter… and me and Daddy Hocutt would pull those seeds out of the slimy pods through our teeth and then eat the pods…. together, me and him! He died when I was 8, but I remember eating "stewed okra" as she called it, with him, like it was yesterday!
OK…. so back to the salad! My salad is published in the current August issue of Carolina Country magazine... I had to tweak it a bit from my original version to make it more generic since not everybody across North Carolina that gets the magazine has access to a Savory (although there are 4 Savory's in NC and you can also shop online!)…. nor my friend Paige's Yah's Best products and her Summer Mango Salsa I used in the class… available in lots of places across NC!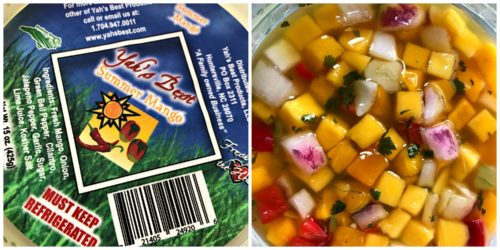 So here's the generic recipe, with notes on how to make my original version…. with Savory's Salt-Free Summit County Seasoning (one of my faves there) and Yah's Summer Mango Salsa! I do hope you will try it and come back to let me know what you think…. and one note, it's best if you eat it shortly after making it…. especially if you don't like the "slime" factor. It's good overnight, but some of that starts showing up…. so without further blabbering…. here you go!
Green & Gold Summer Okra Salad
We are all used to stewing and frying okra, but surprise your guests with this delightfully different way to enjoy a Southern summertime favorite... RAW... in a fresh salad! You will find 2 versions below.... my original version created several years ago for a (non) cooking class and this newer more generic version for the magazine.... for folks who don't have access to Yah's Best Summer Mango Salsa and Summit County Spice Blend from Savory Spice Shop. Make one or the other, or take parts and pieces from each to make your own version. Either way, it's just damn good.
Ingredients
¼

cup

rice vinegar

2

tablespoons

sugar

1

teaspoon

white pepper

juice and zest

1

lime

3

large

mangos

1

small

sweet onion

peeled and diced

1 ½

cups

white seedless grapes

halved

1-2

cups

mild green and gold peppers

seeded and sliced

¾

cup

chopped fresh cilantro

2

quarts

okra

sliced in 1/2" pieces shortly before serving time

1

large

jalapeno

optional
Instructions
Combine vinegar, sugar, pepper, lime juice and zest. Whisk together and let stand while making salad.

Combine mango, onion, grapes and sweet mild peppers. You can make the salad up to this point ahead of time and keep refrigerated several hours.

When ready to serve, toss cilantro and fresh-sliced okra (in ½" pieces) into mango mixture. Stir well and garnish with jalapeno slices.
Notes
If you would like to make my original version.... do this:
To the cut up okra, add in 1 pint carton of Yah's Best Summer Mango Salad and 1-2 tablespoons of Savory Spice Shop's Summit County Seasoning! That's it....
It's just fresh sweet and savory summer in your mouth!
Y'all keep cool wherever you are… and feed your fat some of this crispy salad so maybe it will stop cry'n!