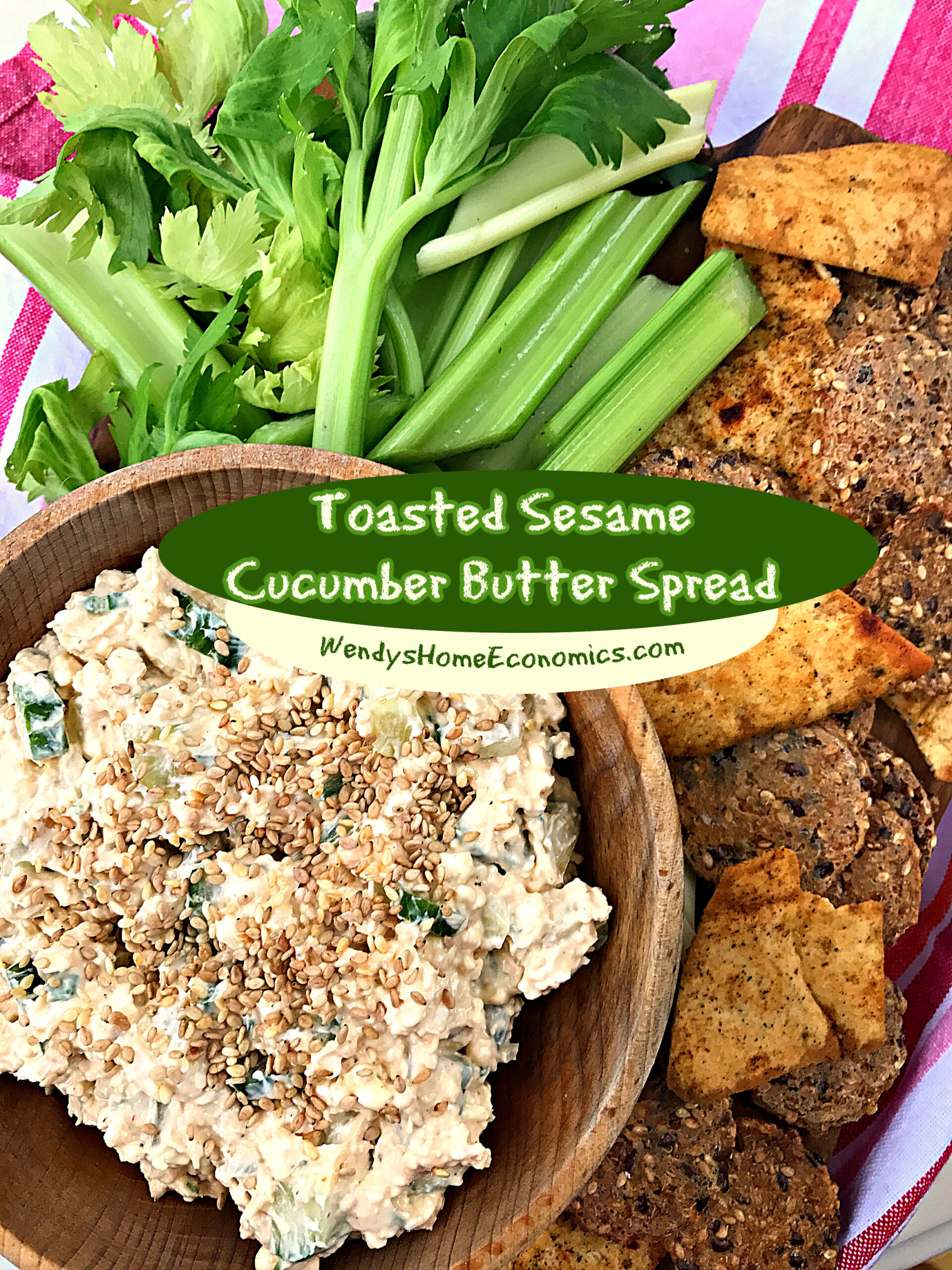 Featured in Carolina Country Magazine Summer 2017
Cucumbers… such a simple thing that can be enjoyed in so many ways!  You're just going to love this toasted sesame cucumber butter spread/dip… a fun outdoor gathering recipe to eat with crackers and toast points, and as a dip with veggies for all the keto folks in your posse.  Keep some on hand for when neighbors walk over to sit a spell on the porch. 
It's a dip. A spread. A butter. A filling.  
Spread on summer vegetable sandwiches on good bread or inside pitas.
Serve on charcuterie trays and grazing platters.
Tuck inside of lightly cooked mushroom caps.
Dollop on top of grilled meats… to "melt" when you take those hot steaks and chops off the grill. 
Let your imagination run with this one… then  come on over and share your ideas on my social media at:
Wendy's Home Economics
and IG @culinaryadventuristwendy
Aunt Dee Dee's Kitchen
and IG @ auntdeedeeskitchen
Toasted Sesame Cucumber Butter Spread
Ingredients
8

ounces

ounces cream cheese, softened

2

tablespoons

butter, softened

3

tablespoons

mayonnaise (Duke's preferred)

1

teaspoon

Texas Pete hot sauce

1

tablespoons

Worcestershire sauce

1

tablespoon

toasted sesame seeds, (plus 1 tablespoon for garnishing)

2-3

green onions, minced (with tops)

pinch of

sea salt and freshly ground black pepper

about 1 cup

finely diced cucumber (not peeled)
Instructions
Blend together all ingredients except cucumber until smooth. Fold in cucumbers. Garnish with sesame seeds.
Notes
Variations: Add fresh herbs (cilantro, dill, basil). Fold in some grated cheddar cheese and pimento to make a cucumber pimento cheese.