Corn…. here, there and over yonder!  Oh, the delicious time of summer is here in all its golden glory, and I don't know about you, but I just can't get.enough.CORN!
I love it raw… lightly steamed on the cob… grilled… in my grandma's corn puddin… as a side…. or as a meal, like last night when I made my favorite corn salad.  Just good nekkid food at its finest…. nekkid just like the Good Lord gave it to us!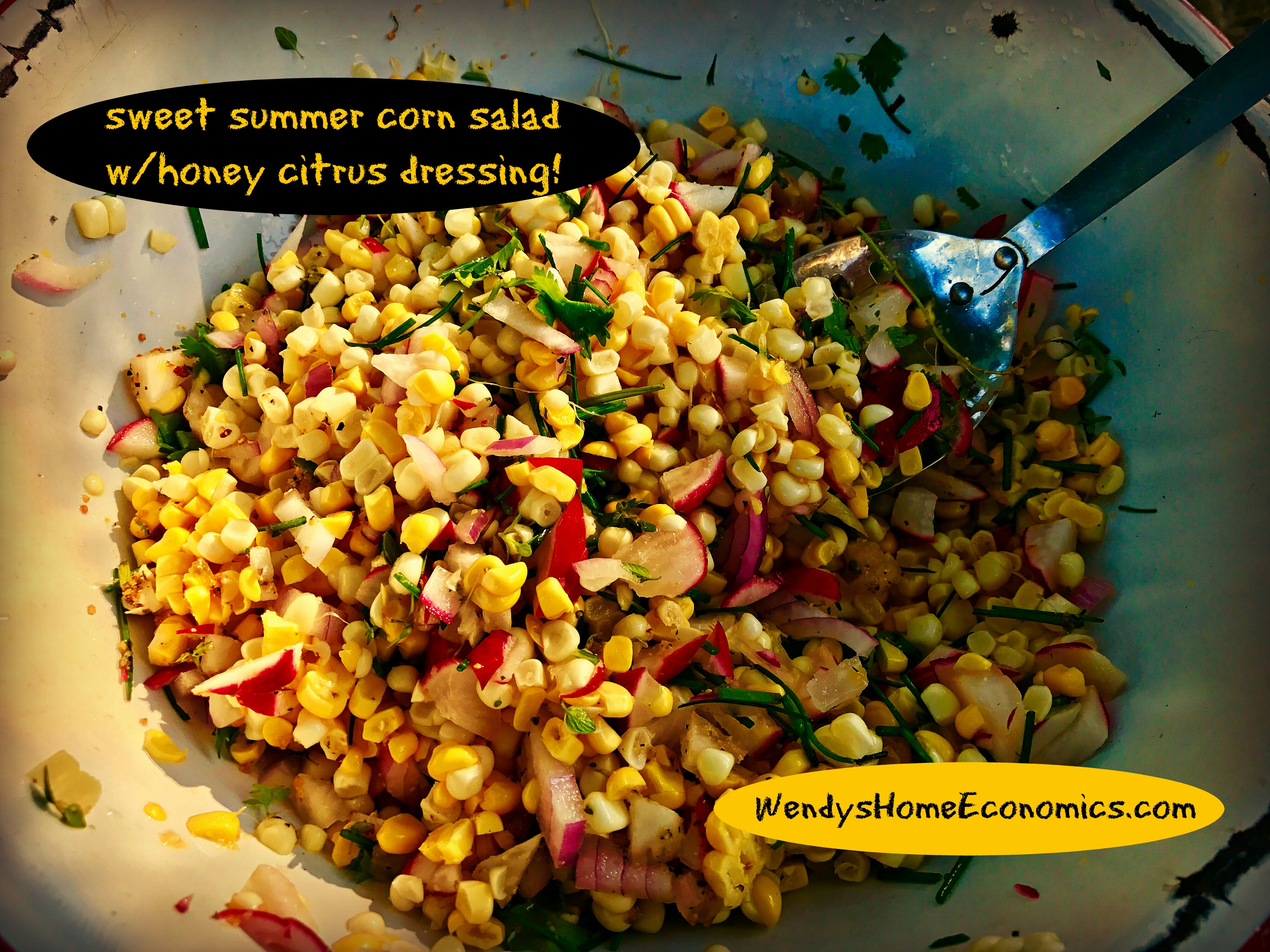 Corn time is HOT time here in North Carolina, so anytime I can "cook" supper, without cook'n a damn thing…. well, that's what I'm talkin' about. I tell you, we just do not appreciate our local farmers enough… who toil in this heat for US… and bring us their goodness, for such bargain prices! I get a tad defensive when I hear folks saying "that food is more expensive… I can't afford it."  Say WHAT?  I sometimes feel like I'm stealing from them, and just say "keep the change" even though it's a mere pittance of what they deserve.  Having come from generations of farming families in rural NC, I consider them to be "my people." I know my food didn't come from the back cooler at the Food Lion.  So when I have the choice, it's farmers' market  freshness for this gal.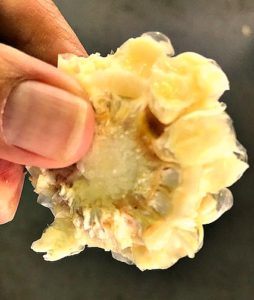 I love strolling about, tasting little "wheels" of fresh corn, to find that day's bestest!
But usually, there's little difference so I try to buy from different farmers each trip to share the love. I think about how early they had to rise to get that freshly harvested load of corn to the market… some coming from counties away.  Sleepy. Hot. Tired. …and ready to call it a day!  And probably not interested in cook'n anything either when they get home.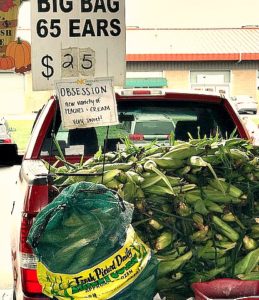 So, wherever you are, run to your local farmers' market and shop! And don't cook this salad for supper. Grab some fresh corn…. field peas that are abundant right now, squashes and tomatoes and peaches and figs and melons…. oh my!  The bounty right now is endless… too bad it can't be available all year long, although if it were, it probably wouldn't taste nearly as good.  Savor the seasons.… and Make.Corn.Salad!  Your mouth (and those you share it with) will thank you!!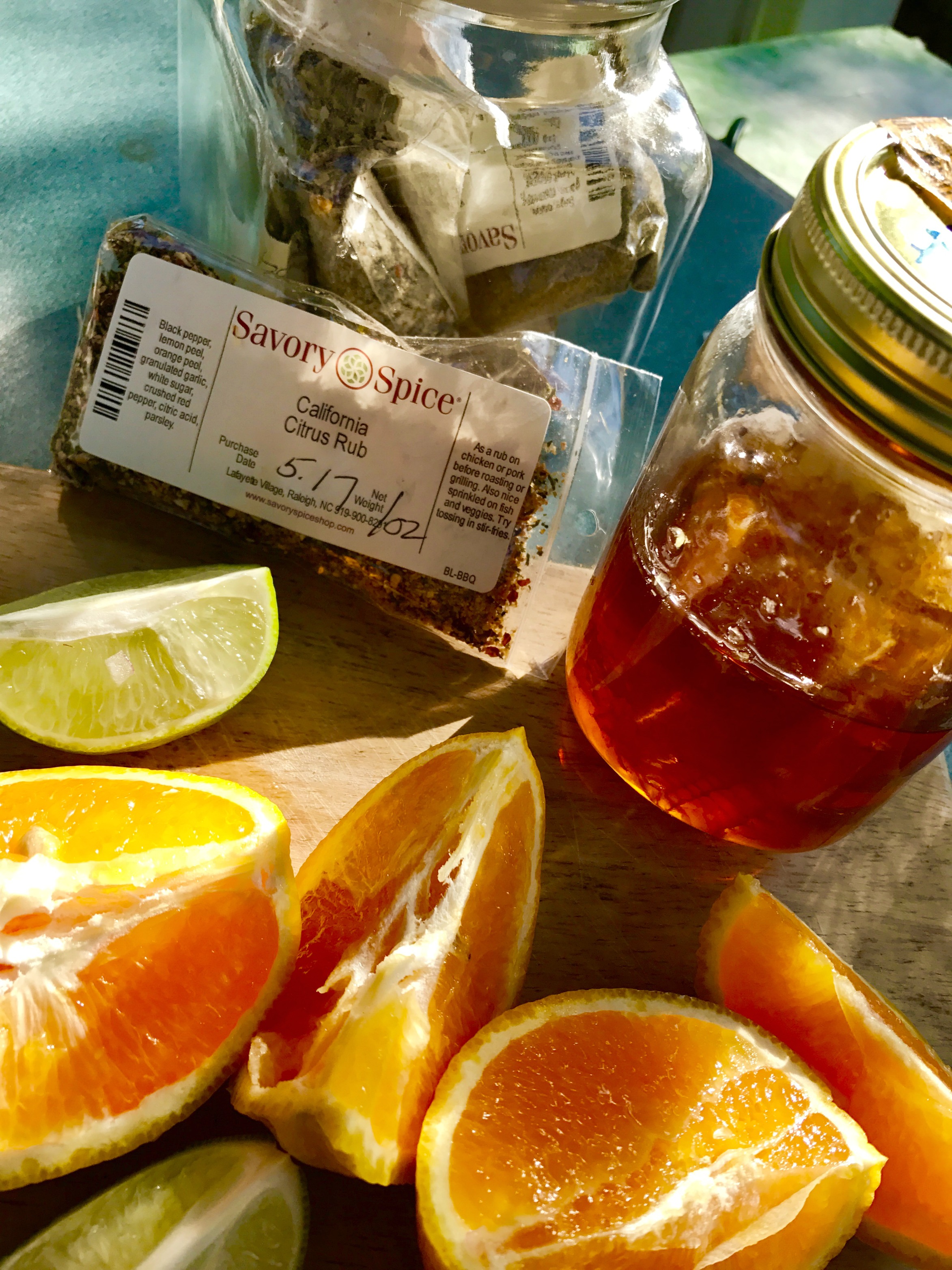 Be sure to visit (and share) my online stores:
Aunt Dee Dee's Kitchen …my unique seasonings (including salt-free), kitchen doodads & more!
Rada Knives and Kitchen Tools  USA made budget-friendly cutlery (great for gifting)
Watkins 1868 Store. Did your mama and grandma buy from "the Watkins Man?" The best vanilla…
Credentials @ LinkedIn
Disclosure:  I only recommend products here I use myself. I may receive a small commission from affiliate links on this or other posts on this web site at no additional costs to you.
CLICK HERE TO SUBSCRIBE TO MY TABLE SCRAPS NEWSLETTER!
Find me on social media:
Wendy's HOME EConomics! Page on FB    @culinaryadventuristwendy on IG
Aunt Dee Dee's Kitchen Page on FB      
@auntdeedeeskitchen on IG
Sweet Summer Corn Salad with Honey-Citrus Dressing
Summer = Farm Fresh Vegetables! And there are few things better that freshly pulled corn. The hardest thing about corn is deciding which way to eat it on any given day, but when my craving sets in, I just MUST stir up this summer corn salad. There's just nothing like the sweet corn, with its little "bite" stirred together with some feisty radish.... and freshly snipped herbs all dressed simply with honey and the bright flavors of citrus! So run to your local farmers market and get some sweet corn and make some for yourself. But watch out, it's addicting!
Ingredients
5-6

ears

fresh corn

shucked, cleaned and cut off cob

1

bunch

radishes

cleaned and chopped

½

medium

red onion

diced

a few

snips

fresh herbs (I used chive, cilantro and thyme)

about ½

cup

local honey

(drizzle in a little more if suits you!)

juice of

1

orange

juice of

1/2

lime

1-2

tablespoons

Savory Spice Shop California Citrus Rub
Instructions
Combine all vegetables and herbs in large mixing bowl. Drizzle with honey and juices. Add spice rub and stir to combine. EAT!!
Notes
Feel free to add other herbs that you prefer. I just use what I have growing in my herb pots around the porch. Feel free to throw in other veggies too! I sometimes add a little bit of minced celery to this salad. Just don't get too carried away and lose focus on the CORN.
If you do not have a Savory Spice Shop near you (although you can order their incredible goodies online!)... just look at what they have in it and use similar things. I do love pairing citrus with the honey for this salad. It just seems like a perfect match. You can zest your orange and lime into the salad and add whatever seasonings you have on hand. Don't not make it just because you don't have the SSS rub.