Hey y'all!
Thought it was about time for the world's slowest blogger to drop by. So much has been happening and sometimes it just gets to be a bit much to keep up here, there and everywhere.
About a month or so ago, my old friend Patrick Johnson asked me to be his "show chef" on his WPTF radio show. Patrick is there daily, but you can catch me on Thursday's, around 11:45ish. Sometimes he replays our chat on Friday too. We talk about this, that and the other and usually a recipe idea or two that you can "throw" together…. that is seasonal, and features local goodness. So I'm going to start "throwing" those recipes here, along with whatever else pops up, since I can offer in an easy and quick printable way for you and the radio listeners.
Last week, along with chatting about my appearance with my new Squash Blossom Vintage Travel Trailer at the Fall Southern Ideal Home Show, I shared my recipe for my Ma Perry's Corn Pudding. This is GOOD stuff, easy to make, and is a great side dish for just about anything. I hope you will make some…. I even served this on a Christmas Dessert Buffet last year (and it was a hit!) with some Cinnamon Whipped Cream. So here it is… for you to make and enjoy too. Corn pudding is a family tradition with the Perry crowd… maybe it will become one for yours too.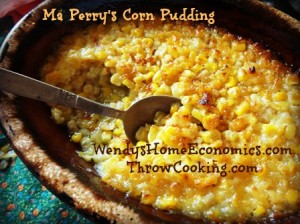 [amd-zlrecipe-recipe:13]