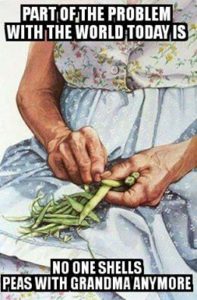 I rocked many a mile with my mama and grandma…. shelling peas on my grandma's porch… back in the day, before pea shelling machines stole that "joy" from us.  And didn't know it, but all the while being taught life lessons. Who else has those memories?  I remember my mama saying… "you will be glad you shelled those peas when we are eating them this winter" to which I defiantly declared… "I'd just as soon not eat a pea as to have to do this right here" as any young girl wanting to go play would say. But you know what, those WERE "the days."
Oh how I'd love to turn back the clock… to these days… porch pea-shelling days!And oh how I'd give ANYthing… to go back and have those days again… with my mama, my Ma Hocutt, and the sounds of peas falling into those metal pans and my sore little thumbs. Anybody care to join me?
Peas are such a simple food… they don't need much fuss'n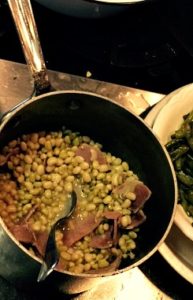 with, and can be fixed in all sorts of ways. Cook simply with some country ham pieces.  Ladle up a cup of the pot likker from their cook'n. Add some cornbread and call it supper!  Top with stewed tomatoes or homemade tomato jam!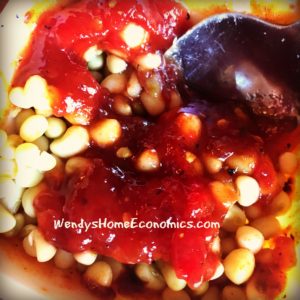 Whirl up for some right tasty hummus. Or make what we call "Carolina Caviar" for porch sit'n or tailgate'n which we will be doing soon! 
Add some tomato based BBQ sauce for a little kick to your Carolina Caviar!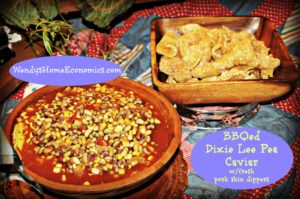 To make this rather southern "dip," you can cut up fresh veggies like peppers and tomatoes and onions and shake in some hot sauce, or just stir in some prepared salsa and "doctor it up" for a simpler version. I like to stir in some thicker tomato based BBQ sauce for a tasty surprise too. I like to serve mine with pork rind dippers as you'll see here at this big reception I did long ago, but just serve with your own favorite chip!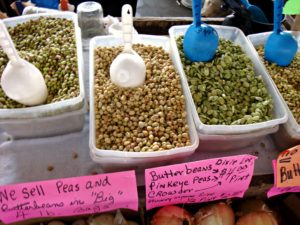 Any way you use them, North Carolina field peas are just good eats.  And right now is prime pea pick'n season. Load your freezer with all sorts of great peas to enjoy throughout the coming seasons, until it is time to load up again next summer.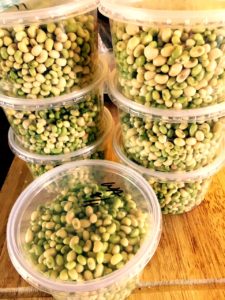 You will need to blanch them before freezing, but that's really easy to do.  You will find several methods to do that here, at the National Center for Home Food Preservation's site! 
So run along to your local farm or farmers' market and pick up PEAS!  Beautiful peas in all shapes sizes and beautiful colors!  Cook some cornbread, pour a glass of iced tea, and plop yourself down in that rocking chair on the porch… enjoy these dog days of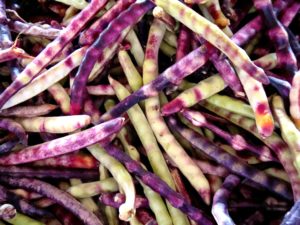 summer before they are gone.  And most especially, before your elder pea pickers and shellers are gone… savor their life lessons and be sure your little ones have an opportunity to do that too. 
This post updated July 20, 2022.
CLICK HERE TO SUBSCRIBE TO MY TABLE SCRAPS E-ZINE NEWSLETTER!
Find me on social media:
Wendy's HOME Economics! Page on FB    @culinaryadventuristwendy on IG
Aunt Dee Dee's Kitchen Page on FB            @auntdeedeeskitchen on IG
Credentials @ LinkedIn
Be sure to visit my online stores:
Aunt Dee Dee's Kitchen for my seasonings, dried goods, pickles, jams, preserves, kitchen linens and more! Lots of new goodies in 2022.
And for the best budget-friendly MADE IN THE USA by folks like you and me, my Rada Knives and Kitchen Tools online store.
THESE LINKS CAN ALSO BE FOUND ON SIDE MENU OF MY BLOG HOME PAGE.