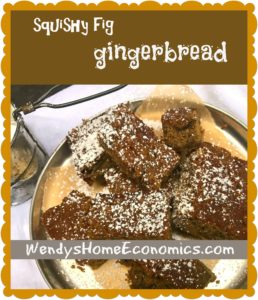 It's no new news that I'm not the baker. I can do it when need be, but all that chemistry of proper measurements annoys me… I'm not particularly into tedium, and I much prefer concocting stuff where the final successful outcome isn't determined by improper measurement of a bit of this or that.
When I was recently gifted with a bunch of sweet ripe figs, I said "self, what SHALL we do with all these here figs?" Of course, I could throw together some quick and simple preserves. I've got that covered. But dang, look at all those figs still in that bowl (aside from those I'm throwing in my mouth while pondering).
So, first thing I did was to fill up my mini crock pot (I adore that thing) with figs, squishing with my fingers as I threw them in.
NOTE: Squishing is an accepted cooking term and process, at least in my kitchen. You squish when you want to break up whatever 'tis you're working with, but still want to keep pieces in tact, mostly for the texture.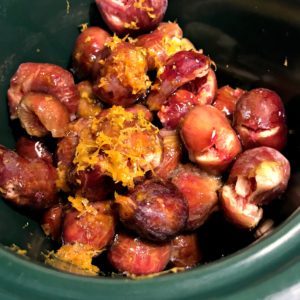 So once I had my little crock filled with squished figs, I drizzled in some honey, a squeeze of 1/2 an orange and a little orange zest. I didn't put much honey, because the figs were perfectly ripe and fully sweet all by themselves. I turned my little gadget on "high" and in a few hours, had…. fig preserves! I only made a small batch so I didn't go through all the processing… and made a few batches of this to share.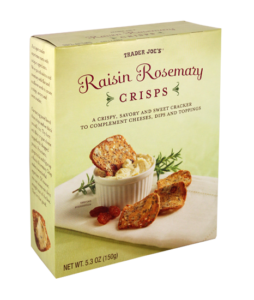 My favorite way to enjoy fig preserves is with cheese! If you have never savored fig preserves on some good salty cheese… or in my case, my FAVE Cambozola Cheese, well, you just haven't lived! My family loves this too, and it's always on our Christmas "nibbly" table. We particularly love this on these Trader Joe's Raisin Rosemary Crackers!
That weekend, some friends invited me over, so i took a little nibble…. some cambozola with some fruited crackers, my tomato jam and these freshly made fig preserves…. most there had never had such a combination and loved it. AND, the ones that "don't like blue cheese" really liked this creamy Gorgonzola blue/Camembert combination cheese too.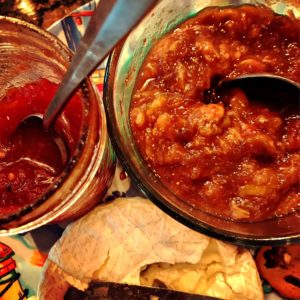 Another way I love these preserves is in a grilled bacon and Swiss cheese sandwich….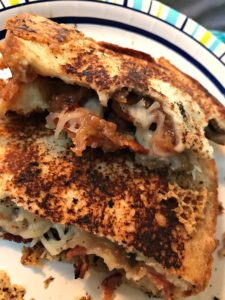 OK…. so let me get back on track and tell you about my gingerbread. I had had gingerbread on my brain for a few days and suddenly, the thought of combining moist sweet figs into rich gingerbread seemed like something to do… or at least ATTEMPT to do.
I pulled out an old recipe I had and went to tweaking… having no idea what would happen! I was really hoping for success so I could spring a tasty baked goodie recipe on all those who know me as "the NON-baker," self included. I'm so tickled to report that… IMO, success has been achieved! I declare, this gingerbread is da'bomb and exactly what was in my head when I embarked on this culinary cooking adventure. I do hope before the figs are all gone, you will give this recipe a try, and come back here and tell me what you think…. did you like it? did you tweak it?
So since I have 11 new recipes I must get to in the kitchen and create for publication deadline, (but let myself get diverted to this post)…. here you go! I hope you enjoy as much as I have… I even wrapped up some of the bars and threw in my freezer to enjoy after all the figs are gone this year!
Note: This recipe was created using Savory Spice Shop Raleigh spices!
Squishy Fig Gingerbread
Looking for a new way to enjoy all those ripe figs? Here you go... my squishy fig gingerbread! The figs make this gingerbread sooooo moist and a bit "gooey" too. A dusting of powdered sugar and you're good to go. Cut into bites, bars.... or enjoy a slab if that suits your fancy.
Ingredients
3

large

eggs

1

cup

cane sugar

½

cup

blackstrap molasses

¾

cup

coconut oil,

liquified

½

teaspoon

vanilla extract

½

teaspoon

almond extract

1

cup

self-rising flour

½

cup

self-rising corn meal mix

4

teaspoons

ground ginger

1

tablespoon

apple pie spice

2

cups

very ripe figs

squished with fingers
Instructions
Preheat oven to 350. Grease a 13x9 baking dish.

Using mixer, gently combine eggs, sugar, molasses, coconut oil and extracts until blended.

Combine dry ingredients in a bowl. Mix into wet ingredients a little at the time until well incorporated.

Using spatula, fold in squished figs.Pour into baking dish. Bake for about 30 minutes, until the surface starts showing cracks.

Let cool, slice and sprinkle with powdered sugar.