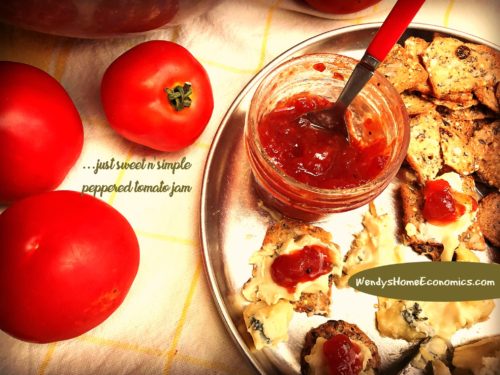 Tomatoes… my love! I doth live for this tasty time of year when they are bountiful at farmers' markets and in generous friends' gardens. I make tomato sauce…. plain I can spiff up at time of use, and spicy Arrabbiata too, to heat up with some local North Carolina coastal shrimp that cook in the sauce as it heats to spoon over garlic bread, pasta or spaghetti squash for a quick supper.  
Today, I'm enjoying my latest batch of tomato jam. I have tasted many a tomato jams, but my personal preference is this simple concoction… without heavy spices found in some. I make in small batches to eat on and share, so I don't always do the canning process, but you certainly "can."  I will probably do that later in the summer to store away some to get me through until next year this time.  But now, while starting to be plentiful, and some farmers will sell "canning tomatoes" at a huge discount, I'll just keep making my small batches.  
You can enjoy tomato jam in many ways. It's tasty over cream cheese and other soft cheeses (like here on my favorite, Cambozola) on crackers… or spooned over a bowl of summer peas (like my favorites here, White Acre Peas)…. over grilled chops and chicken… on a bacon sandwich or morning toast… just about anywhere you need "a little something."
So go ahead and throw yourself a batch together when you'll be around the house for a few hours. It really only takes about 15 minutes to get ready and in the pot to simmer, and after that, just a stir now and then until reduced and all "jammy!" 
Jam on y'all!
CLICK HERE TO SUBSCRIBE TO MY TABLE SCRAPS E-ZINE NEWSLETTER!
Find me on social media:
Wendy's HOME Economics! Page on FB    @culinaryadventuristwendy on IG
Aunt Dee Dee's Kitchen Page on FB            @auntdeedeeskitchen on IG
Credentials @ LinkedIn
Be sure to visit my online stores:
Aunt Dee Dee's Kitchen for my seasonings, dried goods, pickles, jams, preserves, kitchen linens and more! Lots of new goodies in 2022.
And for the best budget-friendly MADE IN THE USA by folks like you and me, my Rada Knives and Kitchen Tools online store.
THESE LINKS CAN ALSO BE FOUND ON SIDE MENU OF MY BLOG HOME PAGE.
....just sweet n'simple peppered tomato jam
Tomato time is happy time, and this truly simple tomato jam will put a smile on everybody's face!
Ingredients
3 ½

pounds

ripe tomatoes

3

pounds

sugar

several

grinds

black pepper

1

teaspoon

crushed red or cayenne pepper

optional

2

big pinches

salt
Instructions
Heat pot of water to boiling. Cut "X" shape in bottom of each tomato. Put tomatoes into boiling water for about 1 minute or until you see skins start to loosen. Cool to touch.

Peel, core and cut into half-inch size pieces in colander to drain juice (save for another use or sip). Pour sliced tomatoes into heavy pot or Dutch oven. Add remaining ingredients and bring to a boil. Reduce heat to medium and continue cooking until your jam reduces and it thickens and gets "jammy."

Ladle into jars, cover and refrigerate. If canning for future use, follow instructions on canning jars for processing. Without processing, the jam will be fine in refrigerator up to about 6 months, if it lasts that long!
Notes
The 2 hours of cooking is approximate. If needed, cook less or more... depending on how yours thickens up. Some folks like to add in about 2 teaspoons of lemon juice, but I personally don't care for that, but is an option if you want to add.