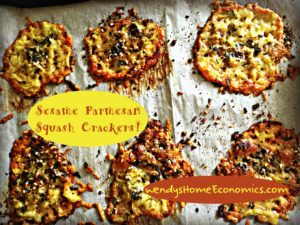 It's here! Squash season… the start of that time of year when squash seems to be coming at us from every which way. I planted squash seeds in the spring, but just for squash blossom cook'n and eat'n. If you have never eaten them but love squash… oh lordy! I'll come back soon with some recipes and "how tos" on that, but today, enjoy these nearly carbless goodies!
And if this is your first visit, be sure to add your email addy over there to the right and subscribe so you don't miss out on future recipe goodies and helpful HOME EConomics hints!
Sesame Parmesan Squash Crackers
A fun side for summer soup and yummy snack for low carbers! Soooo addicting.
Ingredients
4

cups

grated Parmesan cheese

1 ½

cups

grated and drained* squash (yellow or zucchini)

¼

cup

toasted sesame seeds
Instructions
Combine cheese and drained squash. Mix together with fingers. Line baking pan with parchment paper. Pinch tablespoon amounts of mixture and place onto baking pan about 2 inches apart to allow for spreading as they cook. Sprinkle with toasted sesame seed herbs of choice.

Cook for about 8-9 minutes, until bubbly and lightly browned. Let sit in pan a couple of minutes, then remove to

cake cooling rack with spatula to finish cooling about 20 minutes. Store for a few days in covered container, if they last that long!
Notes
Squash prep: Line colander with paper towels. As you grate each squash, put onto paper towels and top with another layer of paper towels and repeat till all done. Make sure you remove as much water/moisture from squash as possible. If too much moisture remains, your crackers won't crack!