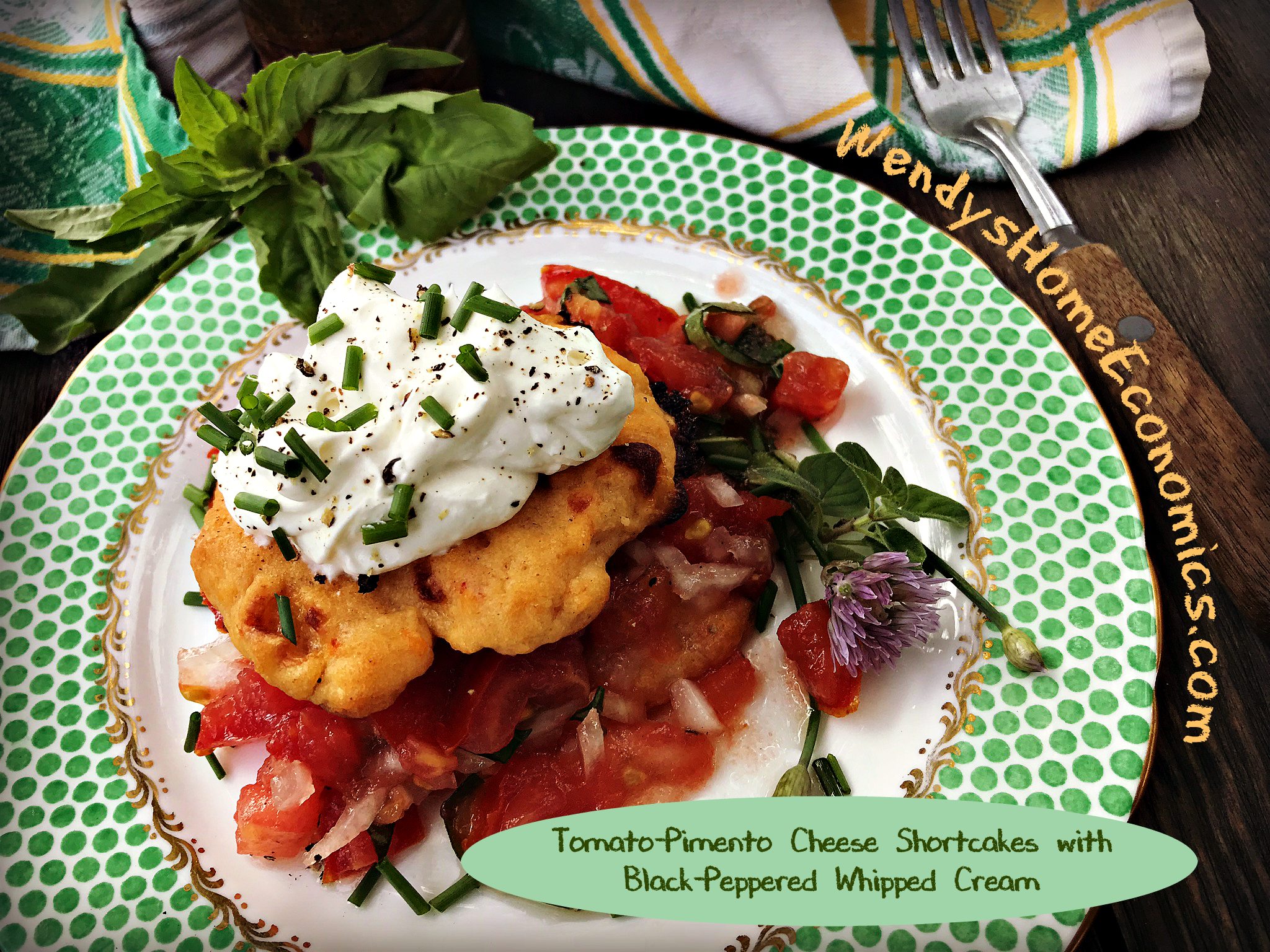 Sometimes, those of us who create recipes for both pleasure and profit throw together something that becomes a personal favorite. It seems that mine tend to be those using freshly harvested tomatoes! I got most of the tomato gene in my family, because my sister has never liked them, (with the exception of them being turned into something else like sauce that involves some sort of pasta). Myself, well I live for the first early spring hothouse tomatoes grown by "down the road" friends… be it at my Zebulon home in Franklin County and a quick zip over to The Vollmer Farm, or just up the road a piece at one of my new favorite places near my "other" home in Cedar Point, NC… Winberry Farm Produce Market! It just so happened I was in Cedar Point when doing my happy dance creating this vision for the first time I've had parked in my head for a few years, but just never got around to making it come to life!
This recipe was created for Carolina Country Magazine... where I am blessed to contribute a couple of recipes each month, and occasionally get to write for the magazine too! We create and shoot for magazines a few months in advance, so both Vollmer and Winberry's hothouse tomatoes were none too soon for me to start playing with this… what I consider one of my personal "masterpieces!" What's not to love? …fresh local tomatoes? …pimento cheese? …whipped cream? Goodness Gracious for sure! Nekkid food… just like God gave it to us.
My guinea pigs all gave this a thumbs up too, confirming what I thought… this one is a keeper. So without babbling on, here is my recipe for Tomato-Pimento Cheese Shortcakes with Black-Peppered Whipped Cream. It's just right for a light summer breakfast or brunch (to be sure with a side of bacon, sausage or country ham)… or my favorite way to eat, alongside a big hunk'o grilled bone-in ribeye! Suit your fancy…
And just a helpful hint… the shortcakes can be made ahead and frozen. Just take out and "freshen" in your toaster oven. The microwave will do too.
I hope you and yours enjoy these as much as I have this summer. Now run along and make yourself some. Stay tuned… still to come, more tomato faves, including my Dilly Swiss Tomato Pie.
Tomato-Pimento Cheese Shortcakes with Black-Peppered Whipped Cream
Serve these savory summer shortcakes for breakfast, brunch... and they make a perfect side for grilled steaks, chops and chicken. The shortcakes can be frozen to quickly revive in your toaster oven or microwave.
Ingredients
3 ¼

cups

biscuit mix

1

cup

thick pimento cheese

¼

cup

Duke's mayonnaise

½

cup

club soda

½

teaspoon

cayenne pepper

1

teaspoon

garlic powder
Filling:
about 14

large

tomatoes

¾

cup

minced sweet onion

4

tablespoons

oil,

your preferred salad oil

4

tablespoons

vinegar,

your favorite

4

tablespoons

honey

½

cup each

fresh chopped basil and oregano

salt and pepper to suit your taste
Whipped Cream:
1

pint

heavy whipping cream

1

8 ounce

cream cheese with chives

freshly ground black pepper

fresh herbs to garnish,

chives preferred
Instructions
Preheat oven to 350 degrees. Combine shortcake ingredients and drop by heaping tablespoon onto prepared baking pan. Spread flat with back of spoon.

Bake 8 to 10 minutes. Cool.

Stir all filling ingredients together least one hour before serving. Spoon filling over 12 shortcakes, covering each with second cake.

For topping, whip cream and cream cheese until thickened. Blend in pepper.

Top shortcakes with dollop of whipped cream and garnish with fresh herbs.