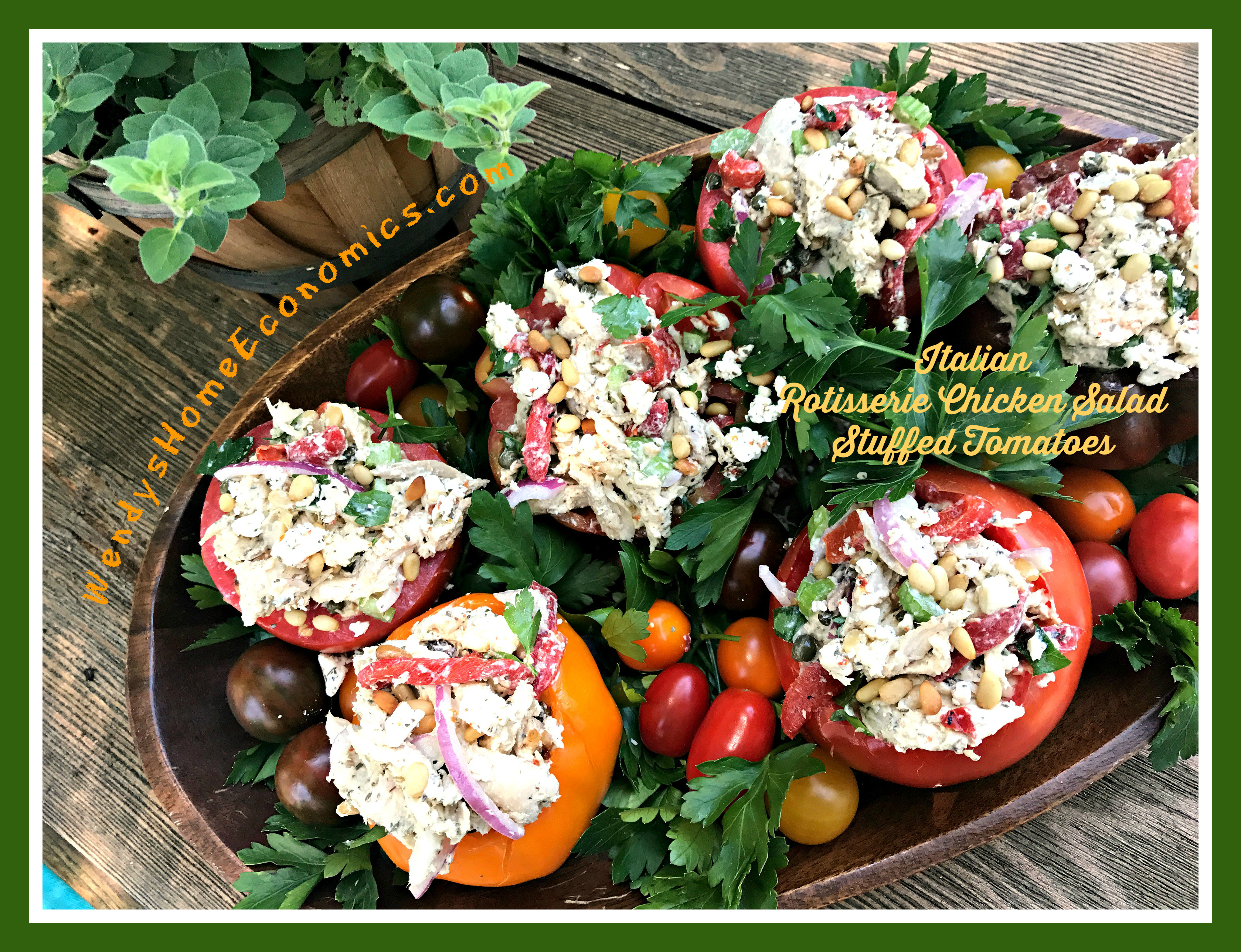 Well here we are, in the dog days of summer! In my neck of the woods, it's been the monsoon days of summer. Rain! RaiN! RAIN! But hopefully, we have a little break in sight for that and can now "look forward" to good old hot.humid.days.of.August! And who wants to turn on anything that will add to that heat? Ummmm, nobody. This recipe for Italian Rotisserie Chicken Salad Stuffed Tomatoes was first published last summer in Carolina Country Magazine and a frequent go-to for me. We all love to grab a cooked rotisserie chicken now and then… we can do so many things with one… not to mention throwing the skin and bones into the crock pot overnight after pick'n for the BEST flavorful chicken broth. You DO do that don't you? Oh there's so much flavor in those bones and skin (if you don't eat it) and all you have to do is cover with a quart or two of water, turn on low, and head to bed. By morning time, you'll be waking up to the aroma of tasty broth to use for soups, cooking veggies like greens and butterbeans or just to sip. You can throw in some herbs on the front end, or simply cool and freeze and season on the back end depending on how you'll be using it. I freeze in pint-size containers and it's great to be able to grab and cook a little pot of butterbeans or collards with this deliciousness!
So here's to the versitile Rotisserie Chicken!! Pick one up today and make this chicken salad twist… ooooh la LA, you'll be glad you did.
While here, please subscribe to my "Table Scraps" newsletter (green box over there to the right)… an e-zine with great stuff for in, out and about the home! Take a look at my contributors…
P.S. Don't forget to come follow along in my facebook world too…
classy with a bit of sass!!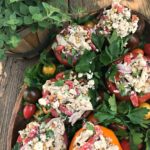 Italian Rotisserie Chicken Salad Stuffed Tomatoes
Who wants to cook on hot summer days? No need with this flavorful Italian chicken salad.... just pick up a rotisserie chicken, throw in a few ingredients and toss with the simple Dijon dressing, and that's it! Except for a juicy ripe summer tomato you're going to stuff with this good stuff.
Ingredients
1

rotisserie chicken,

skinned, boned & shredded (about 5 cups)

1/2

cup

sliced roasted peppers,

drained

1/2

cup

thinly sliced red onion

1/2

cup

diced celery

1/2

cup

toasted pine nuts

1/2

cup

chopped fresh parsley,

plus 2 tablespoons for garniish

1

4 ounce carton

feta cheese with basil and tomato,

reserve 2 tablespoons

2

tablespoons

capers

drained

8

large

tomatoes,

cored and drained upside down
DIJON HONEY MUSTARD DRESSING
1/2

cup

Dijon mustard

1/2

cup

olive oil

1/4

cup

honey

1

teaspoon

garlic powder

1

tablespoon

Italian seasoning

crushed black pepper
Instructions
Whisk all dressing ingredients together. Stir dressing into chicken to coat. Add all remaining ingredients (except the tomatoes) and mix well.


Chill several hours or overnight. Stuff tomatoes and garnish with reserved feta cheese crumbles and parsley. Serve immediately
Recipe Notes
Don't cut out too much of the delicious tomato — just enough to mound the chicken salad!
If you have fresh herbs... oregano, rosemary, basil, etc., use them instead of dried for more robust flavor!