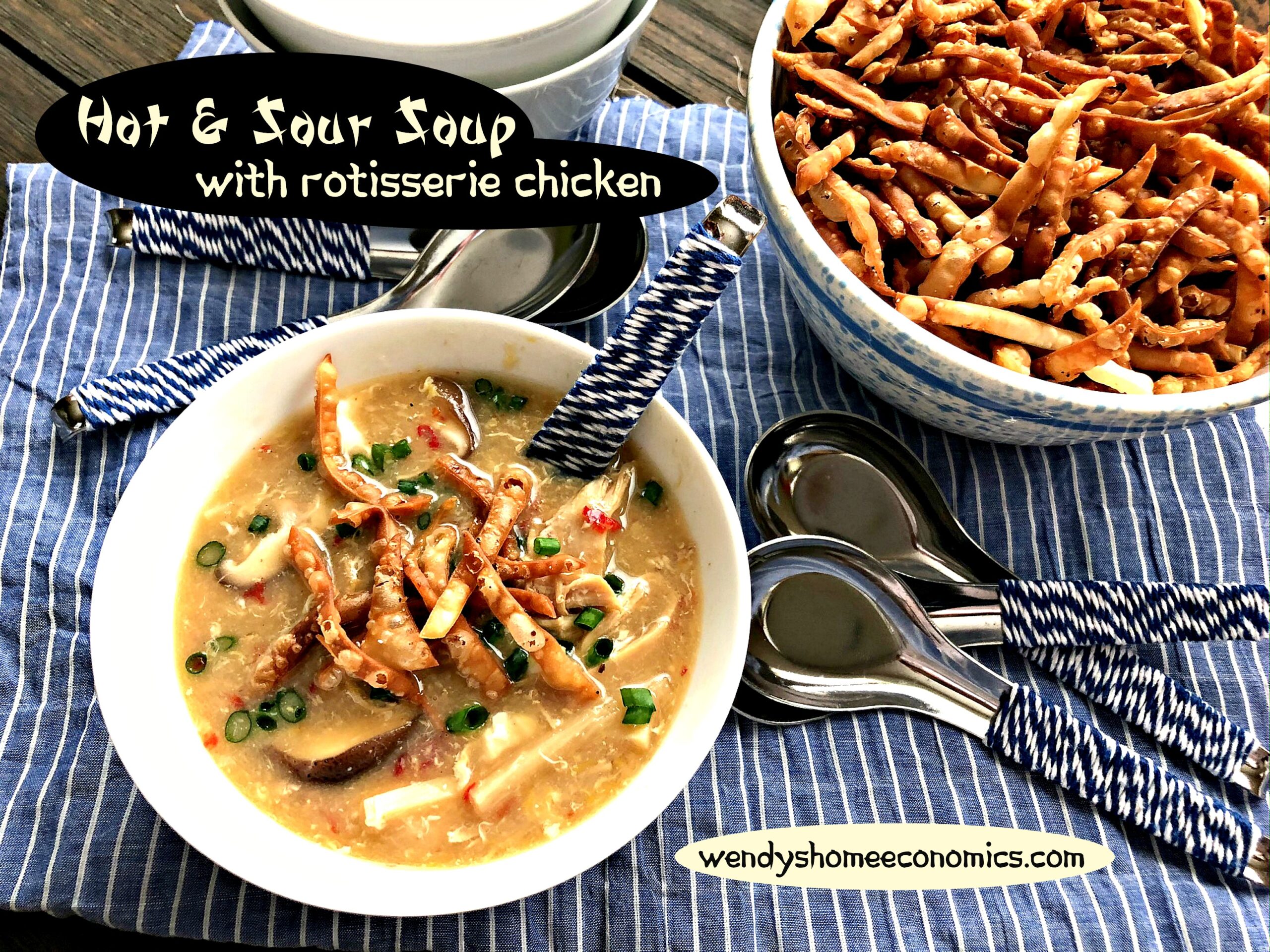 I do love hot and sour soup… GOOD hot and sour soup. There are some out there… and some too, that look good, but are tasteless!  Void of tasting like anything it should taste like.  
Making authentic hot and sour soup can be cumbersome which keeps folks from making it.  Finding some of the dried mushrooms called for can be an adventure… not to mention expensive.  I've wanted to create my own recipe for a long time, and finally decided to just get in the kitchen and do it.
I do love the convenience of using rotisserie chicken in recipes.  Like in my chicken pot pie and chicken pot pie soup!
And in the summertime, when tomatoes are plentiful and at the peak of perfection, I use rotisserie chicken in my Italian Rotisserie Chicken Salad Stuffed Tomatoes!
I looked at a lot of recipes but no one was what I like or wanted to make. So I just pulled ingredients out from my pantry I thought needed to be used… and started throwing together.  My first batch ended up just right! 
If, like me, you love some good hot and sour soup… I hope you will give this recipe a try.  Adjust to suit your taste if need be.  Just throw some together. And be sure not to skip making the crunchy crispy noodles on top. Nothing but thinly sliced wonton wrappers, thrown into some hot oil for about 30 seconds.  A whole pack will make a bunch… and they will keep for a couple of weeks in an airtight container… although so crunchy good for nibbling they won't last THAT long!  
This recipe created for and published in Carolina Country Magazine Published in Carolina Country Magazine September 2020 © (copyrighted) 
Propping/styling and photography  by
Wendy Perry Carolina Country Magazine Contributing Recipes Editor
Credentials @ LinkedIn
Disclosure:  I only recommend products here I use myself. I may receive a small commission from affiliate links on this or other posts on this web site at no additional costs to you.
CLICK HERE TO SUBSCRIBE TO MY TABLE SCRAPS NEWSLETTER!
Find me on social media:
Wendy's HOME EConomics! Page on FB    @culinaryadventuristwendy on IG
Aunt Dee Dee's Kitchen Page on FB      
@auntdeedeeskitchen on IG
Be sure to visit (and share) my online stores:
Aunt Dee Dee's Kitchen …my unique seasonings, kitchen doodads & more!
Rada Knives and Kitchen Tools  USA made budget-friendly cutlery (great for gifting)
Watkins 1868 Store. Did your mama and grandma buy from "the Watkins Man?" The best vanilla…

LINKS CAN ALSO BE FOUND ON SIDE MENU OF BLOG HOME PAGE.
Hot and Sour Soup with Rotisserie Chicken and Crispy Wonton Noodles
Some recipes for hot and soup soup can take hours and require hard-to-find ingredients. This simple version takes only 30 minutes from prep to table when using time-saving rotisserie chicken.
Ingredients
1

rotisserie chicken,

skinned, deboned and chopped

8

cups

chicken broth

(See "Easy Chicken Broth" below.)

1

8 ounce carton

shiitake (or portabella) mushrooms,

sliced thin

1

8 ounce can

bamboo shoots,

drained and sliced thin

1

inch piece

ginger, peeled and grated

4

tablespoons

low sodium soy sauce

5

tablespoons

rice vinegar

1

tablespoon

red pepper paste (located in produce section in tube)

1

tablespoon

garlic paste (located in produce section in tube)

1

tablespoon

white pepper

1

tablespoon

dark brown sugar

3-4

tablespoons

soup broth

2

tablespoons

cornstarch

2

eggs

beaten in bowl

4

green onions, chopped

1

package

wonton wrappers,

sliced into thin strips and fried about 2 minutes
Instructions
Heat the chicken in the broth until warm over medium heat. Add mushrooms, bamboo shoots, ginger, soy sauce, vinegar, pastes, pepper and brown sugar. Simmer about 5 minutes for flavors to infuse.

Ladle tablespoons of soup broth into small bowl. Cool, then whisk in cornstarch. Stir slurry into soup. Continue cooking the soup 7–8 minutes until thickened.

Slowly whirl eggs into soup. Remove from heat and serve.

Garnish with chopped green onions and crispy fried wonton wrapper strips.
Notes
Easy chicken broth
Use rotisserie chicken bones and skin to make flavorful broth. Just throw into stock pot (or crockpot on low overnight) and add about 3 quarts water. Bring to boil, then simmer for an hour or two. If on hand, add vegetable scraps like onion skins, celery tops and herbs. Drain and use stock for this soup or freeze for others.