NOTE… enjoy this soup/pot pie anytime!  Not just at Thanksgiving. I make it with store-bought rotisserie chicken to make it really FAST.
This is a recipe repost/update!  Originally posted here nearly 2 years ago, and recently in Carolina Country Magazine, I thought it was high time to revive it, and offer suggestions for how to give your Turkey 2018 new life.  This is such a simple recipe and you likely have leftovers to sub for recipe ingredients to make your own version… so simply use my recipe as a guide and "omit and substitute" what you have lurking.
Use turkey, ham… or some of both for the chicken.

Crumble leftover dressing and toast until crispy in your toaster oven for "croutons."

Use your leftover veggies (taters, green bean casserole, corn, etc.) instead of the frozen mixed ones as is in the original recipe.

Stir in gravy for even more flavor.

And…. break up that turkey carcass and throw that and any skin and drippins into your crock pot. Fill with water and let simmer all day. Drain, and you'll have the BEST broth… for this soup, or others.  (And if you have trimmed veggie scraps like onion peel, celery scraps, etc., toss those in your broth pot too for even more flavor.)
So enjoy your Thanksgiving… and enjoy this old post.
I know, "Pi" and "Pie" are worlds apart, but who needs to worry about Pi, when you can have PIE?  And being a gal more of the savory persuasion, nary a bit of sugar is in sight today for my PIE.  Here along the east coast, and especially north of us here in North Carolina, old man winter is having his (hopefully) final revenge for winter 2016-17.  So what is more comforting than a pot pie?  or soup?  Well today, I have the best of both worlds for you.  And you can hardly go wrong when you've got North Carolina Sweet Potatoes in the pot.
Now you can roast your own chicken for this recipe, but for those with a fondness for grabbing a rotisserie chicken at the grocery store, you can trim your time and have this pot pie soup in bowls for supper in no time. Throw a skillet of cornbread in the oven to bake while you're soup'n, throw on your favorite snuggly lounge attire, and hunker down.  Make the best of this last blast of winter chill… because flip flops are back in the forecast next week, although a few of us southern belles flip and flop year 'round!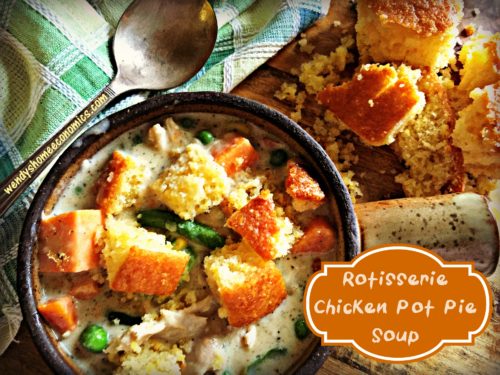 Rotisserie Chicken Pot Pie Soup with Cornbread Croutons
Ahhhh, the comforts of pot pie and soup, all wrapped up in one loving bowl of goodness! Who doesn't love throwing together a delicious supper in less than 30 minutes? Grab a rotisserie chicken at your grocery store and you're on your way to a grown-up and kid-friendly meal in no time. And even though basic cornbread is EZ to make and cooks fast, grab a hunk of that at the store too!
Ingredients
2

tablespoons

oil

I prefer grapeseed

1

large sweet potato

peeled and cut into ½" cubes

4

tablespoons

butter

1

large onion

diced

2

stalks celery

diced

1 16

ounce

bag frozen mixed vegetables

carrots/corn/green beans, thawed*

2-3

tablespoons

flour

3

cups

chicken broth

1-15

ounce

can evaporated milk

meat from ½ a rotisserie chicken

or all if small chicken, roughly chopped**

1

teaspoon

poultry seasoning

salt and freshly ground pepper as you like

1

skillet of cornbread

cooled and cut into 1/2" cubes
Instructions
Heat oil in heavy bottomed pot over medium heat.

Add potato cubes and saute until getting tender, about 5-6 minutes.

Add butter and once melted, stir in onion and celery. Toss with potatoes and cook about 5 minutes, stirring around, until onions are getting lightly browned.

Increase heat to medium-high and stir in bag of thawed vegetables. Cook 4-5 minutes until green beans are tender and cooked.

Scatter mixture with flour and toss to coat. Cook 2-3 minutes to lightly brown flour.

Stir in broth and evaporated milk. Once well incorporated and broth is thickening, add chicken, poultry seasoning and salt and pepper.

Remove from heat and serve. If too thick, add a bit more broth or milk for thinner soup.
Notes
*To quick thaw frozen vegetables, place in colander and run hot tap water over until thawed.
** To make really tasty broth for using in soups, stews, to cook veggies or just for sippin, throw your veggie scraps (onion peel and celery leaves) into your crock pot with the chicken skin and bones. (Add any other veggie trimmings you have in your fridge too.) Cover with water and cook on LOW overnight. Strain and refrigerate or freeze broth. We waste too much food, and this is such a great way to use what would be waste and turn it into something really tasty. As my grandma would say… "waste not want not!"