Well, I'm not Irish that I know of, but I do have reason to celebrate this day each year. It's my "quit smoking" anniversary… 12 years ago today! My motivation was the birth of my sweet nephew Wyatt, and my desire to be around to see him grow up and live life. Here's to those of you who have quit too, and for those that haven't yet, DO!  For so many reasons…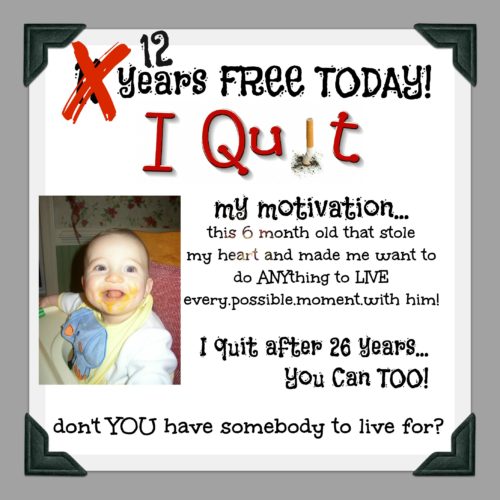 I quit cold turkey and really had no desire to smoke once I did, but I did throw the butts of my last ashtray into a little ziplock bag with a splash of water. A whiff of that stink about 2 times was all it took.  And here's what I did to reward myself. I was smoking about a pack and a half a day… about $5 worth. So I put $5/day into an empty skinny neck tequila bottle… the skinny neck was to keep me from quickly "borrowing" it out of the bottle.  Do you know what $5/day turns into x 365 days?  $1,825!!  Now there's a treat to celebrate your first year eh?
Another great thing about today is the FOOD!  I love corned beef, but really don't cook it until this season each year. I need to change that.  I love this soup, and you will too if you like a Reuben sandwich…  it's fast to throw together and crowd pleaser.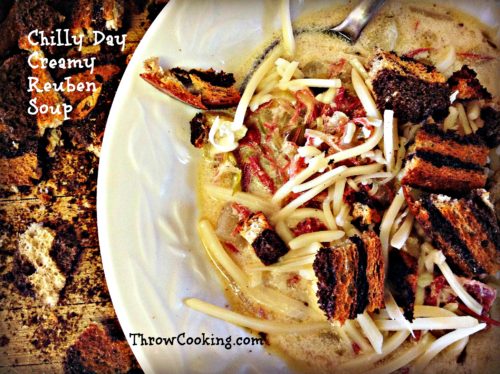 …a great way to use up leftover corned beef!
Cream of Reuben Soup with Rye Croutons
Perhaps you didn't eat up all your corned beef, so turn the leftover bits into this comforting creamy soup... it's like having a reuben sandwich in a bowl with Swiss cheese, rye and all!
Ingredients
4

tablespoons

butter

3-4

tablespoons

oil

I used garlic oil but use your fave

1

large onion

peeled, chopped

1

large turnip

peeled, small dice

4

leeks

washed and sliced into thin rings

2

Granny Smith apples

not peeled, small dice

3

tablespoons

garlic puree

I use the puree in tubes in produce dept

1 14.4

oz

can Bavarian Sauerkraut

undrained

2 15

ounce

cans chicken broth

1

pint

half and half

about 4 cups

shredded cooked corn beef

2

tablespoons

dried thyme

1

tablespoon

white pepper

shredded Swiss Cheese

6-8

slices

rye bread,

cut into cubes and toasted
Instructions
Saute onion, turnip, leeks and apple in butter and a bit of oil until tender and starting to brown and caramelize in saute pan. Pour into heated crock pot.

Stir in garlic puree, kraut, broth, half and half, cream, corned beef, thyme and white pepper.


Stir to blend and cover. Heat on high until hot and dried thyme is tender.

Ladle into bowls and scatter with Swiss cheese and croutons. EAT!
Notes
If preferred, make a cornstarch slurry with a bit of the juice and stir back into the soup to thicken.
Another of my St. Patrick's Day faves is my Southern Colcannon.  Read more about what colcannon actually is in this post from a few years ago.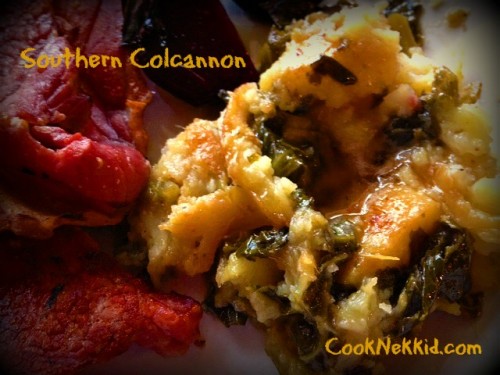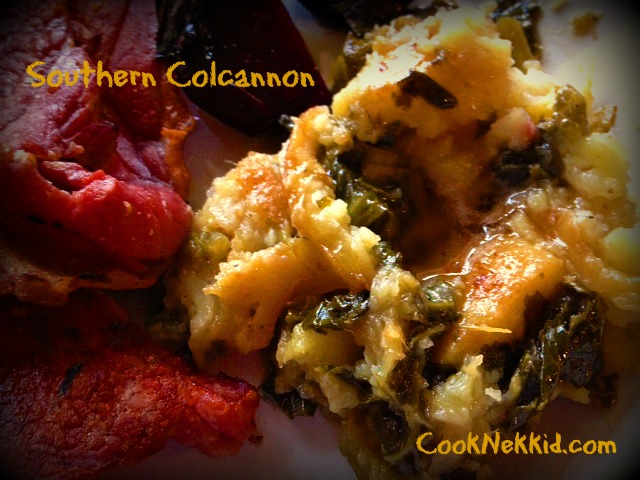 Good old North Carolina sweet potatoes and my cabbards make this traditional white potato and greens dish more bettahhhhhh! It was most exciting to see my recipe shared in print while at Our State Magazine.
Here's to wishing your and yours a blessed day, today and always!