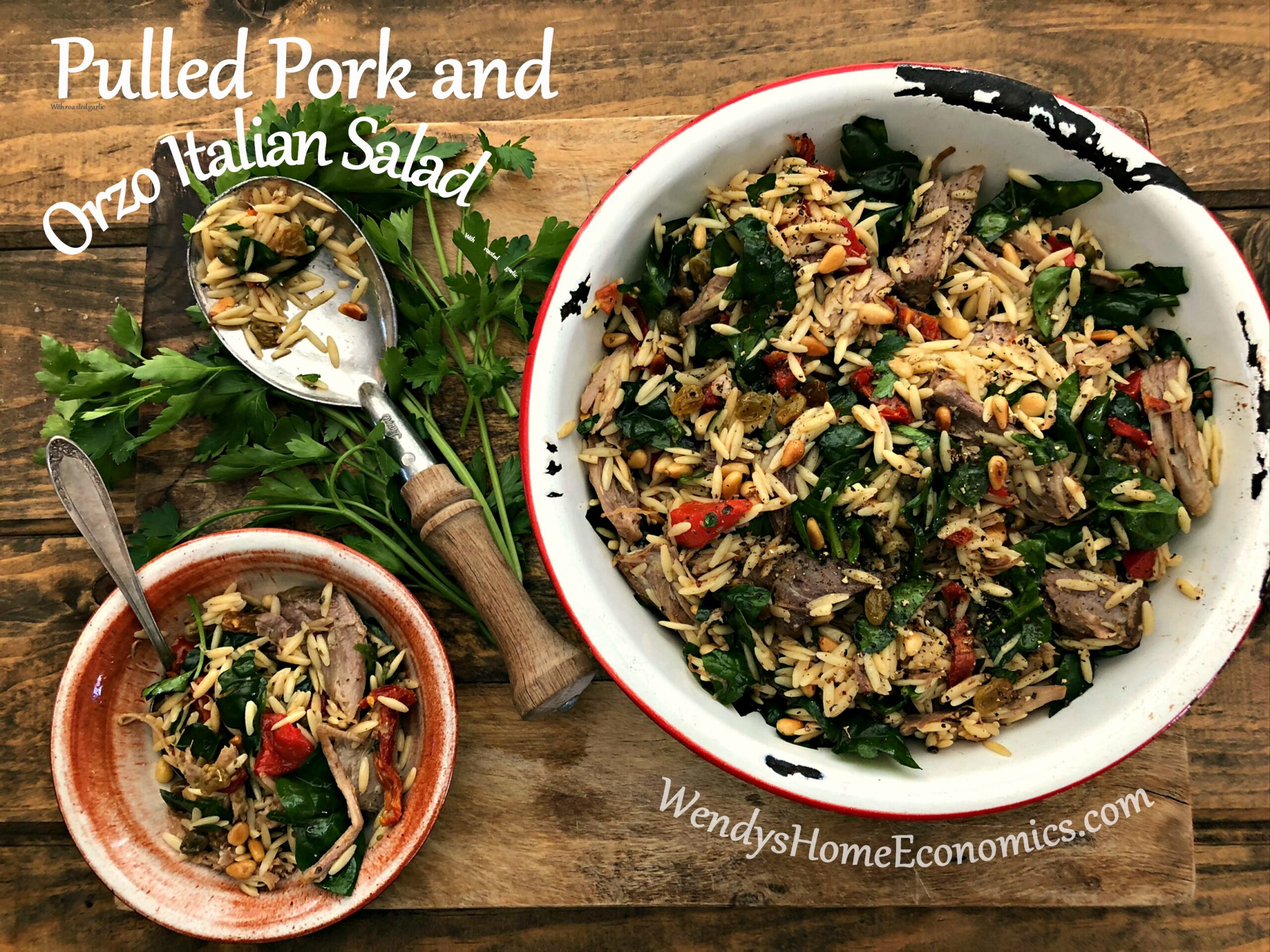 Published in Carolina Country Magazine May 2020
Creations like this one is why I sometimes feel like the Queen of Throw Cooking!  Because that is just how this tasty salad came to be.
Each year, on the 2nd Sunday in September,  Dinner in the Meadow is held in Franklin County outside Louisburg, NC. Held atop a grassy knoll in the meadow of Meadow Lane Farm, this dinner supports a grant for the chosen applicant of that year's small farm fund grant.  For many years, I have been a part of the dinner, handling marketing and social media. Most years, I throw together lunch for all the volunteer set up crew and that is how this dish came about.
Friend and farm owner Martha Mobley owns this NC Century Farm where she grows all sorts of organic produce and flowers… and raises all sorts of farm animals, mostly sheep and cows.  Although a full time extension agent in Franklin County, you can find her selling her farm goodness every Saturday at the Durham Farmers' Market.  She gives me some goodies to work with for the volunteer lunch, so I had the best pork butts you can have to make this salad.
When she gave them to me, freezer to freezer, I had no idea what I'd do with them.  I figured I would probably just make some pulled pork sandwiches… but when time came around, I dug around my pantry to see what else I could throw together instead!  I found some orzo… sun dried tomatoes… some toasted pine nuts… and my head started getting all giddy as I had this vision!  TaDa.
Pork and orzo salad!

That day, Martha said it was the best food she'd ever had and wanted me to make her more.  It took me a while but I did.  I also wanted to put on paper out of my head so I could share with others.  Thus, here came to be, that recipe, on paper, for Carolina Country Magazine customers and anybody else that wants it!  It's has become one of my favorites too… and I hope you will give it a try as well. It takes just a little forethought to cook the pork, pasta and roasted garlic, but you can then make and enjoy this salad for days. I even froze some to see how it would hold up… and it was just as tasty! 
I do hope you will throw together this salad too.  And if you do, snap a picture and share over on my fun facebook page!  Enjoy y'all…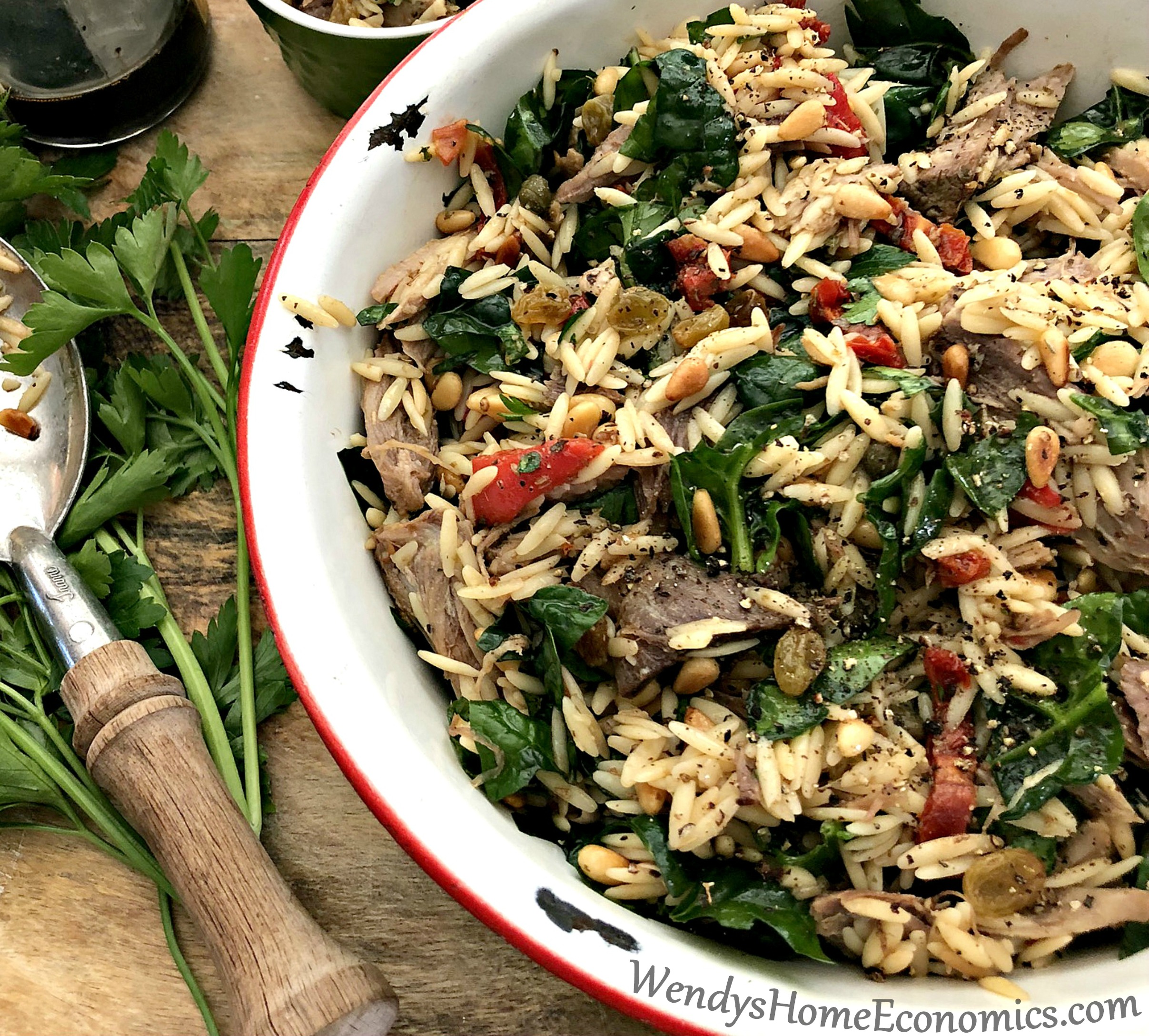 Pulled Pork & Orzo Italian Salad with roasted garlic!
For those who love pasta salads and Italian food, it doesn't get much better! This will feed a crowd, but easy to cut in half... everybody will love it, so make a bunch! Freezes too...
Ingredients
5-6

lbs.

pork butt,

cooked, shredded and chopped (cook ahead in crockpot)

1

16 ounce box

orzo,

cooked per package directions

1

8,5 ounce jar

julienned sun dried tomatoes with oil,

undrained

1

3.5 ounce

capers,

drained

1

12 ounce jar

roasted red peppers,

drained and chopped (We used Mt. Olive.)

1

cup

white raisins

1

cup

toasted pine nuts

½

cup

loosely packed, chopped fresh parsley

1

6 ounce bag

baby spinach,

roughly chopped

3

tablespoons

dried oregano

2

tablespoons

honey

¼

cup

balsamic vinegar

salt and pepper

4

heads

roasted garlic

1

cup

oil*
Instructions
Cook pork and roast garlic to have ready for assembling salad. For pork, I simply cook in crock pot until fork tender. Remove from drippings when done, shred with fork and cut up big pieces with scissors to bite size.

To roast garlic: *Cut tops from 4 heads of garlic. Place in small baking dish. Pour oil over garlic. Roast at 325 degrees for 30 minutes. Cool and squeeze cloves into salad, along with the oil.

To make salad: Fold pork into orzo. Add remaining ingredients, stirring until well blended. Serve immediately or refrigerate to serve later. Best if removed from refrigerator 30 minutes before serving.
Notes
Note: The orzo can be cooked 1–2 days ahead. Cook al dente, and toss with 2 tablespoons oil. Refrigerate in airtight container until ready to make salad.