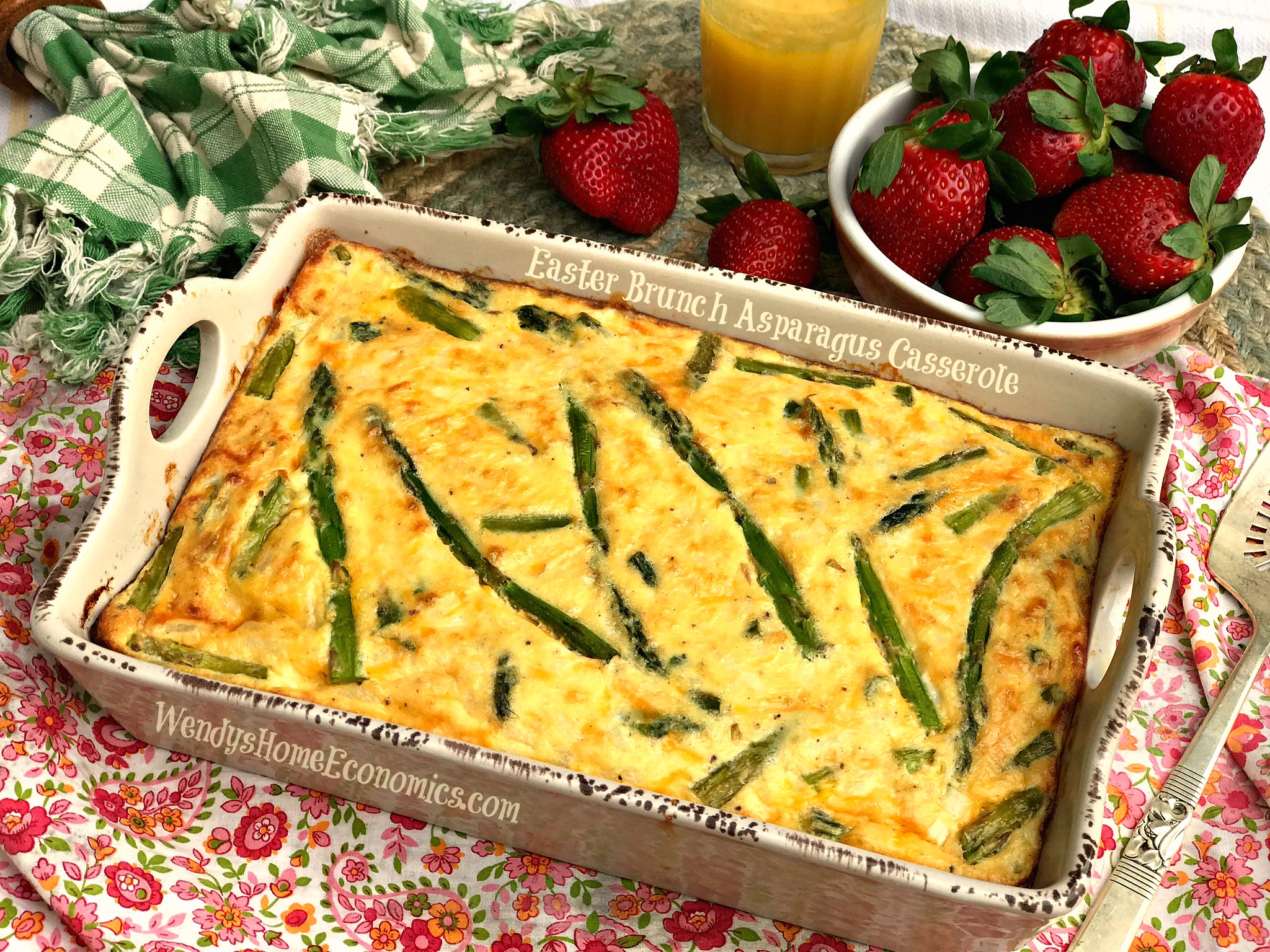 Published in Carolina Country Magazine April 2018
Tis the season when our chickens or those of our nearby friends with eggs start having an abundance… their "girls" are coming out of their winter doldrums and are busy laying lots more eggs.  Just as spring asparagus is poking up from the earth.  These two marry well together and can be paired in many ways.  If you are looking for a tasty and crowd-pleasing dish for your Easter brunch table, you will love this casserole.
Cheesey. Fluffy. And so flavorful with the fresh asparagus! You can even use other veggies instead… add bacon, ham or sausage too.  Super quick and easy to throw together, this is a good recipe to let your aspiring chefs make.  
Do enjoy, and come on over to my fun facebook page and share your recipes.  Happy Easter!
Easter Brunch Asparagus Casserole
This light and velvety casserole will be a favorite with the cheese lovers in your crowd for Easter brunch, or anytime. Other vegetables can be substituted or added, and have fun trying other cheeses too. You can even add in diced ham or bacon. Use this recipe as a base and spiff up to make it your own.
Ingredients
1

lb.

asparagus,

ends trimmed

2

tablespoons

butter

6

eggs.

beaten

3

tablespoons

mayonnaise

(only Duke's for me!)

1

small

onion,

diced

1

tall can

evaporated milk

2

cups

shredded Velveeta cheese

½

teaspoon

salt

several turns freshly ground black pepper
Instructions
Preheat oven to 350 degrees. Lightly grease a 1½ quart baking dish

Melt butter in skillet over medium heat. Cut asparagus into 1-inch pieces and sauté in butter 3 to 4 minutes until tender. 

Combine asparagus with all the other ingredients and stir to combine. Pour into prepared baking dish. Bake about 30 minutes until it sets in center and starts to brown on top. 

Let stand about 10 minutes, and serve while hot. 
Notes
This can be mixed a day ahead to bake at serving time.