Published April 2013 in Our State Magazine!

I just realized today that I've never shared my deviled egg recipes here on my blog!  So I must remedy that.  Just in time to share for Easter fixins.  I'll tell ya right here my secret ingredient to my deviled eggs…. BUTTER!  Why yes, doesn't that make everything better?  So be sure not to leave that out in the recipes below.  It can become your secret ingredient too.  And if there's such a thing at your house as "leftover" deviled eggs, just chop up and turn into egg salad for topping crackers or making sandwiches. 
During my years at Our State Magazine, I was asked to create several for a special feature.  Not only did that happen, but my eggs and food styling of them ended up as the cover for that issue!  That was my 2nd cover at OS… they even had a big soiree at Crook's Corner Restaurant in Chapel Hill to celebrate that issue.  They gave me this big ole sign board they had made that was displayed as folks arrived.  That's editor Elizabeth Hudson and Art Director Joseph at that time.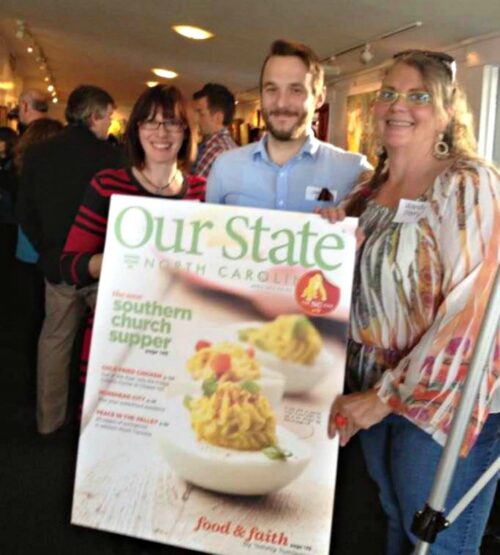 I'm very grateful for so many opportunities like this I have been given during my decades of culinary adventures.  So here you go… my collection of Our State deviled eggs!  I have others I'll get around to sharing one of these days.  Since I'm crazy busy these days with my farm and restaurant social media clients due to the virus, I'm not taking the time to enter into my printable recipe maker… so just take a snapshot with your camera to have handy or copy paste!
Basic Deviled Eggs
2 tablespoons butter, softened
¼ cup mayonnaise (Duke's)
2 tablespoons pickle cubes (Mount Olive bread & butter)
2-3 tablespoons sweet pickle cube juice
2 teaspoons sugar
½ teaspoon white pepper
Mash one dozen egg yolks and butter with fork. Add all ingredients and stir to blend. Garnish with paprika.
NOTE: I got some criticism by some for not adding salt. I didn't do that since the pickles, juice and mayo have salt.  Please do add salt as you'd like!
Rise n'Shine Breakfast Deviled Eggs
Crisp bacon and mashed potatoes are the secrets to this egg. Because what North Carolinian doesn't love breakfast?
4 slices maple bacon, cooked and crumbled (drippings  reserved)
2 tablespoons bacon drippings
2 small red potatoes (not peeled), grated
3 tablespoons finely diced onion
2 tablespoons butter, softened
1 tablespoon pure maple syrup
freshly ground black pepper
chives for garnish
In small sauté pan, heat bacon dripping on medium heat. When hot, add grated potatoes and onion. Cook until the potatoes are crispy and onions are golden. In small bowl, combine egg yolks with softened butter, maple syrup and pepper, mashing with fork until blended and creamy. Fold bacon and potato-onion mixture into yolk mixture. Spoon into egg whites. Garnish with chopped chive. Best if served warm or room temperature. Note: If filling is a bit too stiff, add 1 tablespoon bacon drippings with the butter.
Sweet Pete's Deviled Eggs
Whip up this outlaw of an egg using Winston-Salem's Texas Pete. Folks won't be able to keep their hands off.
2 tablespoons Texas Pete
2 teaspoons sugar
2 tablespoons butter, softened
¼ cup mayonnaise (Duke's)
¼ cup blue cheese crumbles
¼ cup finely diced celery
Add Texas Pete, sugar, butter and mayonnaise to egg yolks. Mash together until well blended.  Gently fold in blue cheese and celery. Fill egg whites. Garnish with a few shakes of Texas Pete and celery leaves.
Swiss Pimento Cheese Deviled Eggs
Pick up pimento cheese any number of folks making it here in NC. You'll need some for this devilishly cheesy egg.
2 tablespoons butter, softened
½ cup pimento cheese
½ cup grated Swiss cheese
¼ cup diced red bell pepper
½ teaspoon white pepper
½ teaspoon granulated garlic
¼ teaspoon salt
Mash butter and pimento cheese into egg yolks with fork until crumbly. Add Swiss, red bell pepper and spices to yolks. Fold together until well blended. Fill egg whites and garnish with red pepper pieces.
Sassy Habañero Deviled Egg
Find some sweet n'hot bread-and-butter pickles for this egg… like Mt. Olive's!
½ cup diced habañero  (or hot) bread and butter pickles
4 tablespoons pickle juice
½ teaspoon ground cumin
¼ cup chopped cilantro
2 tablespoons butter, softened
a fresh pepper, jalapeño or habañero
¼ teaspoon salt
Add diced pickle, juice, cumin, cilantro, butter and avocado to egg yolks. Fold together until well blended. Fill egg whites with mixture. Garnish with pepper rings.
Carolina Coast Deviled Eggs
Sorry, mountain people, but the blue crab found in coastal NC pairs perfectly with corn for this beach treat.
¼ cup mayonnaise (Duke's)
1 tablespoon butter, softened
½-1 teaspoon seafood seasoning (I used Savory Spice Shop Cape Hatteras smokey seafood seasoning)
2 tablespoons pickle juice
2 tablespoons sweet pickle cubes (Mt. Olive sweet relish)
4 tablespoons finely diced red onion
kernels from 1 ear roasted corn
½ cup N.C. lump crab meat
Add mayonnaise, butter, seasoning and juice to egg yolks. Mash together with fork until well blended. Gently fold in pickle, onion, corn and crab. Stuff egg whites with mixture. Garnish with corn and dust with seasoning.
Happy Easter y'all!  Stay safe… and "socially distanced!"
This recipe created for and published in Our State Magazine April 2013.
Food propping/styling by Wendy Perry as House Chef.
Disclosure:  I only use and recommend products here I use myself. I may receive a small commission from affiliate links on this or other posts on this web site at no additional costs to you.
CLICK HERE TO SUBSCRIBE TO MY TABLE SCRAPS E-ZINE NEWSLETTER!
Find me on social media:
Wendy's HOME EConomics! Page on FB    @culinaryadventuristwendy on IG
Aunt Dee Dee's Kitchen Page on FB      
@auntdeedeeskitchen on IG
Credentials @ LinkedIn
Be sure to visit my online stores:
Aunt Dee Dee's Kitchen for my unique seasonings, dried goods, pickles, jams, preserves, kitchen linens and more!
New goodies arriving in 2023.
And for the best budget-friendly MADE IN THE USA by folks like you and me, my Rada Knives and Kitchen Tools online store.
And my Watkins 1868 Store. Did your mama and grandma buy from "the Watkins Man?" The best vanilla…
THESE LINKS CAN ALSO BE FOUND ON SIDE MENU OF MY BLOG HOME PAGE.