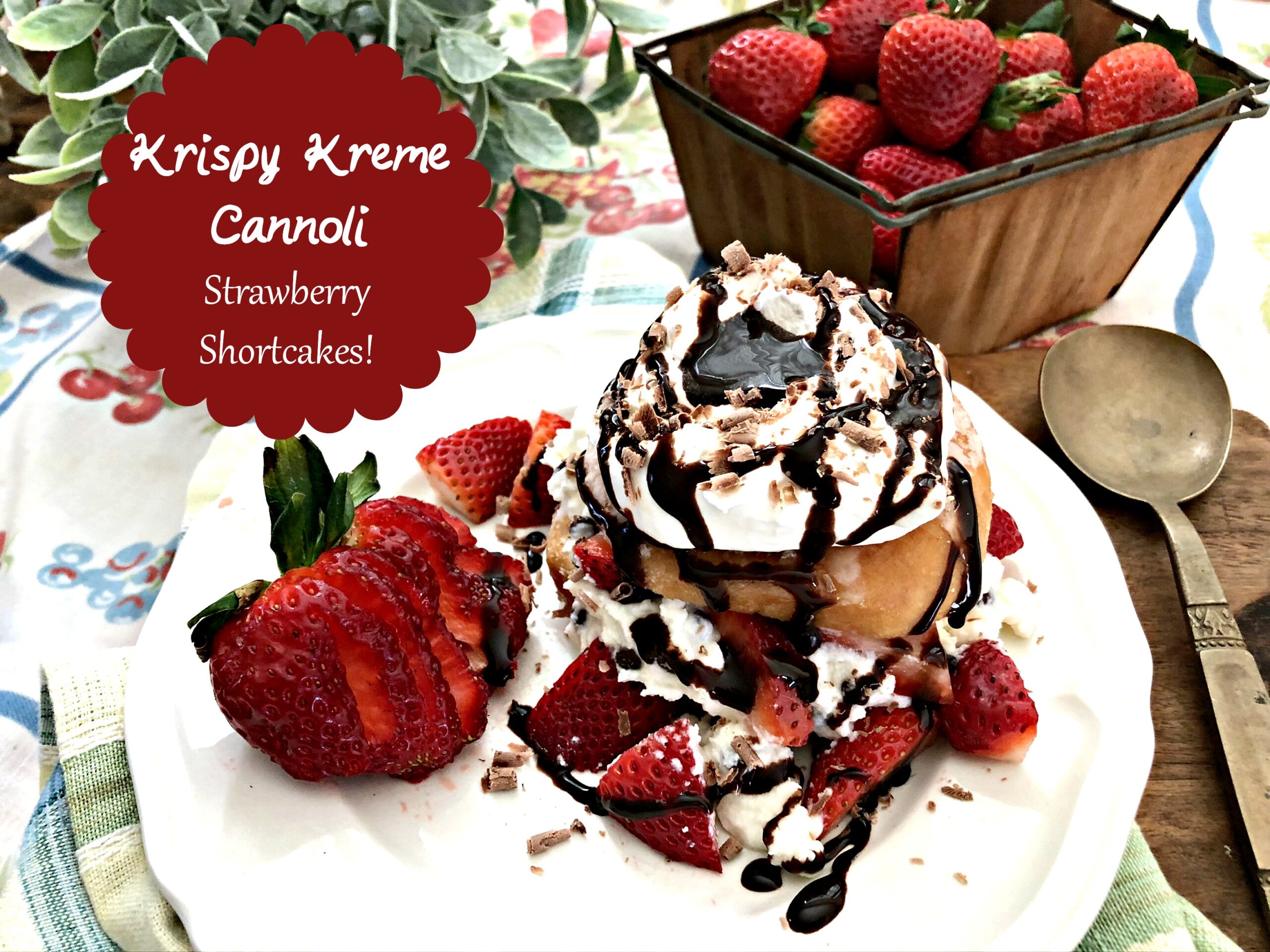 Published in Carolina Country Magazine May 2020
Who doesn't love a Krispy Kreme doughnut?  Or juicy sweet spring strawberries?  I don't know many folks who don't… and that don't love a good ole strawberry shortcake topped with fresh whipped cream!  My head was spinning trying to think of a way to give this old staple a new twist… when I happened upon cannolis.  Now this southern gal didn't grow up being fed cannolis. I have had a few times in Italian restaurants… but have never made them.
I chatted with my Italian friend Elise who has the most fabulous and comprehensive cookbook with hundreds of recipes and stories from her Italian ancestors and family members… you can read about We Are Cooking With Love here! 
Elise gave me some pointers on making the cannoli filling… and explained the importance of draining the ricotta.  It was amazing how much liquid drained out during that process… and made the cheese nice and fluffy.  I suppose you could skip that step, but I suggest you not.
So now as we are in prime strawberry season, I suggest you visit one of your nearby strawberry farms for some and make this tasty treat.  Be sure not to scrimp on the whipped cream.  There's just nothing like the real thing… good rich creamy whipping cream!
I hope you will make some Strawberry Shortcake Cannolis, and be sure to come join the conversation in my facebook community!
And if you like this recipe, please click over and give it 5 stars!
Krispy Kreme Cannoli Strawberry Shortcake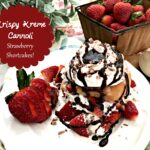 We love strawberry time! And Krispy Kreme doughnuts, of course. How about an NC cannoli strawberry shortcake? Those signature doughnuts, combined with a creamy cannoli-like filling, sweet berries, plus a pillow of whipped cream drizzled with chocolate? Yes, please!
12 Krispy Kreme doughnuts, (air dried for a day)
1 32 ounce whole ricotta cheese, (drained in refrigerator for 24 hours)
1 1/2 cups confectioner's sugar
1 cup mini chocolate chips
1/2 teaspoon cinnamon
1/2 teaspoon vanilla
1/2 teaspoon almond extract
2 quarts strawberries, (sliced and sweetened with honey as needed)
1/4 cup orange juice
1 pint heavy whipping cream
chocolate syrup
1 block baking chocolate, (shaved*)
Drain cheese for one day (two is best).

Blend in sugar, chocolate chips, cinnamon and extracts. Too stiff? Add a few tablespoons of cream.

Slice berries. Stir in honey and orange juice.

Whip cream until stiff.

Split doughnuts horizontally. Cover each bottom half with cheese mixture. Spoon over strawberries. Top with doughnut half and whipped cream. Drizzle with chocolate syrup and garnish with shaved chocolate.
*For shaved chocolate, using a vegetable peeler, carefully "shave" the sides of a block of baking chocolate over the shortcakes.