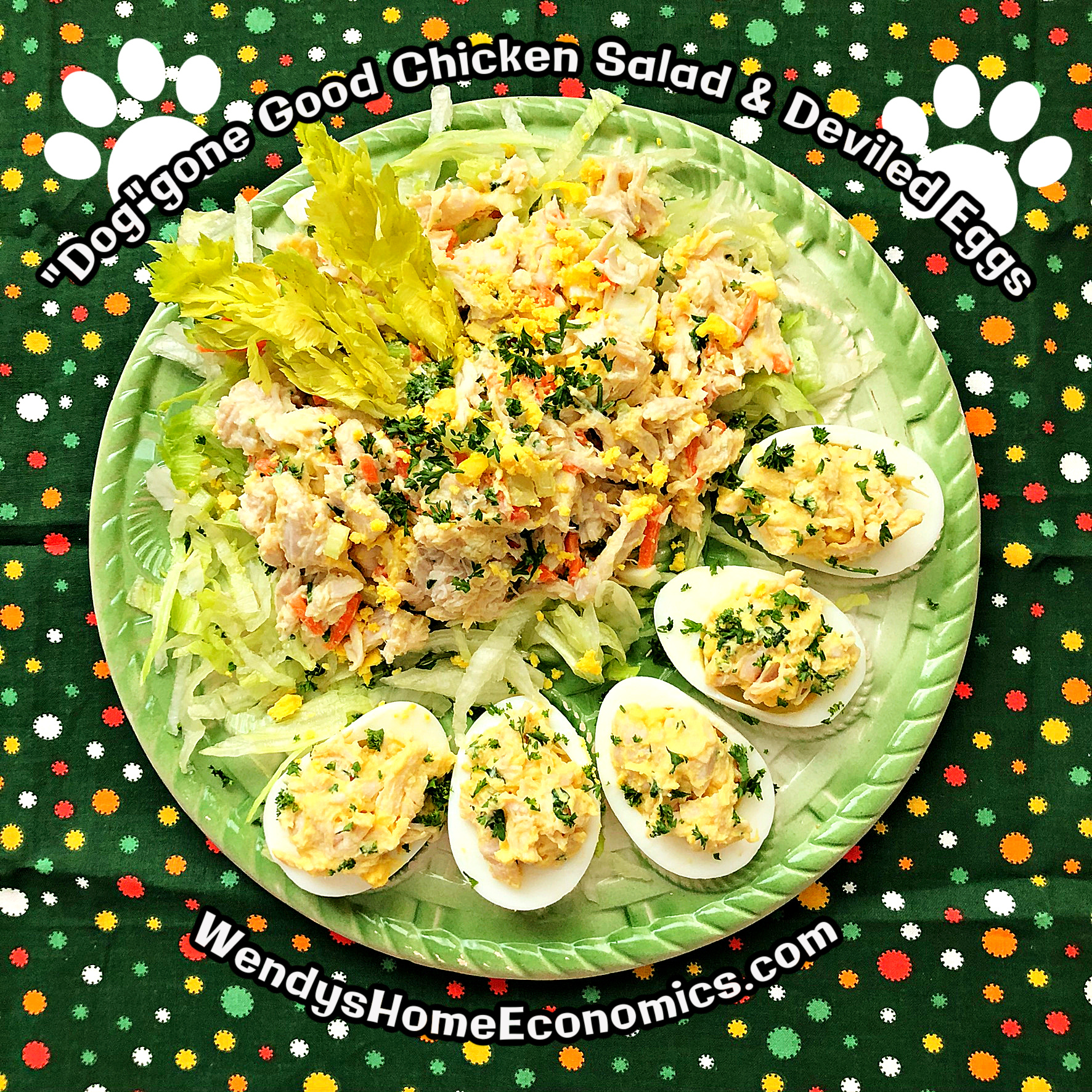 Published by Carolina Country March 2021
FEATURE STORY @ CAROLINA COUNTRY
Did you know your doggies like and can have chicken salad and deviled eggs too?  
No need to exclude your fur babies from picnicking… just make them a few simple dishes aside from yours and everybody will be happy.
These chicken salad and deviled egg recipes are people friendly… but… rather bland without salt.  So when making for yourself… set some aside for your babies before adding the extras that aren't particularly good for them.  These are also kitty friendly… just be sure you chop into tiny pieces so they won't get choked.
Do you make any special treats for your pups and kitties?  Drop a note in a comment below or over in my social media posts with these recipes.
Come on over and join my social media communities!
Wendy's Home Economics on FB
@culinaryadventuristwendy on IG
Aunt Dee Dee's Kitchen on FB
@auntdeedeeskitchen on IG
"Dog"gone Good Chicken Salad & Deviled Eggs
Well of course any Southern picnic needs chicken salad — and deviled eggs! Adjust size of pieces depending on your pet, and if making for your kitties, be sure to finely chop/mince the ingredients to avoid any choking hazard. This can easily be scaled up to larger portions for bigger dogs.
Ingredients
2

cups

cooked and shredded chicken

1

boiled egg, diced

½

cup

shredded carrot

½

cup

diced celery with tops

minced parsley and/or cilantro
Dressing:
½

cup

plain yogurt

1

tablespoon

fresh lemon juice

dash

garlic powder (NO ONION!)
Instructions
For dressing, whisk ingredients together and set aside.

Combine chicken salad ingredients. Toss with dressing and serve.

Optional ingredients your dog may love are sweet bell pepper, cheese, blueberries and grated apples.

For deviled eggs, boil, peel and stuff eggs with the chicken salad. Just add the yolk from these eggs to your salad. Or combine chicken with mashed yolks from boiled eggs and the same dressing.

Garnish with minced parsley.