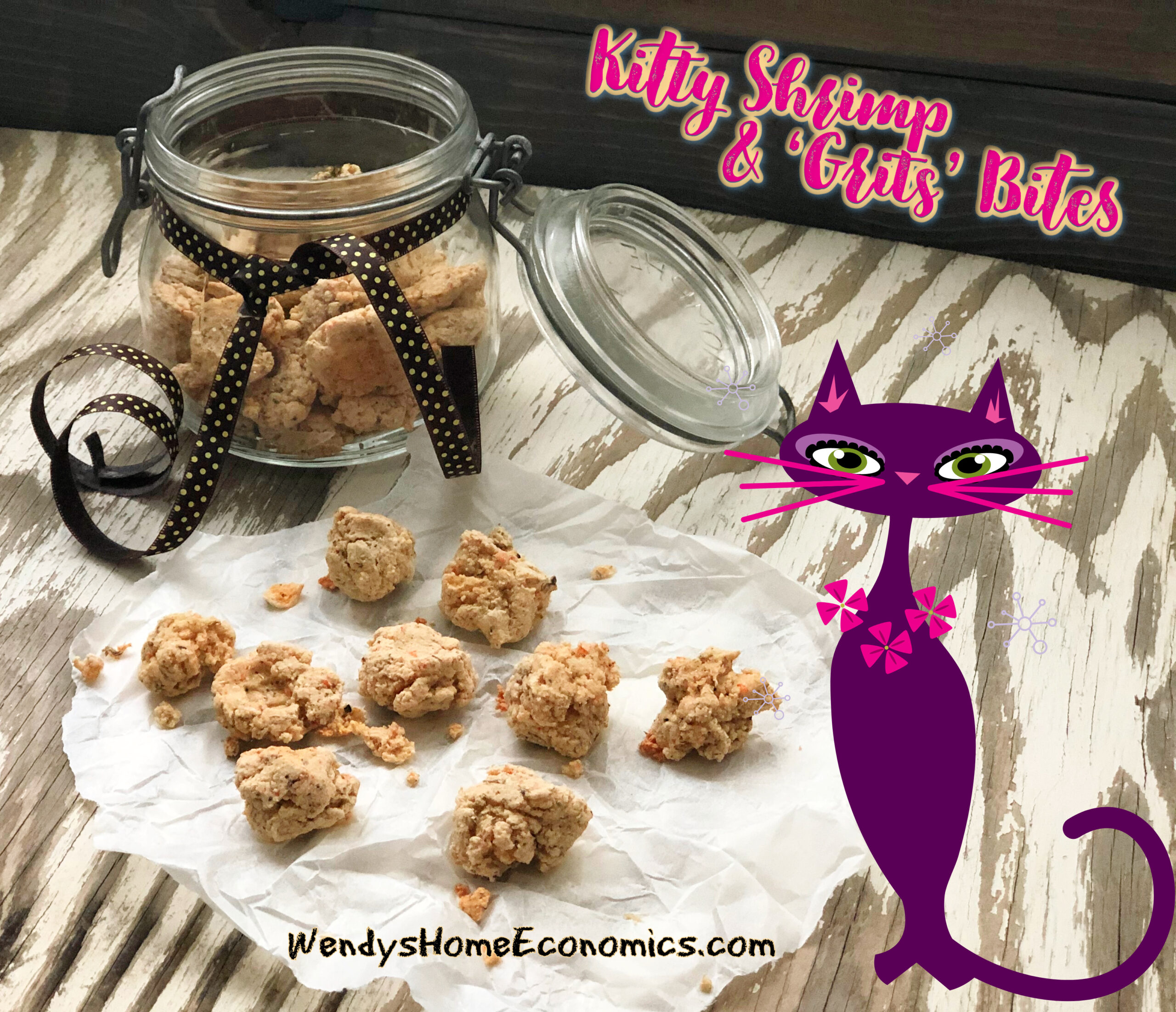 Published by Carolina Country Magazine March 2021
I'm not really a cat person, although years back, I did "inherit" my sister's cat (Opie) when she met and married a fellow allergic to cats. Although I loved Opie and never wished anything bad upon him… he was a good cat as cats go, but I thought Opie was going to live longer than me.  Poor thing lost both eyes over time, the last one right before moving into my new house so he'd have to figure out how to get around… and was somewhere around 26 when he departed over the Rainbow Bridge.
I couldn't do a menagerie of pet treats requested by the magazine without at least something for my kitty friends.  And being that my recipes tend to have a twist of  "southern" to them,  it only seemed fittin to do some shrimp and grits for the folks of the feline persuasion amongst us.  I took a bit of liberty with the "grits" and used cornmeal… (kinda just finer ground grits) for ease in digestion for the cats. I tested these on a couple of kitties… with mixed reviews.  So if you give these a try, I would really appreciate it if you give me some reviews from your cats.
I will add that my speagle girl June Bug, although a picky eater, did like these.  I tasted myself! I don't know how critters eat without salt and pepper shakers.   LOL
Throw me a message here on this post, or drop by my social media communities and leave there!
Wendy's Home Economics on FB
@culinaryadventuristwendy on IG
Aunt Dee Dee's Kitchen on FB
@auntdeedeeskitchen on IG
Kitty Shrimp & "Grits" Bites
These crunchy seafood treats will make your cats happy. Well, some cats. Grits aren't great for them, but when corn is ground into meal, it's safe for making these little shrimp nuggets. You can sub canned tuna for the shrimp if preferred. My dog liked these, too!
Ingredients
⅓

lb.

shrimp (or equal amount of tuna)

⅓

cup

water

½

cup

white cornmeal

½

cup

flour

1

tablespoon

minced dried catnip
Instructions
Preheat oven to 350 degrees.

Put shrimp and water in microwave safe bowl and cook about 3–4 minutes until done. Cool.

Put shrimp and ½ cup of the shrimp broth in processor with remaining ingredients. Whirl until the mixture makes a ball. Pinch small pieces and place on sprayed baking pan. Bake 5 minutes. Toss about and bake for another 5 minutes. Cool and store in airtight container for about a week.