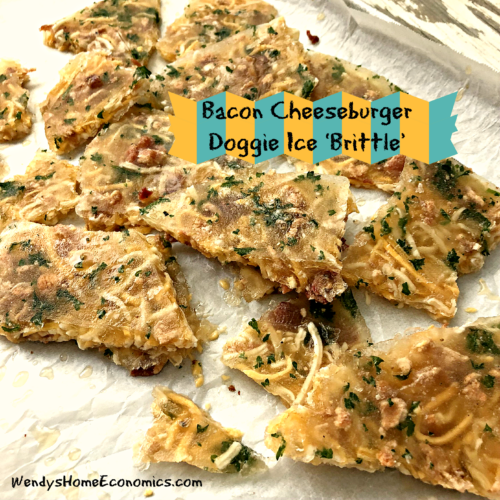 Published by Carolina Country Magazine March 2021
Do you have a pooch that likes ice?  If so, they'll surely love this cool homemade crunchy dog treat.  I called it "brittle" since that's what it looks like to me… but no sugar in sight.  And since most kitties are lactose intolerant and don't do dairy well, this one is best for your canine furry friends.
For bigger doggies, I suggest making a little thicker than what you see in the pics so they'll have a little more to chew on…
Here's to cooling off on the muggy hot summer days that will soon be here.  Fix yourself a cool beverage, and treat your furbaby too.
Come on over to my social media communities…
Wendy's Home Economics! on FB
culinaryadventuristwendy at IG
Aunt Dee Dee's Kitchen on FB
auntdeedeeskitchen at IG
Bacon Cheeseburger Doggie Ice "Brittle"
This doggie treat "brittle" since that's what it looks like, but this savory treat isn't sweet at all. My canine taste testers really loved this frozen refreshment! 
Ingredients
Unsalted beef or chicken broth

Several slices cooked and crumbled bacon

Grated cheese

Minced parsley
Instructions
Exact measurements not required! Pour broth in a container so that it is about ½" to ¾" deep.

Scatter with crumbled bacon, cheese and parsley. Freeze until solid.

Turn dish upside down over a tray for it melt a bit and comes loose.

Break into pieces and put in freezer container for cold treats!