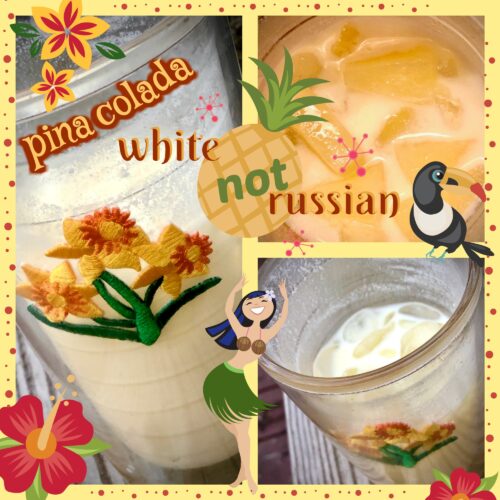 Okay… I know. First thought… what the hell kinda drink name is THAT?
…a pina colada white NOT russian?
So to me, this is nice and creamy like a white russian, BUT… I didn't think a splash of coffee liqueur would go in this (although imma going to try that next batch). And since a main ingredient in a white russian is that, I couldn't really call it that… well, I could have, but I'd have had folks say "that's not a white russian because there's no kahlua in it!"  So to avoid all that brouhaha, it's a "NOT" russian!  But it is white… so there.  I've updated this post (7/3/22) and have seen a new Bailey's Colada a lot in my FB feed… but as of yet, none of the ABC stores in my orbit have it.  I can't wait to make this drink with some of that!
This post is gonna be short and sweet, with as much effort as I put into this recipe!
So I just started throwing stuff in a glass that sounded good… on ice.  Since I got lazy and decided I didn't want to pull the blender out, but crave'n a pina colada.  I have no idea what year it was the last time I had one… but when I woke up this morning, I knew, today, a pina colada was in my near future.
There are not measurements for this. Just fix it like you want it.  Just throw it together, and enjoy.
And oh, Happy not Labor Day!  Since this is not a very laborious drink to make.  But it IS Labor Day weekend.  
glass

ice

pineapple rum

coconut rum

splash of coconut cream/milk

top'n off of half and half (I used NC's Simply Natural Creamery) 

garnish with pineapple tidbits to enjoy at the end!

To Do: Find some Bailey's Colada!