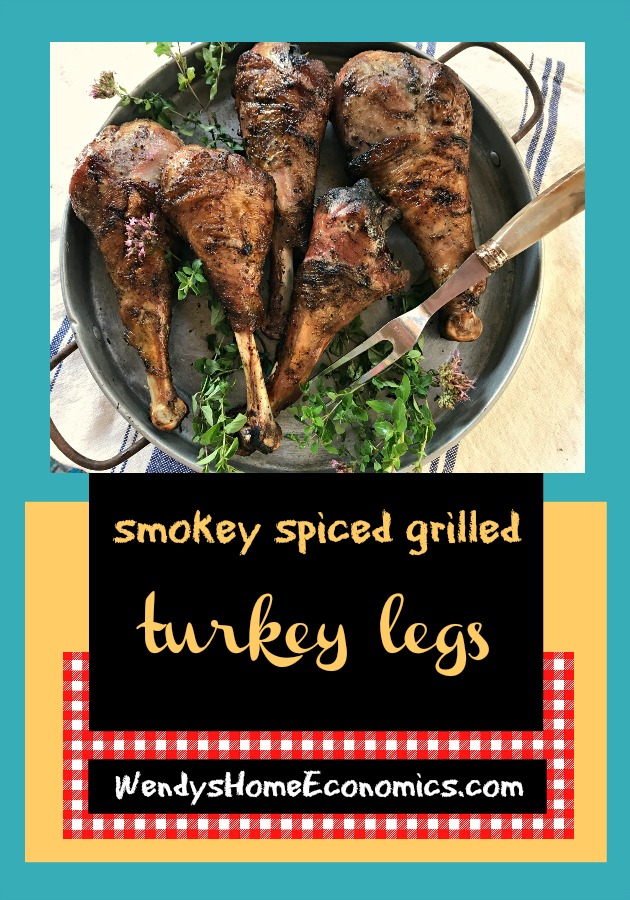 Published in Carolina Country Magazine November 2017
Well 2020 just keeps giving us disappointment on top of disappointment.  Some of us look real forward to our NC State Fair each year, each for our own reasons.  I will miss going there several mornings to judge the daily cooking contests… one of my favorite fall culinary adventures.  Some go for their favorite foods scattered about the fairgrounds.
Grease! Salt! Sugar! Finger lick'n…
What's not to love?
You can't miss folks walking around gnawing on big ole turkey legs!  This recipe was part of a few I created several years ago for Carolina Country Magazine for a little twist on Thanksgiving… and when I was thinking about fair foods to share, realized I never put this here on my blog.  
We never know what sort of weather we will have here around fair time… or Thanksgiving… it might be brrrrr! cold… or we may be out in shorts and flip flops firing up our grill.  Either way, these turkey legs are tasty… and something fun to cook this year during fair week to pretend you're there!  Or to give your Thanksgiving a twist too.
So grab yourself some legs and crank up the grill!  Enjoy some of my tasty turkey legs… and come on over to my facebook playground and share your pics and what you think about 'em!
Smokey Spiced Grilled Turkey Legs
No fair this year... no problem! Grill your own turkey legs at home... or fix some for Thanksgiving this year.
Servings:
1
1 leg per person
Ingredients
5-6

medium size

turkey legs
Marinade:
1 ½

cups

vegetable oil

2

teaspoons

smoked paprika

2

teaspoons

garlic powder

2

teaspoons

onion powder

4

teaspoons

dried oregano

4

teaspoons

salt
Instructions
Combine all marinade ingredients. Place turkey legs into large container with lid. Pour marinade over legs, cover and shake to coat. Refrigerate (up to 2 days), shaking periodically to coat.

To grill: Preheat grill to high heat. Oil grates and place legs onto grill. Sear on all sides several minutes, turning to get good grill marks. Reduce heat to low or move coals to sides (for indirect heat) and continue cooking, covered, for about 50–60 minutes. Turn every few minutes to prevent burning. 

Melt butter in honey. Baste legs, turning often, the last few minutes of cooking. Remove legs when temperature reaches 165 degrees by thermometer.

Place legs onto serving tray and pour remaining baste over legs.