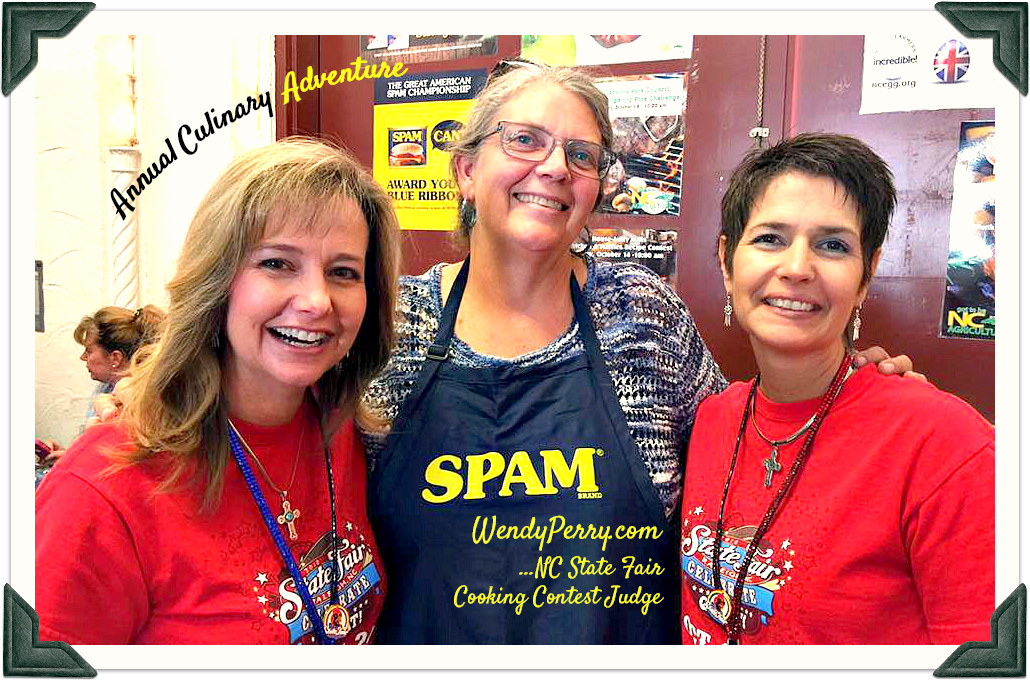 Read… Culinary Adventures of a State Fair Judge Carolina Country Mag October 2017
I do declare! I had no idea until today I'd never shared this here on my blog.  So here you go.
This week, the NC State Fair opens… and I love the fair!  For a longggg time, I have had the fun opportunity to judge several of the daily cooking contests each year.  How lucky am I?  
Each day of the fair, there is a different cooking contest, most sponsored by one of our many awesome agricultural commodities here in North Carolina… and with pretty darn good prize money. I sometimes think I should give up judging and enter some of my recipes, but the annual "get-together" of old friends, colleagues in the world of us few home economists, local TV celebs and friends at the NC Department of Agriculture keeps me going back to my judges chair.
Since I've included all the goodies in my story, I'll leave it at that.  So do hop over to Carolina Country Magazine, where you can read my article I wrote for them a couple of years ago.  I encourage you to enter next year. Just google "NC State Fair Daily Special Cooking Contests" about July or August. Get in your kitchen… fine tune your recipe(s) and enter!  Just make sure to read the rules and criteria of each carefully… because if you don't adhere to that, your dish will be put aside and disqualified!
This year, I'll be judging NC Vegetables… Apples, Pork and Beef!  Taste buds in training this week. 
So… get your fair on this week!  I hope to run into you there.