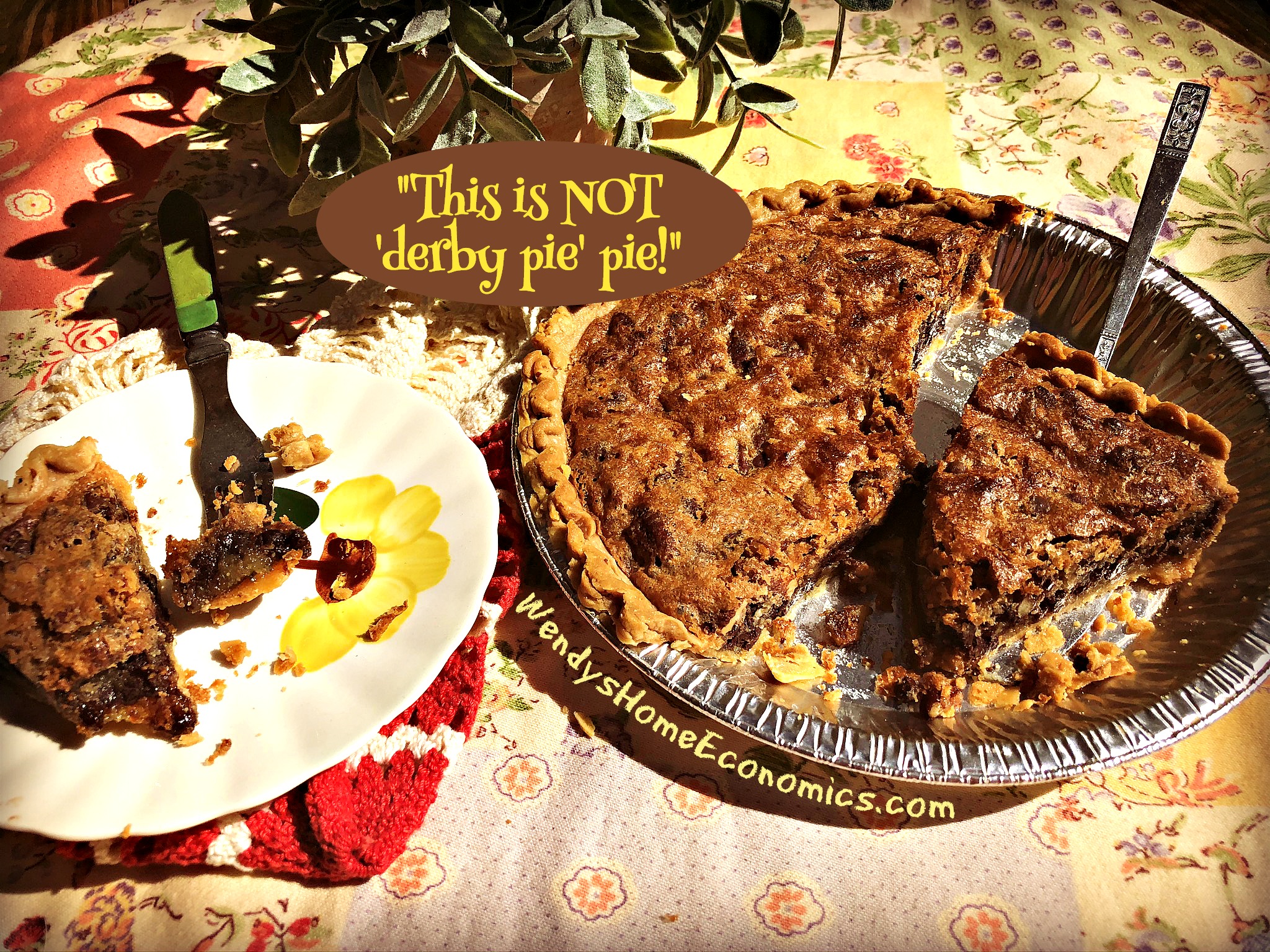 I'm a pie gal… give me a piece of good ole pie over cake any day!  Like this not-derby "horserace pie."  LOL
I didn't know for years, and most folks still do not know, you cannot call your pie "derby pie."  If you do, you might just have a lawsuit showing up on your doorstep. The Kern's had foresight years ago to trademark "derby-pie" and have been known to aggressively protect it.  So while I share this pie I've made for decades with you, known for years as that but made a little differently, you will NOT hear me calling it "derby pie." Imma not going to get all into that, but you can read all about the trademark those folks obtained here for those details. And more here too from the Smithsonian!

According to their web site, their pie has walnuts, and bourbon, neither of which you will find in my pie recipe. So I guess I was just confused for years since the recipe came to me with that name.  Maybe I'll have a 'name that pie' contest!  
Just about everybody has their version of this simple and "wow-some" gooey-on-the-bottom chocolate pecan pie.  I've had this recipe for decades and no idea from whence it came. I just know it's good, it's quick and easy to make, and checks off several boxes… chocolate pie, pecan pie, and even brownie pie!  And best of all…
the recipe makes TWO pies… one to keep and one to share.
Do you have a version of your own?  Do come over to my facebook community and share it!
And till then…. make PIE! Just don't be make'n no derby pie.
Food propping/styling and photography © (copyrighted) by Wendy Perry.

Disclosure:  I only use and recommend products here I use myself. I may receive a small commission from affiliate links on this or other posts on this web site at no additional costs to you.
CLICK HERE TO SUBSCRIBE TO MY TABLE SCRAPS E-ZINE NEWSLETTER!
Find me on social media:
HomeEconomicsInAuntDeeDeesKitchen on FB
Wendy's HOME Economics! Page on FB    @culinaryadventuristwendy on IG
Aunt Dee Dee's Kitchen Page on FB            @auntdeedeeskitchen on IG
Credentials @ LinkedIn
Be sure to visit my online stores:
Aunt Dee Dee's Kitchen for my seasonings, dried goods, pickles, jams, preserves, kitchen linens and more! Lots of new goodies in 2022.
And for the best budget-friendly MADE IN THE USA by folks like you and me, my Rada Knives and Kitchen Tools online store.
THESE LINKS CAN ALSO BE FOUND ON SIDE MENU OF MY BLOG HOME PAGE.
"This is NOT 'derby pie' Pie!"
I love pie. I love this pie. Simple. And covers many bases... pecan pie... chocolate pie... brownie pie... gooey pie! The recipe makes 2 pies too... so you can keep one and share one. Just make PIE and be sure not to call it "derby pie."
Ingredients
2

eggs,

slightly beaten

1

cup

sugar

1

stick

butter,

melted and cooled

1

12 ounce

semi-sweet chocolate chips

1

16 ounce

chopped pecan pieces

2

teaspoons

vanilla extract

2

9" pie crusts

(not deep dish)
Instructions
Poke bottom of crust a few times with fork and place into oven while it preheats.

Mix all ingredients together and divide into the 2 pie crusts.

Bake about 35-40 minutes until set in the middle.

Let cool a bit before cutting.