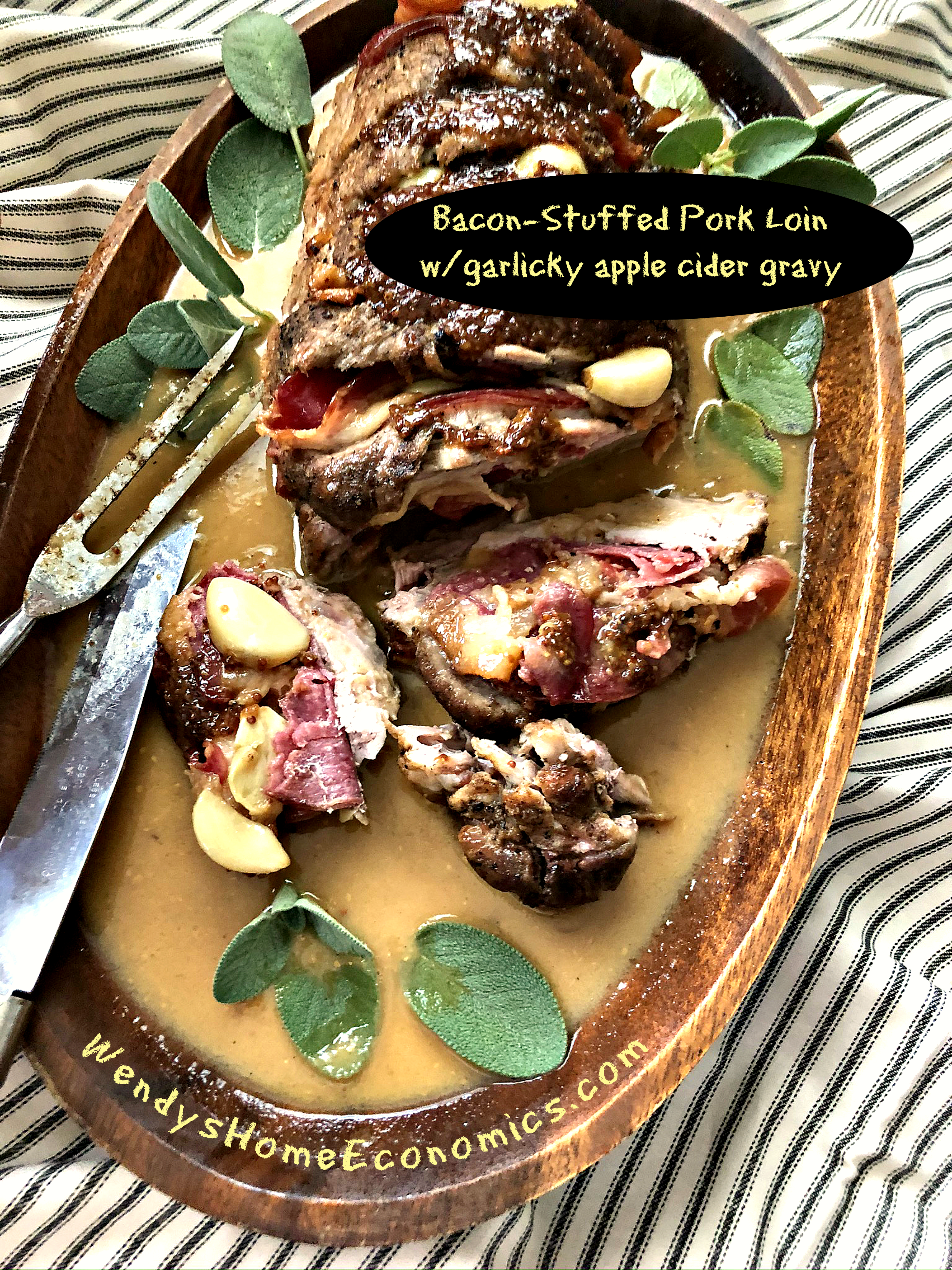 Published in Carolina Country Magazine November 2020
As the days grow shorter and temps start to fall, I love to throw stuff in my crock pot and see what happens.  This recipe was "in my head," and I didn't know if it would turn out as I imagined, or just be fit'n to eat, but not worthy of passing along.  I was pleasantly surprised… and this is definitely a keeper!  I mean, really.  What's not to love?  Pork, stuffed with pork… wrapped in more pork… bacon!   
It does take a little extra effort, but I promise, it's so worth it.  And the apple cider gravy…. oh lort!  Be sure to make some of my Rustic Herbed Dressing (with apples and cheddar cheese) to have alongside this porkalicious creation.
My biggest helpful hint and tip for making this recipe… do not overcook!  There's nothing worse than overcooked pork loin. With virtually no fat or marbling, it's easy to do. If you don't have one, invest in a meat thermometer. If you do have one, this is a recipe when you'll surely want to use it.
Come on over and join my facebook community where we'll chat about this… and more!
Bacon-Stuffed Pork Loin With garlicy apple cider gravy
Ahhh, fall. Time for roasting and slow cooking flavors of the season. Low and slow is just right for lean pork loin … surrounded by bacon and salami for the moist fat needed to make it tender and juicy.
Ingredients
8

slices

maple bacon

4

pound

pork loin

salt and cracked black pepper

poultry seasoning

oil for searing

1

large

sweet onion,

peeled and cut in ½-inch rounds

30

cloves

garlic

1 ½

cup

spiced apple cider

⅔

cup

apple cider vinegar

16

thin slices

salami

bacon drippings

⅓

cup

stone ground mustard

2

tablespoons

brown sugar

2

tablespoons

cornstarch

fresh sage to garnish,

optional
Instructions
Preheat oven (or toaster oven) to 400 degrees. Fold bacon in half and bake until almost done.

Season loin on all sides with salt, pepper and poultry seasoning. Coat bottom of heavy skillet with oil. Sear on all sides at medium-high, about 5 minutes each, until browned "crust" forms. Place on cutting board and cut 8 slices, making sure not to cut all the way through. Place sliced onion and half the garlic in bottom of slow cooker with cider and vinegar.

Tuck each piece of bacon into 2 slices of salami ("taco style"), then tuck these into loin pockets with remaining garlic cloves. Place on top of onions, pour the bacon drippings over, cover and cook on high for 2 hours.*

Combine mustard with sugar and spoon over loin after about one hour.

Remove, cover and let stand while making gravy.

To make gravy, blend cornstarch into a cup of slightly cooled sauce. Whisk this slurry into remaining sauce in slow cooker and let thicken, about 15 minutes. Purée with blender. Serve with roast garnished with sage.
Notes
*Use a meat thermometer for best results. Remove at 140 degrees in center. Times will vary with slow cooker.