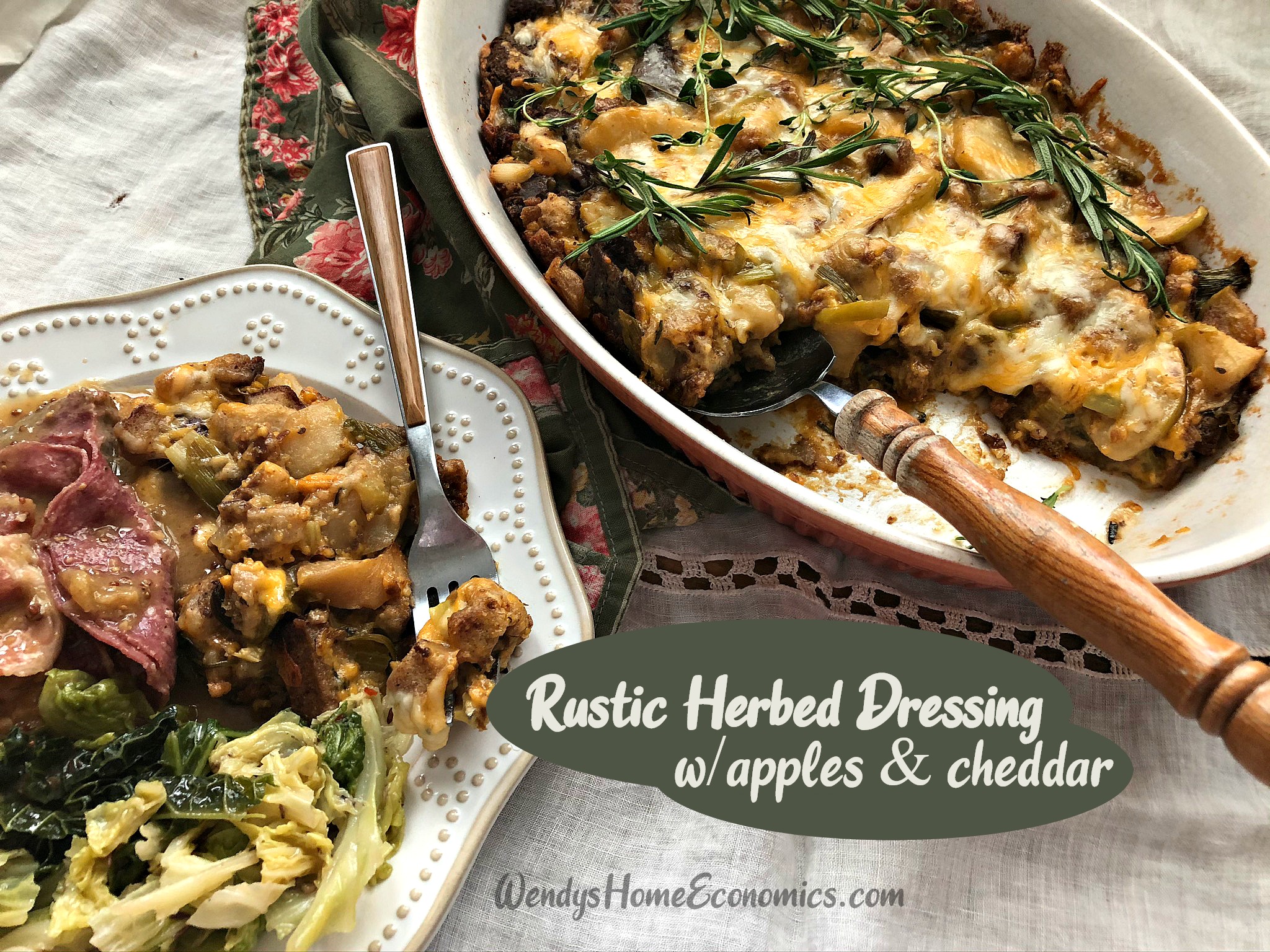 Featured in Carolina Country Magazine November 2020
"Rustic" seems to make cozy comfy foods sound as good as they truly are… even better!  Images of growing up and eating at grandma's farmhouse table come to mind where big dishes and platters of stuff sat before hungry family and friends that dropped by too.  Dressing falls into this category for me. Some folks call it "stuffing," but it's not stuffed into anything, except a baking dish, so I've never called it that.  And nobody in my family that cooked before me stuffed a turkey… our "dressing" was always cooked outside the bird, in a casserole dish… thus, dressing!
Dressing has always been one of my favorite side dishes. I'm particularly fond of the herbs and seasonings used to make it. And then there's the bread part of things. My weakness! Dressing can be thrown together with all sorts of that, and just the change of the breading makes each dish of dressing uniquely its own.  Like this recipe, and using pumpernickel. I enjoy that every now and then, but never use up a whole loaf. So into the fridge or freezer it goes to use for such as this.  The apples and cheddar (a great underprepared combination) just make this dressing "just right!"  I created it to go alongside this Bacon Stuffed Pork Loin with apple cider gravy.  The sweet and tangy gravy oozing over this dressing makes for a perfect duo!  It would be a nice addition to your Thanksgiving fixins this year too.    It's even tasty to "toast" in the oven and serve with some maple syrup for breakfast or brunch with some good bacon, sausage or country ham.
I hope you will give it a try… and come over to my facebook community and share your comments.
Rustic Herbed Dressing With apples and cheddar
You know it's fall when the aroma of baked apples and fresh herbs fills the air! Roasted pork, chicken — this stuffing makes just the right side dish. Or crisp up leftover dressing in the toaster oven for a banner breakfast with bacon, sausage and a drizzle o' maple syrup!
Ingredients
5

tablespoons

butter

3

Granny Smith apples,

peeled, cored and sliced thin

1

large

sweet onion,

chopped

3

stalks

celery,

chopped

6

slices

slices pumpernickel bread,

toasted and torn in pieces

6

ounces

herb-seasoned stuffing

1

tablespoon

minced fresh rosemary

1

tablespoon

chopped fresh thyme

2

teaspoons

salt

freshly ground black pepper

3

cups

broth

8

ounces

cubed sharp cheddar cheese

4

ounces

grated sharp cheddar cheese

fresh rosemary and thyme for garnish
Instructions
Preheat oven to 350 degrees.

Melt butter over medium heat. Add apples, onion and celery. Sauté until tender, about 5–6 minutes. Fold in toast, stuffing and seasonings. Stir in broth and cubed cheese until mixture is well combined.

Pour into a 2-quart, sprayed baking dish. Scatter with grated cheese. Tent with foil and bake 30 minutes. Remove foil and bake an additional 10 minutes. Garnish with rosemary and thyme. Best if served immediately.