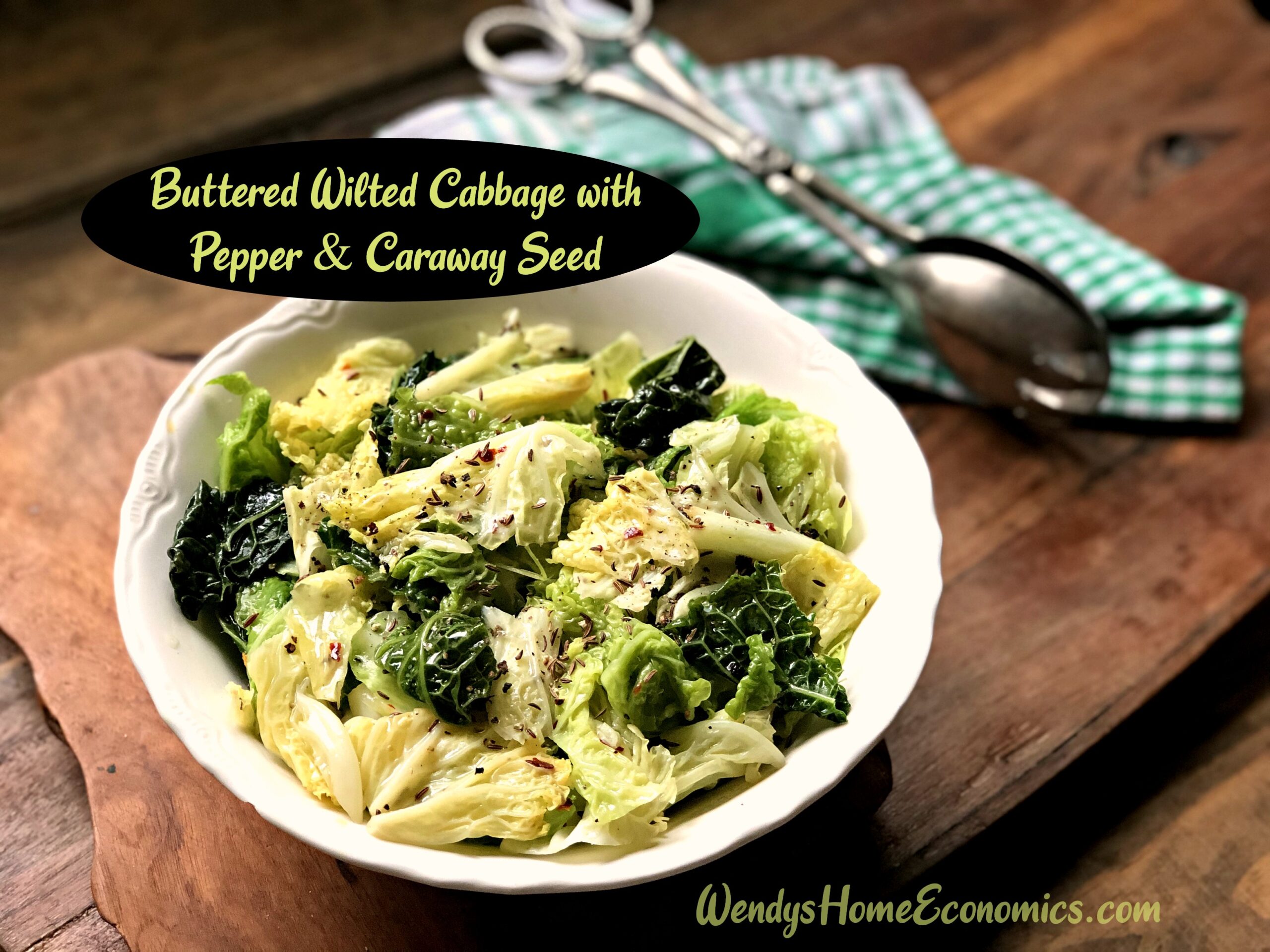 Featured in Carolina Country Magazine November 2020
I.Love.Cabbage.
I cannot think of one way I do not love me some cabbage!  It's so versatile and it such a great side dish for most anything.  It's quick to prepare… and budget friendly too.  
With cabbage, usually "less is more." It brings so much of its own flavor to the table you really don't need to do much to it.  Like this recipe.  It's as simple as blanching till tender, but still has a little "bite" to it.  A bit of crushed red pepper and caraway seed… and of course some butter, and you've got yourself a mighty fittin side.  It's just right to round out your meal with my Bacon Stuffed Pork Loin with garlicky apple cider gravy and Rustic Herbed Dressing with apples and cheddar.  This meal just hollers "FALL!" and would be nice for something different featuring pork on your Thanksgiving table this year.
Put all these goodies on your grocery list so you'll have on hand to cook up this comforting fall feast soon. Then come on over to my facebook community and share your comments!
Buttered Wilted Cabbage with Pepper & Caraway Seed
Blanching tender cabbage is a great way to preserve nutrients and get vivid color!  And don't you love having a farm fresh side dish ready in 10 minutes? 
Ingredients
8

cup

chicken broth

1

large head

savoy cabbage

1

teaspoon

crushed red pepper

2

teaspoons

caraway seeds

crushed black pepper

6

tablespoons

butter
Instructions
While bringing broth to a boil in large pot, cut cabbage into wedges and discard core. Tear by hand into 1"-2" pieces.  Add to boiling water. Stir and blanch for 1 ½to 2 minutes; drain and reserve broth for soup.

Put cabbage back into hot pot. Toss with seasonings and butter to melt.  Taste and add salt as needed. Serve warm. 
Notes
Note: I save the core and simmer in the discarded broth for a delicious soup stock.
Don't toss all that flavor! When cooking, save parts of vegetables for making the best soup base, sauces and gravy. Toss scraps into a freezer bag and add to it until you have accumulated a goodly amount and have time to make. Goodies to save are vegetable broth (like drained from this cabbage) along with leaves and core, onion and garlic peels, celery ends, corn cobs, carrot ends and peel, potato scraps, and fresh herb stems. Freeze in ice trays or small containers for adding flavor to all sorts of dishes!