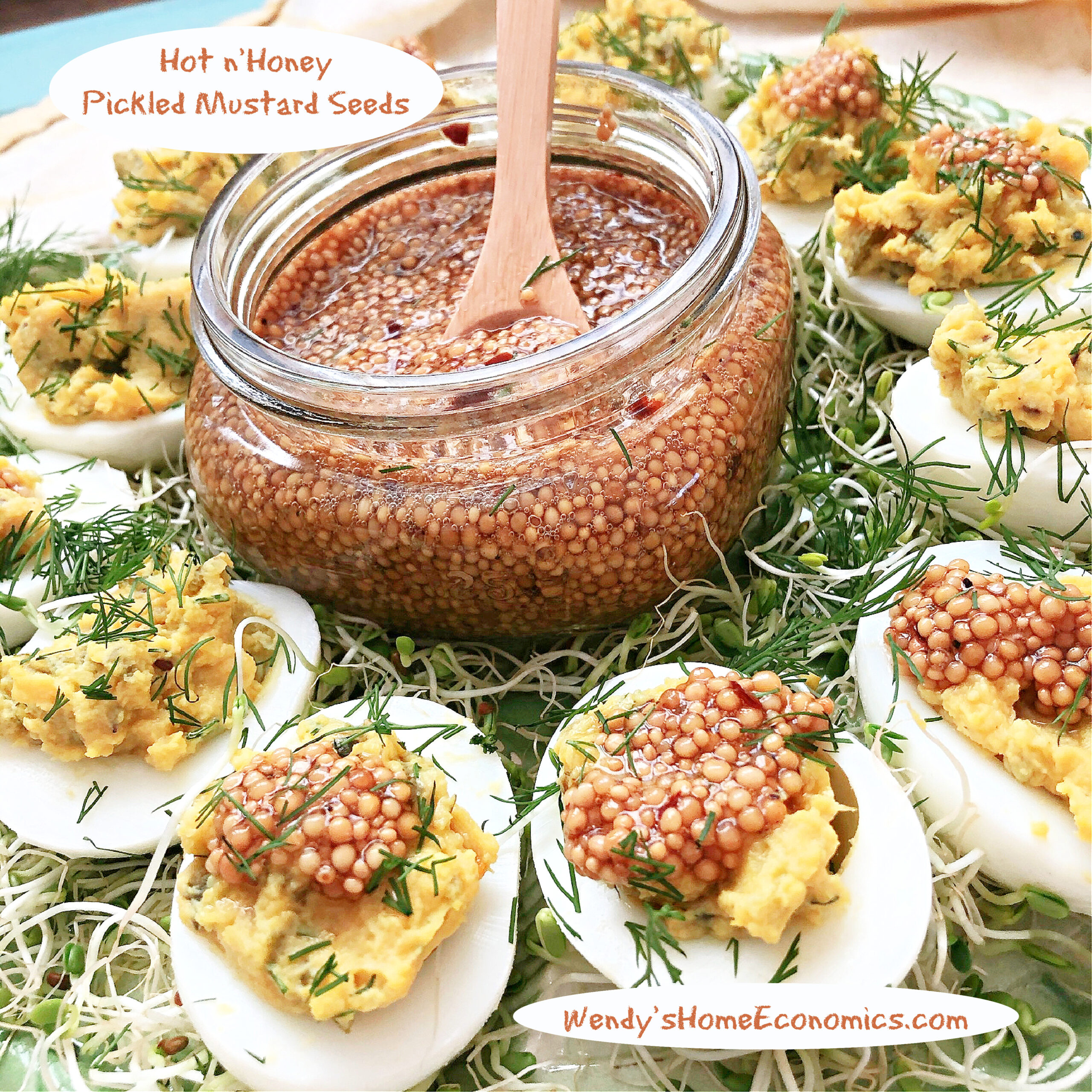 Published in Carolina Country Magazine April 2021
Funky!  That might be a good word to describe how these appear.
I have a bunch of Pinterest boards where I stash away ideas I run across for inspiration to create "one day."  When I saw these long ago, I threw a few ideas into one of my boards.  I really like adding mustard seed to dressings and pickled stuff… I like the little "crunch" you get when biting into them.  And although I'm not a big mustard eater, I do like it sometimes… so the idea of pickling mustard seeds was intriguing to me.
Turns out, they are pretty tasty and I love them!  I was working on some deviled egg ideas at the time, so they seemed like a perfect thing to top with a little dollop of pickled seeds.  AWESOME pairing!  The soft and creamy eggs… with the little subtle "bite" of the seeds.  
I also put some on meaty sandwiches (cold cuts) and also, spooned over grilled burgers and hot dogs.  Great on all of those.  
So I encourage you to give these a try. For those that like putting together charcuterie trays and grazing platters, this is a fun and conversational addition your guests will enjoy.
Till next time…
See you over on my social media communities:
Wendy's Home Economics on FB
@culinaryadventuristwendy on IG
Aunt Dee Dee's Kitchen on FB
@auntdeedeeskitchen on IG
Hot 'n' Honey Pickled Mustard Seeds
This one might sound a bit odd, but do give them a try. They add a fun little pickled crunch to deviled eggs, sandwiches, meats, salads and dips.
Ingredients
½

cup

mustard seeds

1

16 ounce jar

kosher dill pickles (any sort)

½

teaspoon

salt

2

tablespoons

honey

1

teaspoon

crushed red pepper (or less)

½

teaspoon

black pepper
Instructions
Put seeds into small bowl and cover with water. Soak for 2 hours, then rinse and put into small saucepan. Add ¾ cup of dill pickle juice, salt, honey and peppers.

Bring to a boil, then turn back to a slow simmer for 20 minutes.

Pour into ½ pint jar and stir in 2–3 tablespoons of the remaining pickle juice from the jar of pickles. Refrigerate.
Notes
These will keep several months in the refrigerator. If, over time, they become a bit dry, revive with a bit of honey.