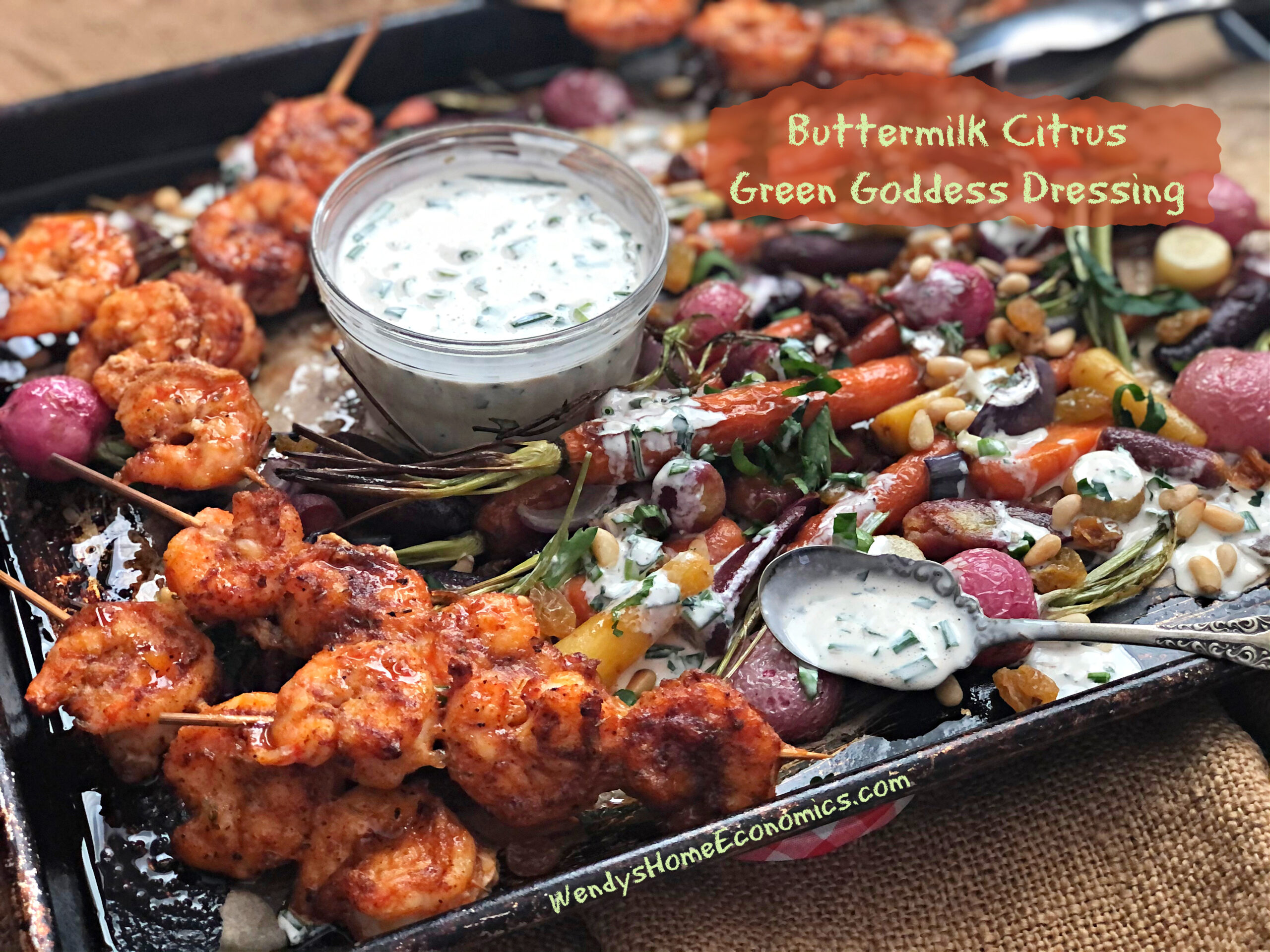 Published in Carolina Country Magazine April 2021
Originally to be a carrot salad, this is what I ended up with when working on the recipe.  The green goddess dressing ended up with the spotlight, BUT… the roasted carrots and veggies… with a few shrimp skewers on the side, ended up getting a place too.
Roasted veggies are a way to share with family and friends who aren't big fans of vegetables. High heat makes that delicious natural sugar tucked inside blossom… and caramelizes them into something beyond the usual.  They can be enjoyed hot out of the oven… room temp… even chilled for healthy snacking.  My Buttermilk Citrus Green Goddess Dressing is the perfect accompaniment for drizzling or dipping.
Multi-task while in the kitchen. Throw a pan of veggies in the oven while busying yourself with other kitchen chores to have on hand for the next day or two when cooking isn't on your agenda!  For an impressive fancy side with little fuss… of roasted goodness.
Enjoy!
And come on by my social media hangouts.
Wendy's Home Economics on FB
@culinaryadventuristwendy on IG
Aunt Dee Dee's Kitchen on FB
@auntdeedeeskitchen on IG
Roasted Veggies & Shrimp Skewers
High temperatures paired with abundant vegetables make for healthy nibbles or a light meal. Roasting brings out the natural sugars in your vegetables that caramelize for a sweet zing. Exact measurements are not needed — make as much as you need for your crew. Dollop with Buttermilk Green Goddess Dressing and you'll never look at vegetables the same way again.
Ingredients
shrimp

cajun seasoning

Carrots (we chose a variety, but one type will do)

whole radishes

Thick slices of red onion

white raisins

toasted pine nuts

Fresh herbs (rosemary, oregano and/or sage)

olive oil
Instructions
Preheat oven to 450 degrees.

Thread shrimp onto skewers and brush with oil. Dust with Cajun seasoning. Set aside.

Wash and dry carrots and radishes. Both can be roasted as is or sliced in half if large. Cut off tops, leaving about an inch. You could also cut a bag of colored carrots into diagonal halves and some in rounds, just for fun.

Scatter carrots, radishes and onion slices on baking pan; toss with olive oil. Roast 30 minutes or so, until caramelized, tossing about halfway to roast all sides.

Add shrimp skewers to baking pans and roast another 8–10 minutes until done.