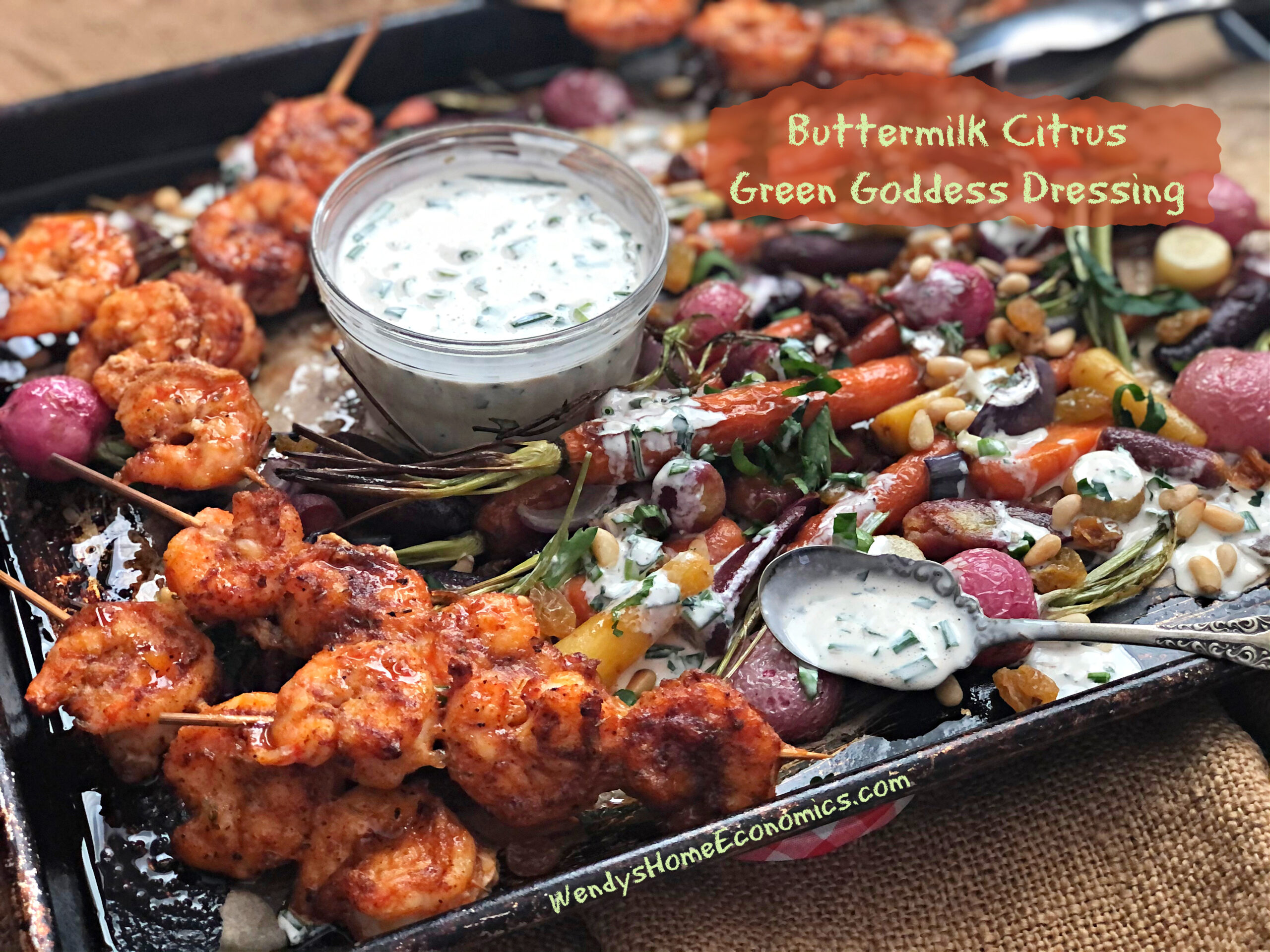 Published in Carolina Country Magazine April 2021
My new favorite dressing for so many things!
Salad. Dippin. Sandwiches. Burgers. 
I haven't actually bought a bottle of dressing in years! Homemade dressings are so much better than anything you can buy in a bottle. And are pretty simple to make… take little in resources, including time, money and ingredients. We all have stuff on hand to make all sorts of dressings, but if you're like me, you just don't remember.  My "go to" is a bit of pickle juice with a little Duke's mayonnaise.  And there's nothing wrong with that.  Until you meet the goddess of green!
It's been years since I made green goddess… so I decided it would be a good thing to revive and revise for spring veggies (carrots always come to mind for me around Easter), be it a raw salad, or roasted, like what you see here. My original recipe plan was to do a carrot salad. But I sometimes veer off course like I did here. I ended up with somewhat of a roasted carrot salad… AND skewers of shrimp, ("recipe" below for those) but the dressing took main stage in the end.
Being the orange/lime gal that I tend to be, instead of the usual lemon juice, of course I twisted that up a bit to suit my fancy.  And in the past, I skipped over the anchovy part… but wanting to not venture too far away from traditional green goddess, included that this time.
Y'all.  I do declare this stuff needs bottling!  Its flavor is so alive, for lack of a better word.  I used it in a bunch of ways once created for the magazine.  I especially loved it on veggie sandwiches as a spread… good outside-the-box bread… thinly sliced cucumber, finely minced celery, sprouts, some blanched snow peas, very thinly sliced red onion and radish…. scrumptious!  I even added a little cilantro to it for my veggie sandwiches.  
I also love this with shrimp, and roasted a few skewers of them I tossed in rub alongside the vegetables.  The shrimp are good hot out of the oven, or chilled and dipped in this stuff!  
I highly recommend making some. It just might be your "go to" dressing/dip/sauce this summer.  The creaminess makes a really good pairing over charred grilled meats too… like pork tenderloin and filet.  And oh, fish and seafood!  
Enjoy, and hope to see you over on my social media communities.
Wendy's Home Economics on FB
@culinaryadventuristwendy on IG
Aunt Dee Dee's Kitchen on FB
@auntdeedeeskitchen on IG
Buttermilk Citrus Green Goddess Dressing
Ingredients
1

cup

mayonnaise (we prefer Duke's)

½

cup

buttermilk

1

tablespoon

anchovy paste

½

cup

fresh minced parsley

¼

cup

fresh tarragon (or 2 teaspoons dried)

2-3

cloves

garlic, minced

2

green onions, minced

¾

cup

minced chives

1

tablespoon each

fresh lime and fresh orange juice

zest of

lime and orange

1

teaspoon

salt

1

teaspoon

black pepper
Instructions
Whisk together mayonnaise, buttermilk and anchovy paste until blended. Add remaining ingredients and stir to combine.

Chill.
Notes
This will last in refrigerator for 1–2 weeks.