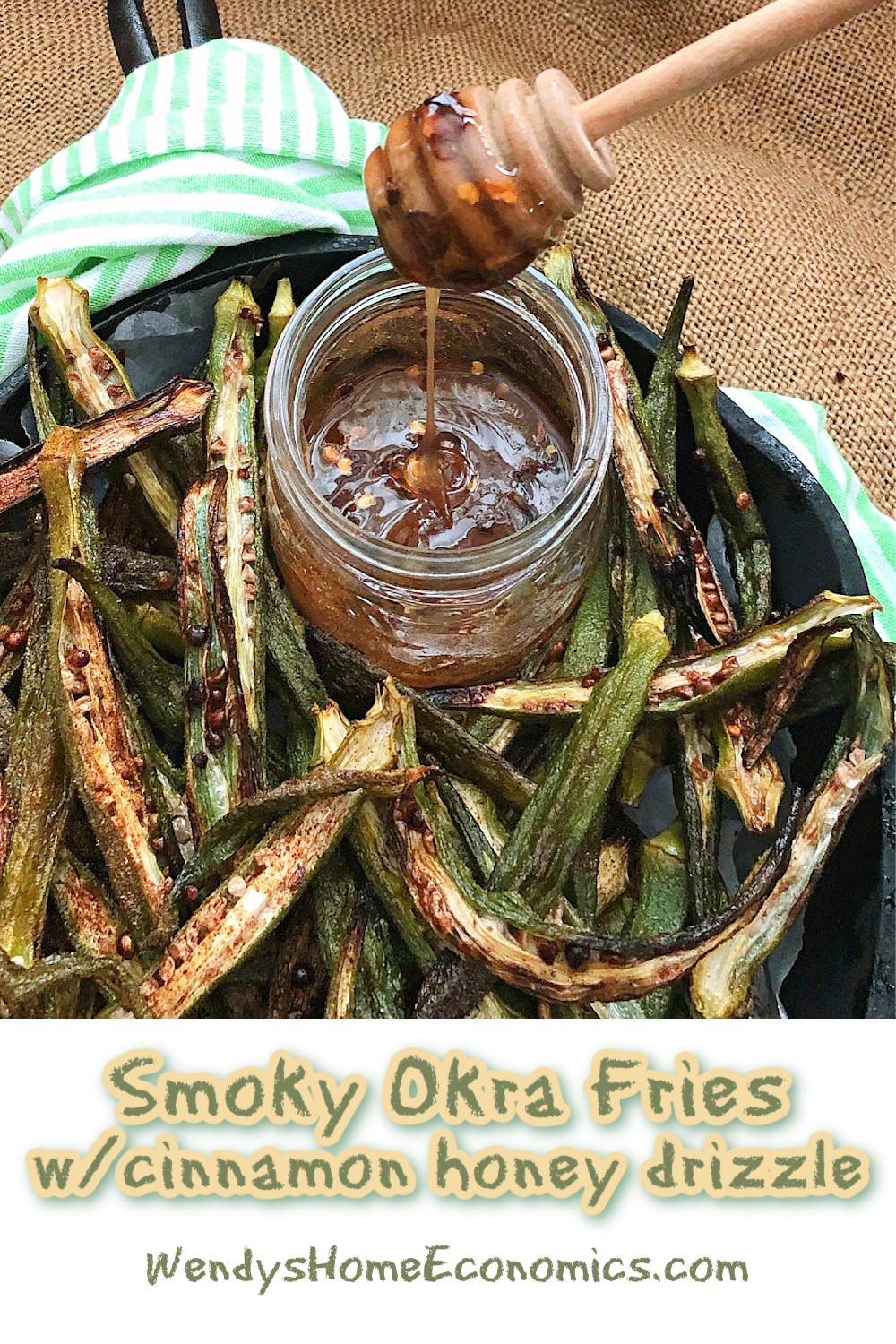 Okra, how I do love thee.
When I was a little girl, my granddaddy would take me out to the garden where we'd pick a bowl of it and my grandma would boil it up. Add salt and butter. I'd pull those okra pods thru my teeth and get the seeds out then eat it.  Had I not been introduced to that slimy stuff at such a young age by the man I adored, I may have never taken a chance. He left this world when I was just 8, but that is one memory I have of my Daddy Hocutt.
But I love it every which way.  Crispy crunchy fried. Raw in salads. In pickles. Never met an okra I didn't love.  
It wasn't that many years ago when I learned to roast it.  I've roasted in the oven and on a baking sheet on the grill.  And roasted is how to fix these Smoky Okra Fries!  The high heat gives them a nice little crunch… finished off with a little salt and smoked paprika.  They're a fun change to serve instead of fries, especially in the summer when okra is so plentiful!
Keep your eyes open for fresh okra at your farmers' market… pick up some smoked paprika if you don't have that on hand… and you'll be ready to roast.  
Enjoy as a side… appetizer… a healthy snack for nibbling!
Especially tasty with my Everything Pork Smash Burgers with toasty hoop cheese.
Be sure to make some Hummingbird Ice Cream Parfaits for dessert. 
By the way… if not subscribed yet to my Table Scraps e-zine, click here to be sure and do that!
Published in Carolina Country Magazine May 2021
Food propping/styling and photography © (copyrighted) by Wendy Perry.
Carolina Country Magazine Contributing Recipes Editor
Disclosure:  I only use and recommend products here I use myself. I may receive a small commission from affiliate links on this or other posts on this web site at no additional costs to you.
CLICK HERE TO SUBSCRIBE TO MY TABLE SCRAPS E-ZINE NEWSLETTER!
Find me on social media:
Wendy's HOME Economics! Page on FB    @culinaryadventuristwendy on IG
Aunt Dee Dee's Kitchen Page on FB            @auntdeedeeskitchen on IG
Credentials @ LinkedIn
Be sure to visit my online stores:
Aunt Dee Dee's Kitchen for my unique seasonings, dried goods, pickles, jams, preserves, kitchen linens and more! New goodies arriving in 2023.
And for the best budget-friendly MADE IN THE USA by folks like you and me, my Rada Knives and Kitchen Tools online store.
And my Watkins 1868 Store. Did your mama and grandma buy from "the Watkins Man?" The best vanilla…
THESE LINKS CAN ALSO BE FOUND ON SIDE MENU OF MY BLOG HOME PAGE.
Smoky Okra Fries with cinnamon honey drizzle
Fries and a burger, ho hum. Flip a switch on those boring fries by using okra! Easy to make and best when hot, these okra fries are still tasty at room temperature. Add the sweet and savory honey drizzle over these crispy fries—woo hoo!
Ingredients
1

pound

fresh okra, washed and dried well

3

tablespoons

preferred oil (we used sunflower oil)

smoked paprika

Sea salt (I like crunchy flaky salt for this one)
Drizzle:
½

cup

honey

1

tablespoon

crushed red pepper (adjust to your heat level)

½

teaspoon

cinnamon
Instructions
Preheat oven to 450 degrees.

Slice okra in half lengthwise. Pile on baking sheet and toss with oil. Spread out so the fries are not crowded (this helps them roast and keeps them from steaming). Roast about 8 minutes, toss and continue roasting for another 5–8 minutes until nice and crisply browned.

While the okra roasts, create the drizzle by combining honey, pepper and cinnamon in a bowl; set aside.

Remove the fries from the oven and dust with paprika. Sprinkle with salt. Drizzle with the cinnamon honey.