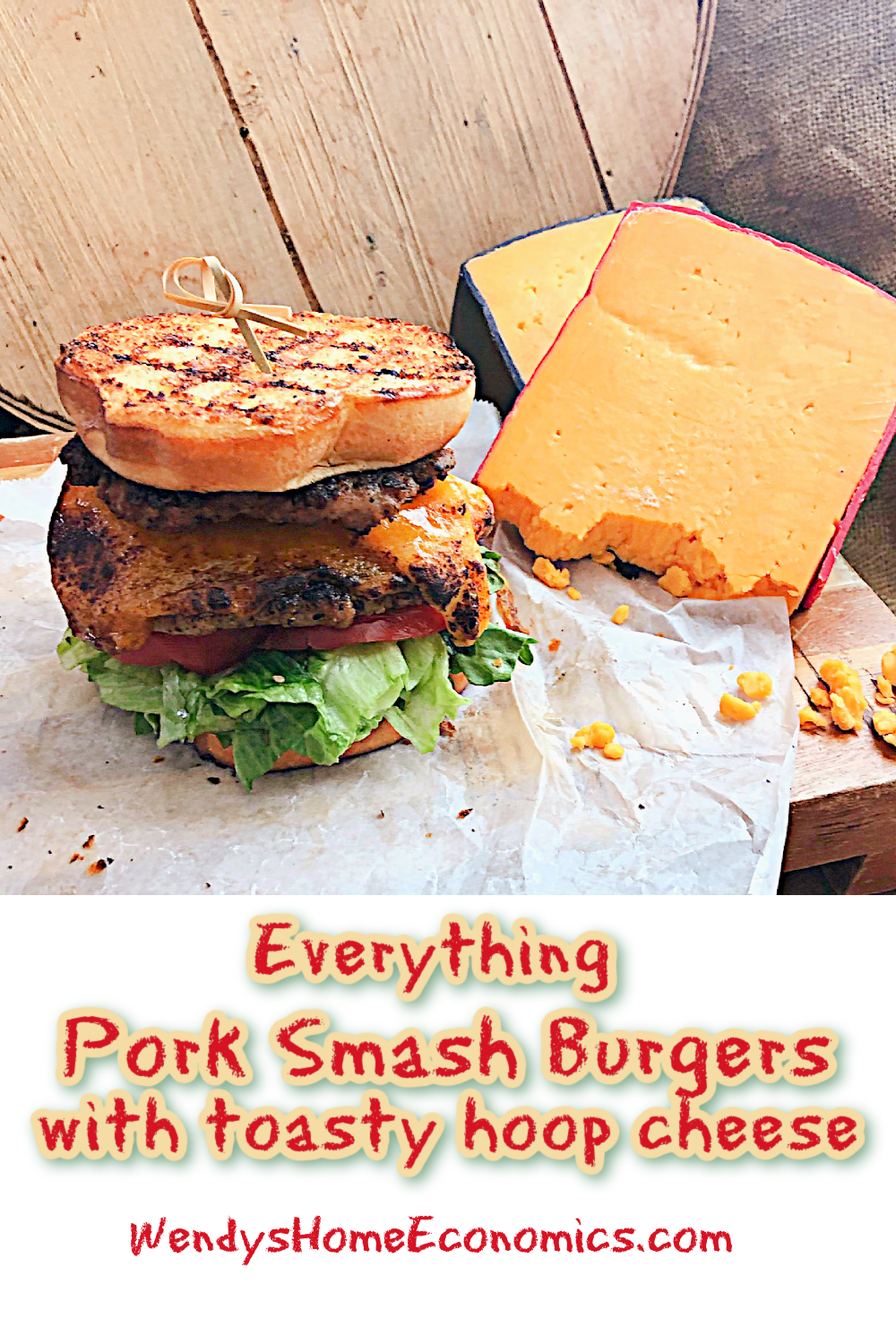 Smashburgers!  or Smash Burgers?  No matter which you way you prefer, they're everywhere these days… but do you know what that actually means?  
My definition is a good old ground meat burger,  smashed somehow or other, and cooked so that you get a nice, uneven edge from "smashing" that has little nooks and crannies with crunchy little bits and pieces and a crusty bite to them.

The kind we love from our favorite hole-in-the-wall grills and diners!
Most smashburgers are made with ground beef.  But y'all know I don't do "most." That's why I made these with good old NC ground pork!  If you can't source from a local farmer, you can find ground pork in any grocery store… it's what I use in my egg rolls too!  
When I was growing up, this is how mama made hamburgers, because she near'bout burnt everything she cooked… and our burgers were no exception. They were crunchy alright!  But actually real good.  Even if they were shriveled up little things… the steamed buns daddy insisted on (and me too to this day) made them tolerable while lost inside the bun.  They just didn't have a "name" way back then. But now I know, she was cooking smashburgers!
For me, there are 5 things that make up a really great smashburger. The first three… the key to getting that crunch is the right fat ratio (at least 80/20 fat), making them not very big (3-4 ounces) so you can smash big and thin, and a very hot cooking surface… like a preheated cast iron skillet or griddle. 
These days, lots of folks have Blackstone griddles… found at varying price points here and there (self included), and I love that thing!  It's perfect for making smashburgers and with this recipe, making the "toasty cheese" alongside them! You can cook these in a hot skillet indoors, but because of the high heat and grease, I highly recommend cooking your smashers outside.  If you don't have a griddle, a cast iron skillet works great!
Number four… as for the cheese, you can use any kind of melty cheese, but I'm a big fan of hoop cheese! (Read about hoop cheese here at North Carolina's Ashe County Cheese.)
I grew up with it. And it's often seen… little slices wrapped in "cellophane" with saltine crackers by the register at country stores. Just right to grab for breakfast on the way to work, or a mid-morn or afternoon snack when taking a break from work on the farm.  Enough to "tide you over" till lunch or suppertime.
Mama, not being a cook, would sometimes melt hoop cheese in her cast iron skillet and throw some canned biscuits in the oven. Supper would be biscuits and cheese… spoonsful of the ooey gooey melted cheese over top of those split biscuits.  I can see that good stuff now… with that little golden orange ring of grease around the edge that cooked out of that melted cheese.
Last but certainly worth special attention… really good rolls are the crowning glory for your burgs.  You'll want something that's going to hold that luscious burger without it falling to pieces while you savor every crunchy bite!  My favorite are potato rolls, that only get better with the brushed-on butter and light grilling inside out, so you get a little soft with a little crisp too. 
As for toppings, offer up anything that suits your fancy. I like to keep those simple on my smashburgers, so not one bit of the crunchy goodness is lost. 
Memorial day is almost here… and a perfect time to fix a bunch of smashburgers and have a grand ole time with those you love! A Smash Bash… to celebrate and remember those who have served our nation to protect the land of the free… home of the brave!  
Fix some of my Smoky Okra Fries to enjoy alongside and Hummingbird Ice Cream Parfaits for dessert. 
Published in Carolina Country Magazine May 2021
Food propping/styling and photography © (copyrighted) by Wendy Perry.
Carolina Country Magazine Contributing Recipes Editor
Disclosure:  I only use and recommend products here I use myself. I may receive a small commission from affiliate links on this or other posts on this web site at no additional costs to you.
CLICK HERE TO SUBSCRIBE TO MY TABLE SCRAPS E-ZINE NEWSLETTER!
Find me on social media:
Wendy's HOME Economics! Page on FB    @culinaryadventuristwendy on IG
Aunt Dee Dee's Kitchen Page on FB            @auntdeedeeskitchen on IG
Credentials @ LinkedIn
Be sure to visit my online stores:
Aunt Dee Dee's Kitchen for my unique seasonings, dried goods, pickles, jams, preserves, kitchen linens and more! New goodies arriving in 2023.
And for the best budget-friendly MADE IN THE USA by folks like you and me, my Rada Knives and Kitchen Tools online store.
And my Watkins 1868 Store. Did your mama and grandma buy from "the Watkins Man?" The best vanilla…
THESE LINKS CAN ALSO BE FOUND ON SIDE MENU OF MY BLOG HOME PAGE.
Get your burg on y'all!
Everything Pork Smash Burgers with Toasty Hoop Cheese
When the burger craving comes upon us, nothing else will do. Smashburgers: those delectable little patties with a bit of crunch — the kind we seek out at our favorite hole-in-the-wall burger joints. I used NC ground pork for these, topped with hoop cheese.
Ingredients
2

pounds

ground pork (at least 80/20 fat)

2

tablespoons

'everything bagel' seasoning

2

teaspoons

chili powder

1

teaspoon

black pepper

salt (optional-due to saltiness in cheese)

¾

cup

vegetable oil in bowl

Buns (potato or brioche)

1

stick

melted butter

1

pound wedge

hoop cheese
Instructions
Place griddle or large cast iron skillet on grate. Preheat grill (or griddle) to highest heat.

Combine pork and seasonings and mix as little as possible. (The more you handle, the tougher the meat will be.)

Divide into 12 balls. Roll in bowl of oil and place onto hot griddle or skillet. Do not move for at least 1 minute. Flip, then using the bottom of a mason jar, "smash" the burger to make it thin. Cook about 2 minutes, turn and cook the other side about the same to get a good sear. Stack in pan to the side to keep warm.

For the buns, brush the insides with melted butter. Grill the buttered sides while the burgers cook. Place burgers onto "ungrilled" outsides of buns (buttered side out).

Put mounds of hoop cheese into hot skillet or on griddle. As it melts, scoop a portion with spatula onto each burger and eat as is or add toppings.