Category:
apples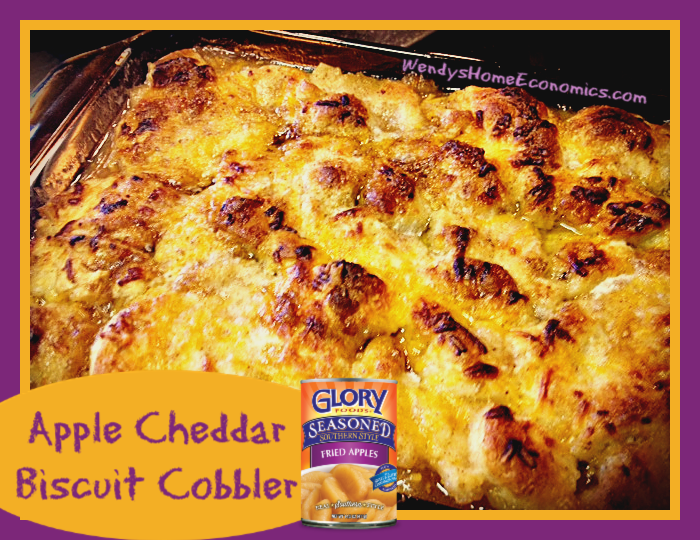 Who needs plain old apple pie when you can lip-smack with this Apple Cheddar Biscuit Cobbler instead?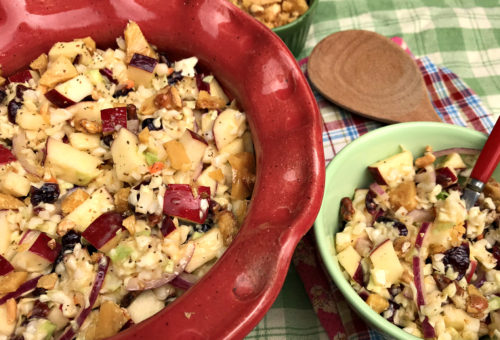 And just like that, it's fall! A few morns have dang near felt like we went from summer right into winter. Time to fire up those pig cookers around here in North Carolina and gather 'round friends and family.
Each month, I create a couple of recipes for Carolina Country Magazine. The November issue is their annual food issue, so I get to do some extra goodies for that. The issue will hit mailboxes in the next few days and I'll be back then to share the recipes I did along with my "How To Host A Pig Pick'n" article. Till then, I'll share one of my others…
Our 2018 NC State Fair has come and gone… and I had fun again judging some of the daily special cooking contests… 3 this year. Something I think about in fall at fair time is candy apples. So I threw together this Candy Apple Slaw recipe… which would be great to serve at a pig pick'n… or just on your supper table! We have dozens of varieties of apples here in North Carolina and some farmers' markets have rows of them available for tasting before you buy. So visit your local market and find some shiny red apples for this recipe!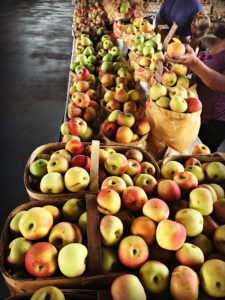 Enjoy this Candy Apple Slaw… and be sure you're subscribed to my Table Scraps newsletter… about to re-launch after being asleep for a while!
Candy Apple Slaw @ Carolina Country Magazine!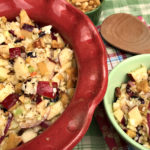 Candy Apple Slaw
This sweet and tangy slaw is a tasty, colorful fall side dish. Enjoy the variety of textures … crispy bits of apple along with the chewy cranberries and toasty nuts.

Course:
Brunch, Salad, Side Dish
Cuisine:
American, Farmers Market, Garden Goodies, No Cook, North Carolina Goodies, Southern, Tailgating
Ingredients
6

cups

chopped cabbage

4

large

red apples,

diced, not peeled

1

cup

dried cranberries

1

cup

thinly sliced red onions

1

teaspoon

salt

3/4

teaspoon

white pepper

3/4

teaspoon

celery seed

1 1/2

cups

toasted pecans,

divided

1 1/2

cups

crushed peanut brittle,*

opt.
Instructions
Put cabbage, apples, cranberries, onions, seasonings and half the pecans in a large bowl. Add dressing and stir to coat.

Pour into serving bowl and chill several hours.

At serving time scatter with remaining pecans; scatter optional peanut brittle to add a delightful candy crunch.
Recipe Notes
*Store bought or your own.
August 26, 2017
Posted by Wendy Perry

under

apples, cook & eat nekkid, cook'n with NC goodies, crock pottery, slow cook'n & instant pots, farms & farmers' markets, honey, Mindless Mutterings from the Teacher's Lounge, published, sensational sides
Fall is in the air… well kinda sorta, now that fresh North Carolina apples are making their debut at farmers' markets! And with that, comes comfort foods, like applesauce. Who doesn't love that? It makes such a quick and simple healthy side dish for so many things, including breakfast! What could start your day off better than some NC maple or brown sugar pork sausage with a side of freshly made applesauce? Check out this site for lots of great information about North Carolina apples!
And because you can crock a pot so fast, unless you really want to, there's no need to do huge batches and can. Just make some fresh every week or so as you need in your house!
This recipe is so easy… you can have it in the pot in 5 minutes and go on about your business. It takes care of itself… wouldn't it be great if all our foods did that?
My applesauce is featured in this month's September issue of Carolina Country Magazine but you can find it printable below. As you will see in the notes, there are easy ways to vary this basic recipe. You can use your favorite pie spice… and I really like to use the Georgia Peach Spice from Savory Spice Shop.
And here's a helpful hint... for those of you with small households, I highly recommend getting yourself a mini crock pot (or two) for cook'n. I have a couple and cook in them several times a week. The heat is so intensified due to its smaller size, food gets hot faster and cooks much faster too. I enjoy soft creamy grits some mornings in 30-45 minutes. I buy Boston butts when on sale and have them cut in half to freeze one/cook one… a half fits perfectly into the mini pot and in a couple of hours, I have my own Eastern North Carolina pulled pork BBQ! The portions are perfect for a couple of folks and you won't end up with lots of leftovers (but maybe just enough to throw together a mini crock pot of soup). I'm not sure all the places you can get them, but I picked up both of mine at thrift stores… one for $3 and the other was $7. And I recently gifted one to my "other mother" from Roses for $12! You can't beat that…. and they are a great inexpensive Christmas gift for singles, couples and seniors that aren't able to stand and do much cooking anymore. You can even pair up with a grocery store gift card if you want to help someone on a fixed income at holiday time! And for you single and couple campers out there, a mini is a must-have.
So without further adieu I give you my delicious slow cooker applesauce! Happy Sauce'n and Happy Fall y'all! Please be sure to share my recipe and blog with friends, and thanks!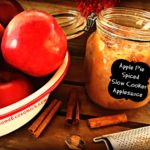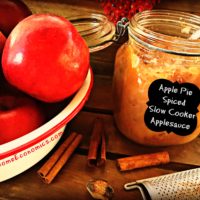 Apple Pie Spiced Slow Cooker Applesauce
Fall is here, and so are North Carolina apples! Some are better for applesauce than others, so be sure to ask at the farmers market or do a quick online search to get just the right ones. We like to leave half the peel on for a chunkier sauce, but peel them all if preferred.
Course:
Breakfast, Brunch, Dessert, Sauces, Side Dish, Snack
Cuisine:
American, Farmers Market, North Carolina Goodies, Southern
Ingredients
8-10

large

apples

cored and roughly chopped, peel half

1/3

cup

apple juice or water

pinch

salt

brown sugar, honey or sugar

as needed

apple pie spice or something similar
Instructions
Add apples, water and salt to slow cooker. Stir and cover. Cook on high about 2 hours or low about 5 hours until tender.

Leave chunky, or puree with an immersion blender for smooth sauce. Taste for sweetness and add sugar as needed. Dust with apple pie spice.
Recipe Notes
Serve warm or chilled. Great alongside pork and chicken or stirred into your morning oatmeal or yogurt. Perfect for lunchboxes too!!
Spice: Use cinnamon or any sort of "baking" spice you like such as pumpkin pie spices. I love to use the George Peach Spice blend from Savory Spice Shop!
Variation: Use half apples and half pears for a wonderful apple-pear sauce.