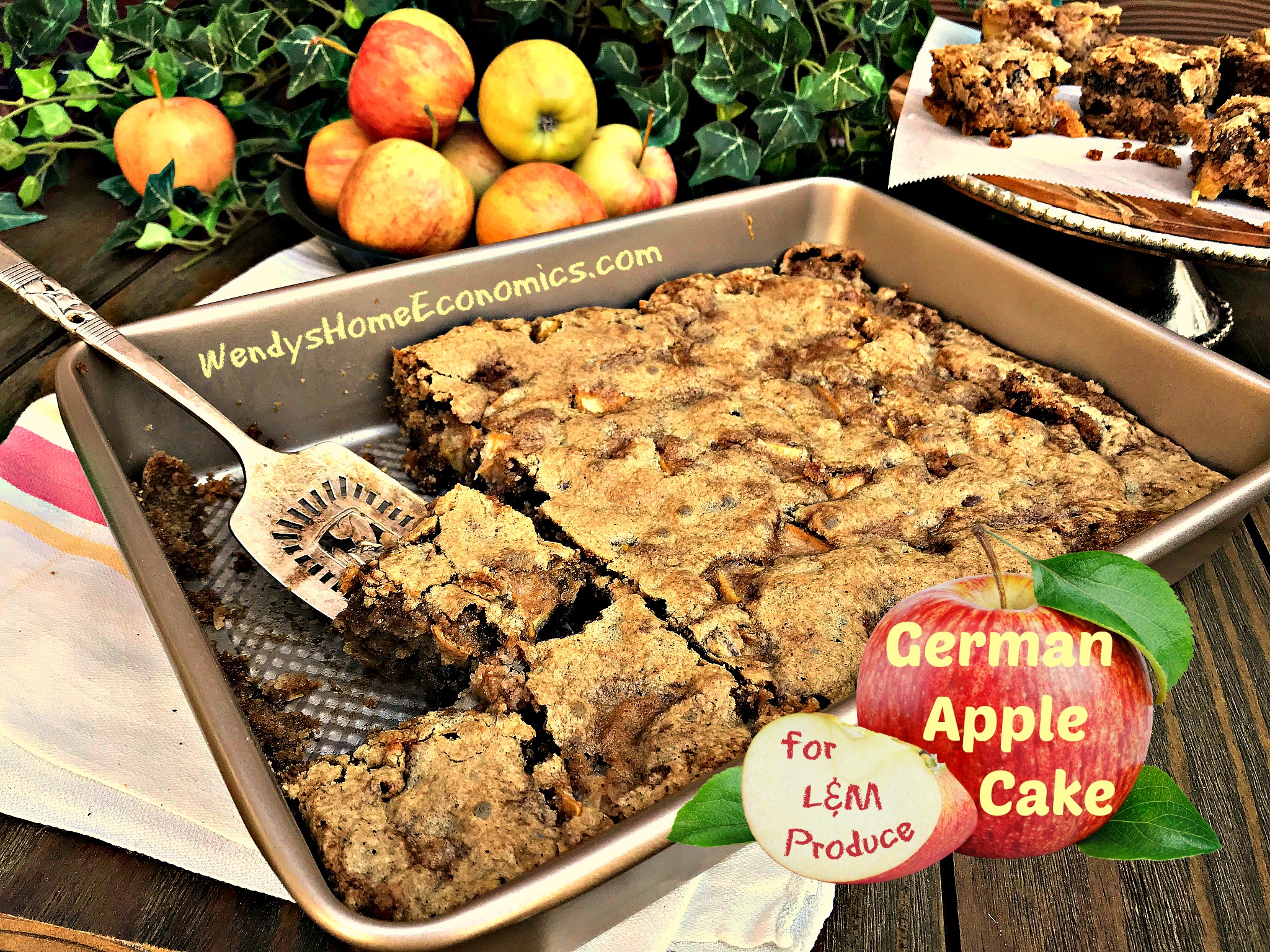 Featured at L & M Companies
I wear many hats (thus "Culinary Adventurist"), but perhaps my mostest favorite of all is creating recipes!  Nothing is more fun to me than getting to "work" (play!) in my kitchen with a company's products… be it from a jar, or from dirt or, in this case, trees!  
Over the years, I have been fortunate to get to "play" with all sorts of produce from L&M Produce, a big wholesale company based out at the farmers' market… from winter squashes… to Koolhead cabbage… to apples and more!  I've literally had FedEx and UPS trucks unloading cases of such in my driveway at the same time… 
Being that it is apple season, I'm going to share some apple recipes created for them a while back… so you can enjoy them too.  For starters, with a chill coming in the air, how about this German Apple Cake?
(Printable recipe below.)
Although it may seem like apple overkill, I enjoy placing a cutting of this cake over a puddle of warm homemade applesauce. Add a dollop of freshly whipped cream and a dusting of apple pie spice… y'all!  There are no words.  Just fix yourself some of this cake.  There's a thin little layer of "lightly crunchy" that forms on top and inside, it's super moist and perfect for breakfast, lunch, supper… or bedtime snack on a cool fall day.  Or any day for that matter!
I like to lightly "toast" a chunk of it in my toaster oven (as I'm an admitted crispy/crunchy kinda gal) to give it slight toasty outside… while still having that moist flavorful inside.  Make… and enjoy!
Do come on over to my FB community and chat about it on the post there too!
German Apple Cake
Enjoy this moist German Apple Cake for breakfast, lunch, supper or bedtime snack! Great over warm applesauce and a dollop of whipped cream on top, dusted with apple pie spice! Or, just as is.
Ingredients
3

large

eggs

1

cup

vegetable oil

2

cups

sugar

2

cup

all-purpose flour

1

teaspoon

baking soda

½

teaspoon

salt

4

tablespoons

apple pie spice

½

teaspoon

vanilla extract

4

gala apples,

cored, seeded and thinly sliced

¾

cup

chopped nuts,

(we used pecans)

½

cup

raisins or coconut
Instructions
Beat eggs with oil until fluffy, about 2 minutes.Combine sugar, flour, soda, salt and spice.  Beat in a cup at the time until all has been incorporated into egg mixture. Using spatula, fold in extract, apples, nuts and fruit.

Pour into 9×13" prepared pan.  Bake at 350 for about 50-55 minutes.