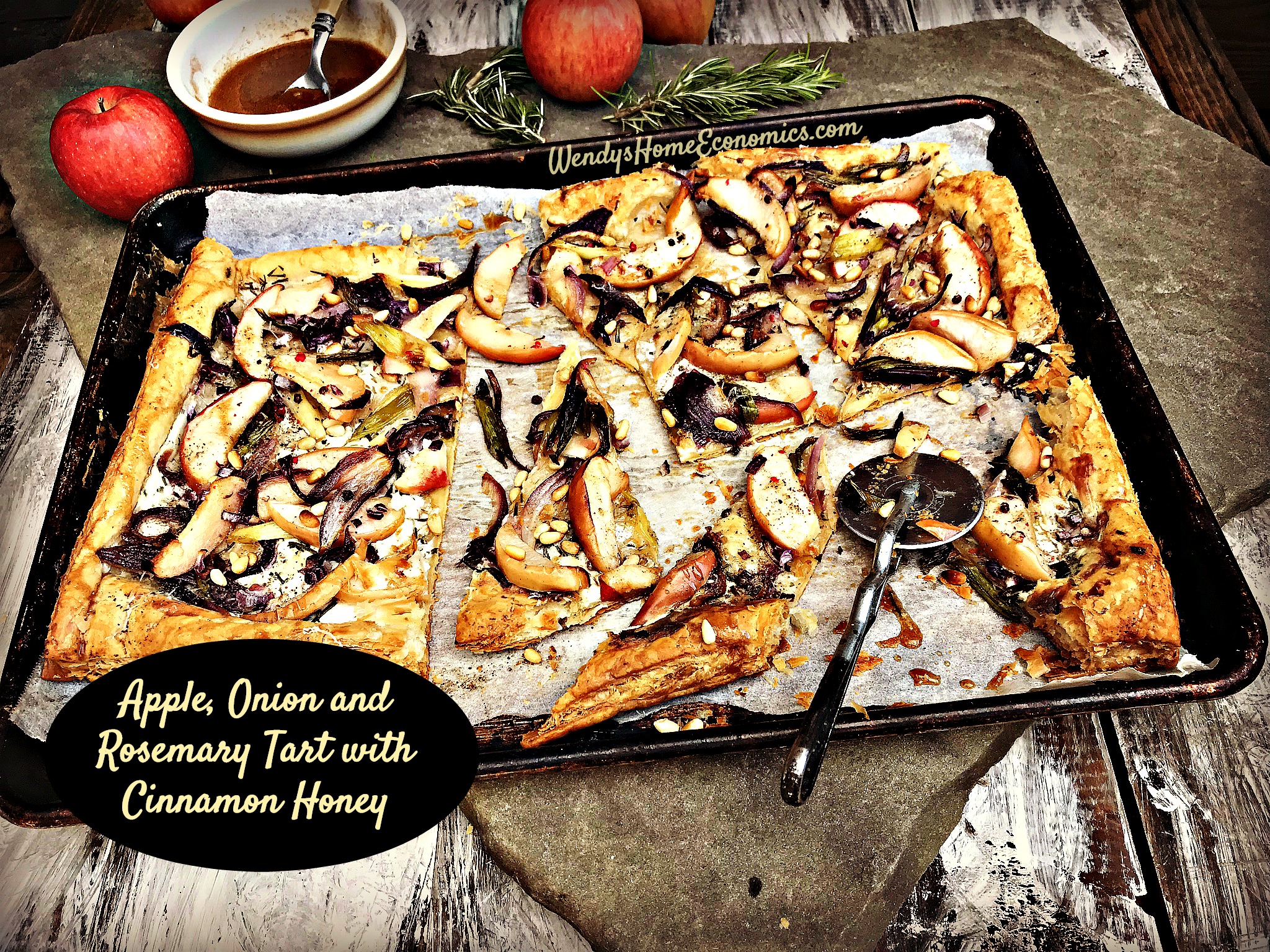 I love a good tart.  Once I managed to get past letting puff pastry intimidate me and realized how simple it is to use, I've created quite a few.  This sweet and savory one was created for my client L&M Companies Produce a while back and is featured on their web page here!
Realizing it's Apple Pie Day, and this is the closest thing to an apple pie in my repertoire, I decided to share this recipe with you too.  It's basically a flat open faced apple pie I do suppose.
You can enjoy this as an appetizer, as a side dish, and pairs nicely with a salad for lunch. Or as an adventurous and outside-the-box dessert with coffee too.
I hope you will make this tart… and will come over to my facebook community where we'll chat about this and all sorts of other goodies too.
Apple, Onion & Rosemary Tart
...a delightful sweet and savory tart to enjoy as an appetizer, side, with salad for brunch or as an outside-the-box dessert!
Ingredients
1

17.3 ounce box

frozen puff pastry,



thawed

2

tablespoons

olive oil

1

large

red onion, thinly sliced and divided

thinly sliced and divided

2

red apples (such as Gala or Braeburn),

cored and cut into ½" thick half-moon slices

1

bunch

bunch green onions,
trimmed and cut into 1" pieces


½

teaspoon

salt

freshly ground black pepper

1

8-ounce carton

cream cheese with chives,

softened

1

tablespoon

minced fresh rosemary



1

cup

grated Swiss cheese

½

cup

toasted pine nuts
Instructions
Preheat oven to 400.



Heat oil in a large skillet over medium heat. Add ¾ of the sliced red onion and cook, stirring occasionally, until tender and caramelizing, 4-5 minutes. 



Stir in the apple, green onions, salt and pepper. Cook until barely tender, about 2 minutes.

Unfold the 2 sheets of pastry and place end to end on sprayed large baking pan. Pinch middle seam together to make one large sheet. Pinch crust up around outside edge.



Spread softened cream cheese over the pastry leaving a 1" border. Top with the onion-apple mixture. Scatter with the remaining uncooked red onion and rosemary.  



Bake 30-35 minutes until browned. Remove from oven and immediately scatter with the grated cheese and nuts. Slice and serve while warm.