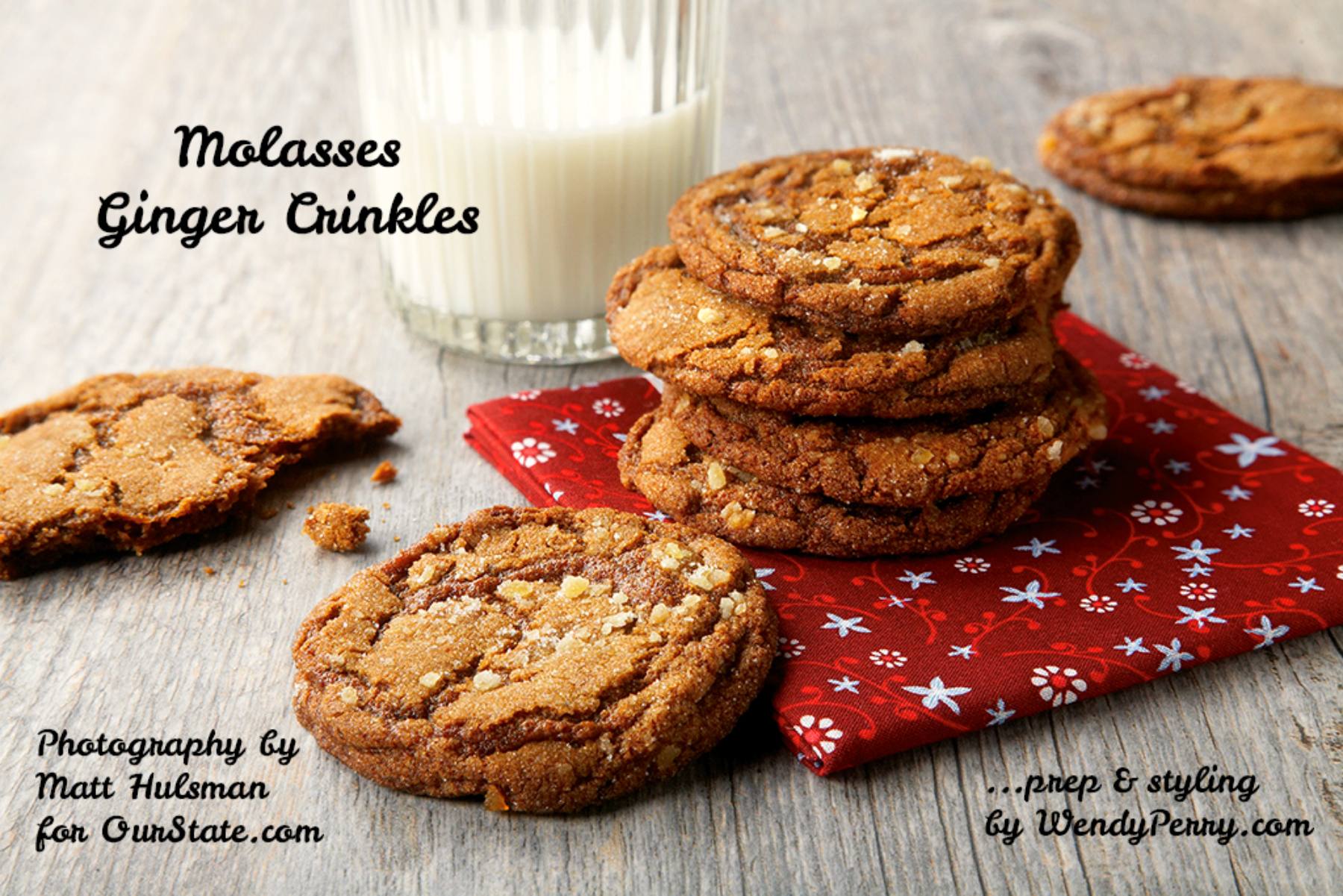 For 5 years, I was House Chef for Our State Magazine. I did do several special projects where my recipes were featured (like my Carolina Cakes!), but the first few years I was in place mostly to prepare recipes chosen by their staff selected from hundreds of cookbooks sent in by readers for their Community Cookbook Series.
This is one of those recipes. Y'all know I'm not all that fond of baking, but wanted to share this recipe from "back in the day" today, on #NationalCookieDay! This recipe originally appeared in Our State in October 2014!  I really love this cookie recipe and it was one out of hundreds I prepared over the years that I have made a few times.  It's a good basic molasses cookie recipe I think you will enjoy too!  Can't you just smell them baking now?  Do make some and come tell us what you think over on my facebook community too!
Molasses Ginger Crinkles Recipe
...a perfectly spiced and seasoned crispy little cookie perfect for the Christmas season!
Ingredients
1 ½

sticked

unsalted butter,

softened

1

cup

granulated sugar

½

cup

unpacked light brown sugar

1

large

egg

½

cup

molasses

1

teaspoon

coffee extract or pure vanilla extract

2 ½

cups

all-purpose flour

1

tablespoon

ground ginger

1

tablespoon

grated fresh ginger

1 ½

teaspoons

baking soda

1

teaspoon

ground cinnamon

¾

teaspoon

ground cloves

½

teaspoon

kosher salt

1

tablespoon

finely chopped crystallized ginger


Instructions
Cream the butter, ½ cup of the granulated sugar, and the brown sugar in the bowl of a mixer fitted with the paddle attachment or in a large bowl with a wooden spoon and beat until light and fluffy.



Slowly add the egg, molasses, and coffee extract, beating well to combine.

Combine the flour, ground ginger, fresh ginger, baking soda, cinnamon, cloves, and salt in a separate bowl and stir to mix. Add the flour mixture to the butter mixture and beat just until combined. Cover the dough with plastic and refrigerate for at least one hour or overnight, until firm.



When ready to bake, preheat the oven to 375˚. Combine the remaining ½ cup granulated sugar and the crystallized ginger in a small shallow bowl and stir to mix. Pinch off small pieces of the dough and roll them into 1-inch balls. Roll each ball in the sugar-ginger mixture to coat evenly and arrange on ungreased baking sheets, spaced about 2 inches apart.



Bake for 12 to 15 minutes, until the edges are set and the center is still soft. Remove from the oven and let cool on the baking sheets for about 5 minutes. Serve warm or transfer to a baking rack to cool completely.



Store in an airtight container until ready to serve, or for up to 3 days.